Best free plug-ins this week: Xtressor NUKE, NoiseReducer, T-Puncher FREE
This week's collection of the best free plug-ins brings you a gritty compressor based on the legendary Distressor. We've also got a useful noise reduction tool for cleaning up your tracks, and a punchy transient designer. Here's Xtressor NUKE, NoiseReducer, and T-Puncher FREE.
Kiive Audio Xtressor NUKE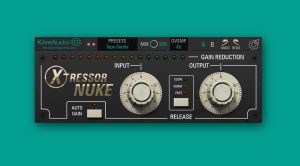 Xtressor NUKE by Kiive Audio is the little brother to the developer's impressive Xtressor plug-in, which is of course heavily inspired by the famous Empirical Labs Distressor hardware. While the freebie doesn't offer nearly as much as the full version, you still get a gritty and easy-to-use compressor that shines on drums. Xtressor NUKE offers three release modes to choose from, and there's an auto-gain feature that automatically keeps your levels in check.
Xtressor NUKE is available for macOS and Windows in VST3, AU, and AAX formats.
ToneLib NoiseReducer
NoiseReducer by ToneLib is a noise reduction tool that consists of two modules. The Reducer module lets you fine-tune the depth, attack, hold, and decay settings, and then adjust the threshold for the optimum amount of noise reduction. There's also an auto mode that does the work for you. In addition to this, NoiseReducer includes an EasyGate module that's basically a one-knob noise gate with a choice of hard and soft modes. A real-time frequency analyzer lets you see what's going on.
NoiseReducer is available for macOS, Windows, and Linux (experimental) in VST, VST3, AU, and standalone formats.
Techivation T-Puncher FREE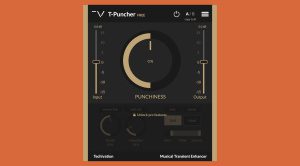 T-Puncher FREE is a slimmed-down version of Techivation's excellent T-Puncher transient designer plug-in released a few weeks ago. While it doesn't offer some of the advanced features of the full version like the Smoother, filter, and attack knob, it's still a great way to make your tracks sound punchier or softer with a single knob. Simply dial in as much punch as you'd like using the main Punchiness knob, adjust the input and output levels, and you're good to go. Could it be any easier?
T-Puncher FREE is available for macOS and Windows in VST, VST3, AU, and AAX formats.
Videos about free plug-ins
Image Sources:
kiive-audio-xtressor-nuke: Kiive Audio
tonelib-noisereducer: ToneLib
techivation-t-puncher-free: Techivation