Best free plug-ins this week: Tonetta Blue, Clean Shave and MRX90
It's been a great week for free plug-ins! We've got a semi-modular polyphonic synthesizer, a filter for removing those gnarly sub bass frequencies and an awesome tape degradation effect for NI Reaktor. Check out Tonetta Blue, Clean Shave and MRX90!
As always, you'll find many more free plug-ins in our archives!
Flandersh Tech Tonetta Blue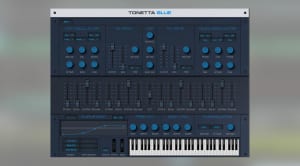 Tonetta Blue is a polyphonic, semi-modular synthesizer. The front side is fairly straight-forward: You get two oscillators with 19 waveforms each, two filters, a bunch of envelopes and LFOs and a reverb. The back side is where the fun starts. A virtual patching environment that looks a bit like the back of Reason Rack allows you to connect the various modulation sources and destinations in any way you like. This looks like one of those free plug-ins that you end up spending way too much time with.
Tonetta Blue is a VST3 plug-in for Windows 8.1 or higher (64 bit).
Moonlab Clean Shave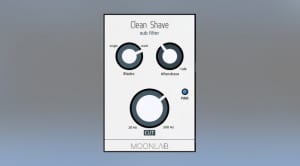 Clean Shave is a filter plug-in that helps you to clean up your audio tracks to prepare them for mixing. Unwanted subsonic energy can become a huge problem in the mix. Clean Shave provides a razor-sharp digital high pass filter to get rid of it. Besides cleaning up your low frequency range, you can adjust the behavior of the filter with the Blades knob and add air and freshness by applying some 'Aftershave'. An essential tool to get your tracks ready for mixing!
Clean Shave is available in VST3 and AU versions for Windows and macOS.
James Peck MRX90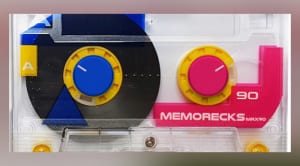 The Reaktor user community is still one of the most exciting places to hang out if you're looking for interesting effects and virtual instruments. MRX90 by James Peck adds some vintage cassette tape goodness to your tracks. It only has two knobs: one for adding noise and one for 'aging' the tape with compression, high cut filtering and wow/flutter. Make your tracks sound like they came straight from an 80s mix tape that's been played way too much!
MRX90 requires Native Instruments Reaktor 6.3.0 or higher.
Image Sources:
flandersh-tech-tonetta-blue: Flandersh Tech
moonlab-clean-shave: Moonlab / Gearnews
james-peck-mrs90: James Peck / Gearnews