Best free plug-ins this week: Pedalboard, Brandulator 2.0 and Blumlein Haas
This weeks collection of free plug-ins includes a free multi-effect for guitar, an update for the popular Brandulator sequenced effect and a fun stereo tool. Here's Pedalboard, Brandulator 2.0 and Blumlein Haas.
As always, you can find many more free plug-ins in our archives.
Lostin70s Live Pedalboard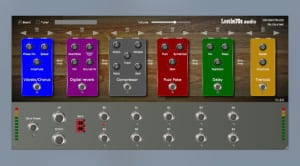 We've featured several of Lostin70s' free amp simulations before, including ToneDeluxe v2, Modern Deluxe and Bass Deluxe. But what if you need more sonic flexibility than an amp can offer on its own? Good news: the developer has just released a free virtual pedalboard. It offers six slots, which you can fill with a wide range of effects from distortion and overdrive to modulation to delay, reverb and compressor. Here's your free virtual guitar studio!
Live Pedalboard is available for Windows and macOS in VST, VST3 and AU formats.
Stone Voices Brandulator v2.0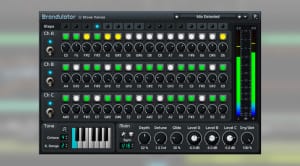 Brandulator has been around for a while, but the developer has just released a major update. Like the previous version, Brandulator 2 is a 'complex sound processor' that delivers effects like trance gates, vocoder, wah, comb-filter and modulation. Brandulator splits the input signal into three channels, each of which offers 16 steps of processing with their own volume and pan controls. You can turn static notes into all sorts of effects and intriguing rhythms.
Brandulator 2.0 is a VST plug-in for Windows.
DSPplug Blumlein Haas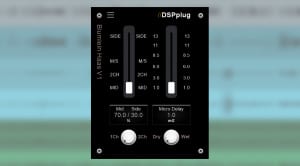 This is a simple stereo effect based on the stereophonic/binaural research by Helmut Haas and Alan Blumlein. It lets you turn a mono signal into stereo by applying a very short delay to one channel. The delay time is adjustable from 1 to 13 milliseconds. There's also an M/S slider for mid/side processing, and a dry/wet control for setting the strength of the effect. A great way to create a stereo illusion and control the directionality of your tracks – and it's free!
Blumlein Haas is available as a VST/VST3 plug-in for Windows (64 bit only).
Videos