Behringer Wing rockets to #1 at Thomann: The new must-have digital mixer?
On its release, the new Behringer Wing digital mixing desk carried with it big expectations and implications. The company's X32 and its sister desk, the Midas M32, had previously dominated the club mixer market. Now Wing has rocketed to number 1 on Thomann's list of best selling digital mixers, and is the 6th best selling product on Thomann overall! Which begs the question: is this the desk we're all going to be using soon? Or is this just a flash in the pan? Time to take another, closer look at Wing.
We've all seen the teaser posts, the pre-release hype and the big release build-up from Behringer. Now it's here and it's been selling like hot cakes. The Behringer Wing is likely to be one of the most important mixing desks released in the last few years. Why? Take a look in any small to medium capacity live venue and you'll likely find a Behringer X32 or its sister desk, the M32.
So who is Behringer pitching this new desk at and what desks do they have in their sights? Does this mean the end of the X32 and M32? So many questions, so little space, but we'll do our best to answer them!
Behringer Wing: Customisation and Connectivity
Customisation and Connectivity. Those two words sum up the unique selling points of the Behringer Wing over the X32/M32. The striking, modernist design of the control surface offers a touch screen along with a custom controls section. The custom controls section features 16 latching or momentary buttons and 4 rotary controls, which are user-definable to various functions.
Before now, such control surface customisation was only seen on consoles at a much higher price point (The Yamaha CL series as an example). The ability to assign buttons to tap delay, reverb send and other performance functions is a huge boon to workflow.
As with the X32/M32 a built-in expansion port offers numerous I/O upgrade paths; as standard, it appears Wing ships with an SD card recorder in the slot. Perhaps the most interesting optional upgrade is a Dante networking card; yup, Behringer is really shooting for the high end here.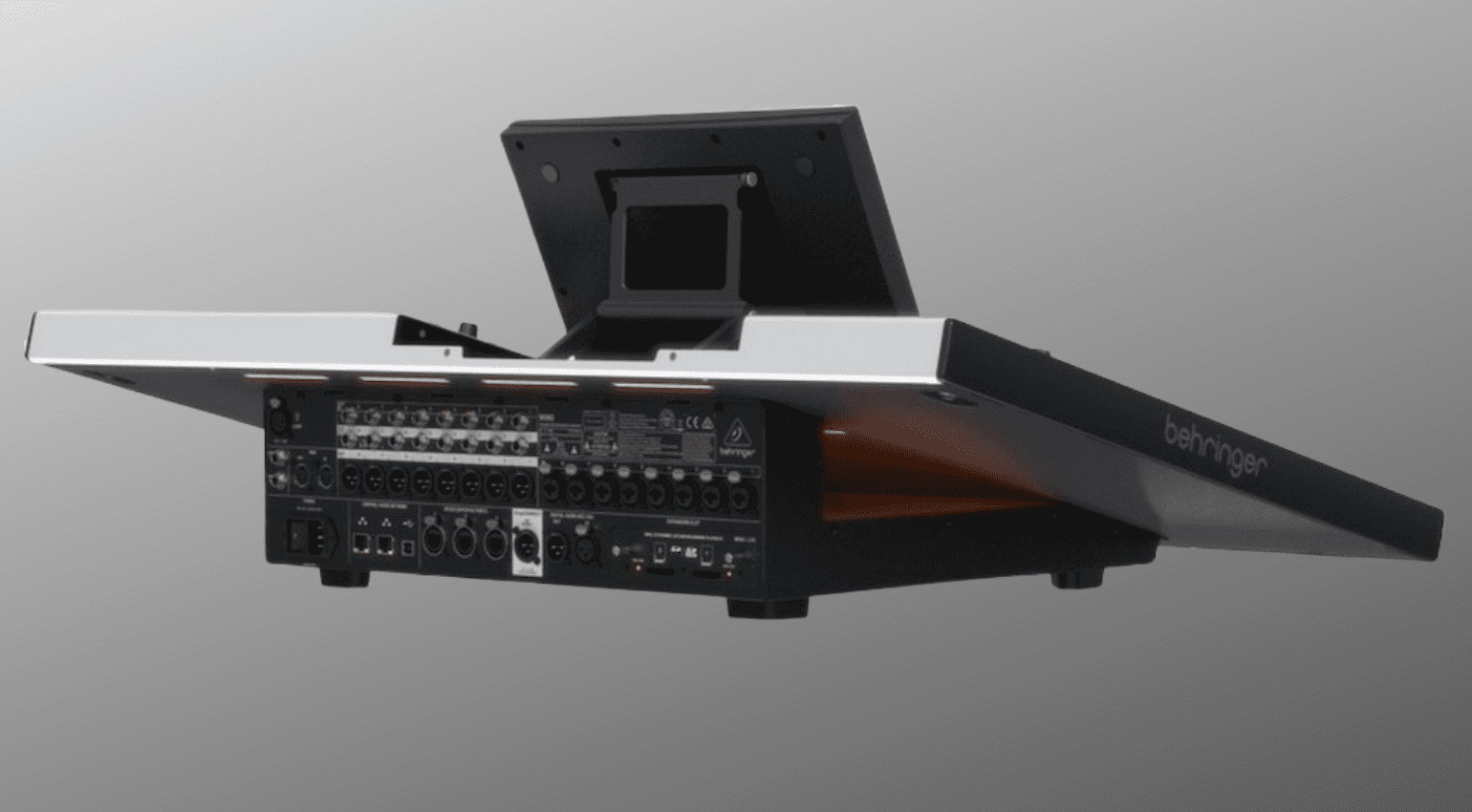 The New Mid-Level Standard?
With extensive I/O connectivity, backwards compatibility with the X32/M32 AES50 based stage boxes, and high-end style workflow, Behringer Wing has a lot going for it. Hitting the streets at under £2600 it offers incredible value and promises a high-end feature set for a fraction of the price of similarly specced rivals.
Expect to see this desk appearing in a lot of live venues soon.
More Information
Image Sources:
Behringer Wing: Behringer
Behringer Wing Rear: Behringer