Dante comes to Behringer Wing with the WING-DANTE expansion card.
We've waited a while for this, but finally the WING-DANTE card has landed! Dante multi-channel audio networking has now come to one of the fastest-selling digital mixers in recent times. Will this make Behringer's Wing an unstoppable force in the mixer market?
Dante comes to the Behringer Wing
It's been almost exactly a year since Behringer released the Wing digital mixing desk to the world. When Wing was launched we predicted it would become a mixing desk you'd soon see a lot of in a lot of places. Undoubtedly, the Behringer X32 (and the sister desk the MIDAS M32) became something of an "industry standard" mixing desk. Look in the sound booth at most mid-size venues and you'd probably see an X32 or an M32.
Clearly, we can expect the Wing to pop up in the same places the X32 and M32 did – once the COVID pandemic is over. It should be noted, though, that we found one feature wanting when Wing was launched: Dante networking!
WING-DANTE Expansion Card
Dante networking transforms the capabilities of the Behringer Wing dramatically. 64 total channels of bi-directional digital audio at 48 kHz is on offer with the WING-DANTE card. The expansion card simply fits into the slot that's normally occupied with the WING-LIVE card. So what advantages does DANTE networking offer you?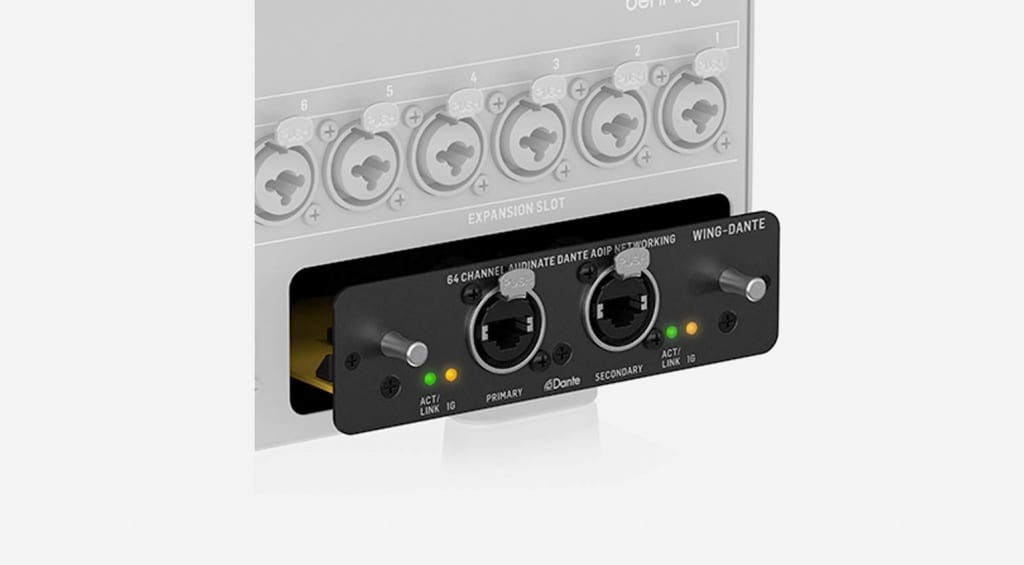 We covered audio networking formats in some detail earlier in the year, and we recommend taking a read when you have a few minutes. Without a doubt, we reckon the WING-DANTE card adds hugely to Wing's versatility. Looking to use premium Dante equipped mic preamps? Boom! You've just made your two-thousand Euro desk sound like a twenty-thousand euro desk. You'll be able to run multi-channel audio anywhere you have standard Ethernet cabling.
Altogether then, the WING-DANTE card just made the Behringer Wing a whole lot more versatile and a whole lot more appealing. Whilst we wait for live shows to return, we wouldn't be surprised to see Wing being used in studio builds and live-streaming situations. We may have had to wait for the best part of a year for Dante to come to Wing, but it was worth the wait.
More Information
Image Sources:
behringer-wing-dante-installation: Behringer