Audio rooms for musicians: New tools to grow your audience?
Facebook, Twitter, Spotify and Deezer launch new audio room features with potential for musicians and creators
With new developments like audio rooms in the digital marketplace from platforms like Spotify, Deezer, Twitter, and Facebook, creators have new options to engage their followers and add value to their content. But how can you use them to engage with and grow your audience?
For a while now, the lack of access to live entertainment revenue has forced musicians to explore video streaming content and virtual concerts. You can do this on Twitch, Instagram Live, YouTube, Song Kick, Jam Base, or Sessions, but the ability to monetize content in different tiers or packages remains limited for now. Patreon offers the option to customize the subscriber experience to fit your brand but this doesn't offer quite the same level of direct engagement.
Engage your fans with Clubhouse-style audio room apps
But the new monetization features of audio rooms could become a steady revenue stream for artists. Spotify's Greenroom, Facebook's Live Audio Rooms, and now Twitter Spaces allow more direct engagement with your followers. Some platforms include features like ticketing (Twitter Spaces) and Stars (Facebook Live Audio) that directly generate income. Twitter's Super Follows lets you put additional content behind a paywall. Spotify offers the Greenroom Creators Fund, that it says will pay you "for creating compelling live content and building your community".
Building a self-sustaining community around your music is the name of the game here, so creating incentives for your fans' support will make them feel part of the process. By setting fundraising goals with Facebook Stars and ticketing on Twitter Spaces you can fund your next album, music video, or even purchase new equipment.
Audio Rooms: What do I use them for?
Audio rooms can also help you build up to the releases of your album or EP by sharing pre-launch content with your fans in ways that also generate revenue. You can share studio teasers of new songs, rehearsals with new song reinterpretations, offer a post-show backstage pass, or simply share your thoughts on your upcoming release with your fans in a podcast format. Even drawing inspiration from mediums outside of music can help you find a unique way of interacting with your audience.
Digital platforms provide tools to shape the way your fans consume your music and content, so be sure to plan your release schedule strategically. There are some great new ways to engage your audience, but be aware that they have been designed from the top down and not specifically for music (Spotify and Deezer excepted, perhaps).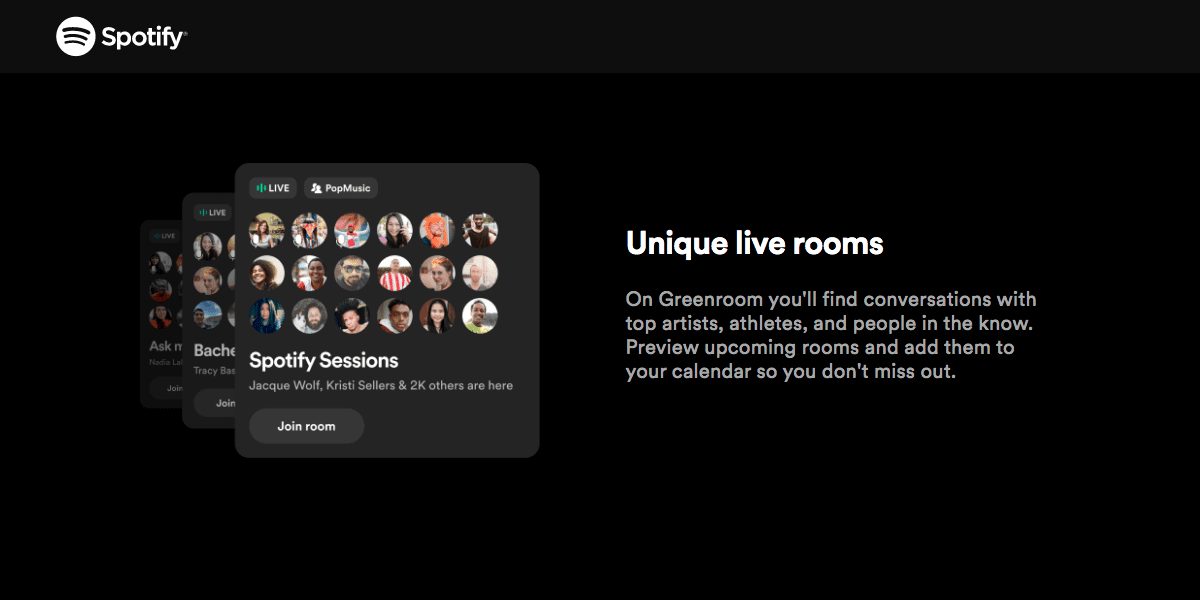 Know your platforms
As a creator, remember that using these platforms effectively requires a level of knowledge and research. Simply making your music or podcast available doesn't mean anyone will listen to it. Take the example of a mastering engineer who understands the intricacies of different audio formats, be it digital, vinyl or broadcast. In the same way, an independent artist or creator needs an understanding of publishing and promotion. When releasing your music on different platforms it can seem like a drop in the ocean. Each one has a slightly different algorithm and SEO protocol which can be daunting at first. So as things evolve, staying up to date with developments is essential.
If you're looking to get into Twitter Spaces, the video below is a good starting point. Spotify's Greenroom seems like it could be a good bet if your content is already available there because it should integrate with your existing activities and audience on Spotify.
Have you already been able to use audio room formats to promote your music – or even make money? Let everyone know your experiences in the comments section below.
More about Audio Rooms
Video
Image Sources:
Twitter Spaces is provides new audio rooms functionality.: Twitter
Spotifygreenooms: Spotify