IK ships AmpliTube X-GEAR, its first effect pedals
AmpliTube X-GEAR launches with four new pedals
Update: IK's Amplitube X-GEAR pedals are shipping now from retailers, like our affiliate partner Thomann. Check out the links below for pricing.
IK Multimedia has launched the first effect pedals range in its company history (apart from the Z-Tone Buffer/Booster). The AmpliTube X-GEAR pedals are all digital modelling effects that bring AmpliTube's sounds directly to the stage and rehearsal room.
Amplitube X-GEAR
The big X teaser campaign turned out to be four separate stompboxes, not a floor pedal amp modeller and effects as many people had guessed.
These are individual effect pedals that all use the IK Multimedia Amplitube sound. The four pedals in the range are X-Space, X-Time, X-Drive and X-Vibe, each based on the effects algorithms used in IK's AmpliTube software.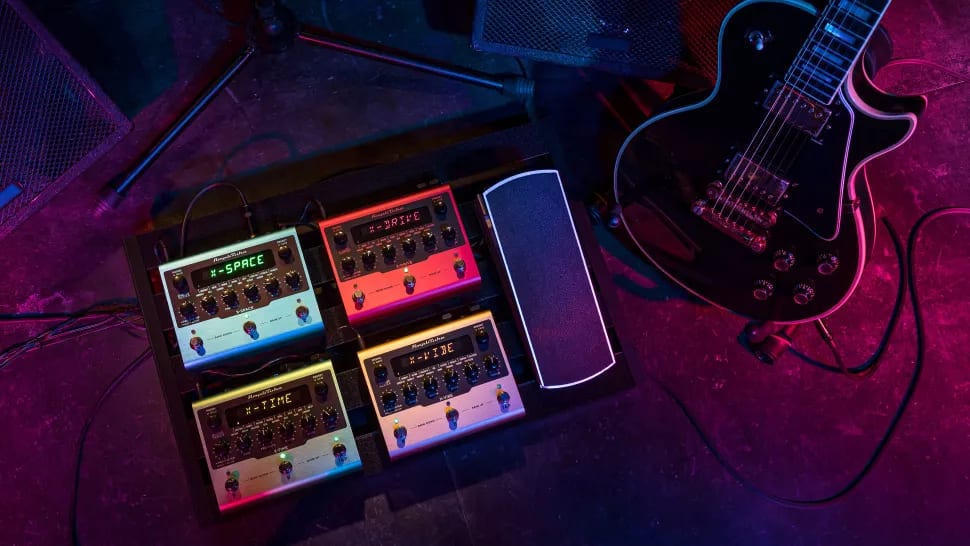 Amplitube X-GEAR
The Four X-GEAR Pedals
The four Amplitube X-GEAR models are:
X-Space (Reverb)
X-Time (Delay)
X-Vibe (modulation)
X-Drive (Overdrive/Distortion)
There is also housing in a suitable colour and the correspondingly adapted labelling and knob functions. I like that many of the functions can be adjusted directly on the pedal, without having to dive into the editor.
Each pedal features 16 effects with popular AmpliTube models, plus new reverb and delay algorithms. With the delay, these are e.g. B.: Model, Preset, Parameters, Time, Feedback, Filter, Mod and Mix. You also get a tap tempo and two other footswitches (A and B) for the effects on top. It is similar to the other pedals, with specific parameters that fit reverb, modulation or distortion.
However, the question arises: Why 4x the almost identical pedal, when the difference is purely digital, except for a potentially interchangeable front panel? Surely it can't be because of the storage space.
Connectivity
The new IK Multimedia AmpliTube X-GEAR pedals all have the same structure as well as the same connections. In addition to input and stereo-out (true or soft bypass), inputs for an expression pedal, MIDI and USB are alsoavailable. Everything is on it! The pedals can also be synchronized via MIDI.
The conversion is done with 24 bits at 192 kHz with a noise ratio of 123 dB. In addition, frequencies from 5 to 24000 Hz are recorded. The latency has not yet been mentioned, but I assume that it is below 5 ms.
Notepad on Windows and macOS
Each of the pedals includes a matching 'virtual version' for Mac/PC, along with a copy of AmpliTube 5 SE to use the virtual pedal in. The X-GEAR Preset Manager then lets you move presets between X-GEAR pedals and AmpliTube, and organise them on the hardware pedal. With up to 300 presets per pedal, you have plenty of space.
Price and market launch
The MSRP for each IK Multimedia AmpliTube X-GEAR effect pedal is 299 Euros. A bit more than the Positive Grids BIAS pedals, which is a similar concept. By the way, the pedals are built in Italy and not in China, so the pricing is for a European manufactured product. In that respect, I'd say it's pretty competitive for today's marketplace.
More Information on IK Multimedia
Amplitube X-Gear Demo Video
Image Sources:
Amplitube X-Gear: IK Multimedia
Amplitube X-Gear in the studio: IK Multimedia