Acon Digital Acoustica 7.4 editor has ARA2 and other updates
Deal
Acoustica 7.4 is the latest update to Acon Digital's audio editor app for Windows and macOS. That and Audacity are among the last men standing of dedicated audio editing apps like the old SoundForge and CoolEdit Pro. They've evolved to be lite DAWs that fire up fast and have the essential editing features on tap, but also let you dig deep if needed.
Acon Digital Acoustica 7.4
There are some interesting updates to the software, including ARA2 support and deep learning-based functionality like DeBird, DePlosive:Dialogue, and DeClick: Dialogue.
Acoustica 7.4 has its core competence in post-processing recordings. Speech recordings often have asymmetrical curve shapes, which makes it difficult for compressors and limiters to work. To remedy this, version 7.4 includes a tool called Phase Rotate which offers both adaptive and fixed phase rotation. The adaptive mode automatically keeps the curve shape as symmetrical as possible.
There's also a new Caption editor that makes it easier to create and edit subtitles and transcripts. Captions can be exported as SubRip files or as Rich Text Format (RTF) transcriptions.
Acon Digital Acoustica 7.4 Premium
Some of the new features are only included in the Premium version of Acoustica 7.4. This applies to ARA2 – a plug-in that has the full functionality of the Acoustica Clip Editor and is suitable for seamless integration into DAWs with ARA2 support. This interface eliminates a lot of time-consuming clip transfers between the DAW and the editor. The DAW session also stays up-to-date automatically.
The Premium Edition also has tools based on deep learning. With DeBird you can erase bird sounds from field recordings. DePlosive: Dialogue removes plosives with high precision. DeClick: Dialogue selectively removes click noises generated by the lips and mouth.
Moreover, the Premium Edition includes a plug-in package for all DAWs that support VST, VST3, AU, and AAX plug-ins. This means it's possible to use the new DeBird, DePlosive: Dialogue, and DeClick: Dialogue tools as separate plug-ins. The update also brings support for multi-channel recordings up to Dolby Atmos 7.1.2. Individual channels can be easily enlarged and edited in the spectral editor.
Price and availability data
Acon Digital Acoustica 7.4 works under macOS 10.9+ and Windows 7+. Anyone who already owns Acoustica 7 will get a free update. Acoustica 5 and 6 can be upgraded at a discounted price (EUR 80 for the Premium version, EUR 20 for Standard) from the manufacturer's website.
You can also have the audio editor from our affiliate partner Thomann. You can buy the Standard version for EUR 59 or the Premium version for EUR 189: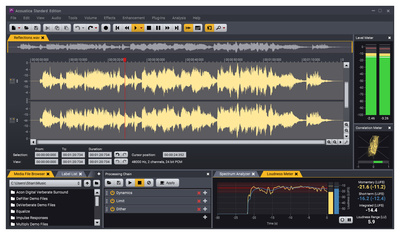 Acon Digital Acoustica 7 Standard Download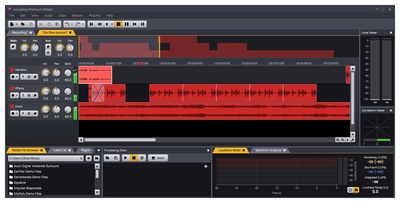 Acon Digital Acoustica 7 Premium Download
Learn more about Acoustica 7.4
Video
Image Sources:
Screenshot of the editor: Acon Digital