Review: UDO Audio Super 6 Desktop Synthesizer
UDO Audio revealed the desktop version of the highly acclaimed Super 6 synthesizer just in time for last year's Superbooth in September. That's also where I first got to try it and exchange a few words with its developer, George Hearn from Bristol in the UK. While its retro looks might lead you to believe that the Super 6 emulates classic synths, that isn't what it's about. Instead, it combines essential features of the classics with modern and advanced ideas – an exciting concept. I can't wait to find out if UDO Audio will once again present something new at Superbooth 2022 – maybe an updated firmware version? We'll keep you posted.
Note: This article by Marcus Schmahl first appeared in German on gearnews.de.
UDO Audio Super 6 Desktop
UDO Audio is a small synthesizer manufacturer based in Bristol, England. That's where the Super 6 was designed and developed, and that's also where it's assembled and tested before being shipped out to retailers and customers. This means that we can expect a high-quality product, and the Super 6 absolutely delivers on that promise.
It's been a long time since I've played a digital-analog hybrid synthesizer that moves so effortlessly between different styles and genres. With twelve voices, the Super 6 can deliver some really powerful chords and pads. Each voice offers two digital FPGA oscillators with PWM, cross modulation, and portamento, a high pass and low pass filter, a VCA, two envelopes, and an LFO. There's also an additional global LFO, an arpeggiator and sequencer, and delay and chorus effects.
While the voice count is cut in half in the Super 6's unique binaural mode, this opens up a new level of sonic depth and multi-layered movements. If you're a synth lover or sound designer, your mouth will probably be watering just from reading the manual.
Unboxing the Super 6 Desktop
The Super 6 Desktop comes with an IEC power cable (it's got an internal power supply), the manual, and a USB cable. The desktop version fits perfectly on my studio desk next to my controllers. Due to the sturdy metal chassis, it tips the scale at about 5.5 kg.
All connectors are located on the back of the synth. This is where you'll find a headphone output, stereo output (L/R), audio input, sustain and expression pedal jacks, MIDI in/out/thru, a USB-B connector, and the power connector.
The Super 6 Desktop lets you choose from a variety of mounting options. Besides using it on the desktop, where it can be positioned at a slight angle thanks to two extendable feet, you can mount it in a rack using the optional rack ears. It's even possible to attach it to a standard VESA mount, which means you can use a monitor arm to position it freely, which is great when space is at a premium. I simply put it on my desk, where it stays securely in place thanks to the rubber feet.
First Impressions
The first thing that came to my mind when I looked at the front panel was: "Where's the display?!" In this regard, the Super 6 is decisively old-school. But that's what makes it so much fun: Turn a few knobs, move a couple of faders, push a few buttons and just listen until it sounds right. That said, a display would sometimes come in handy for things like preset management, naming, and browsing.
The first couple of presets already put a big smile on my face. Lush and incredibly wide pads, powerful basses, synth FX, melodies, leads, chords, percussion, drums, and even pianos and organs – the Super 6 delivers a huge variety of excellent sounds. The preset selection buttons with integrated LEDs are a nod to the classic Roland Jupiter series, with which it shares a few ideas.
The faders have a decent throw and feel pretty solid. Just like the rotary knobs, they have a smooth resistance, which feels just right in my opinion. The toggle switches are equally snappy. In order to reach extended settings, you need to push the Shift button to access a second layer. All the buttons start to blink and you can now access the secondary functions of the rotary knobs, faders, and buttons. The disadvantage of this system is that when you move a control, its position no longer corresponds to its setting in the main layer. Fortunately, the Super 6 offers the option to "pick up" values with the controls, so you don't get any annoying value jumps.
It's easy to import additional sounds from a computer via USB, or store a backup on your hard drive. The USB connection also allows you to import sequences and additional waveforms, and perform firmware updates. But more on that later – let's start to build a sound first.
Sound and Creativity
The Super 6 offers two digital, FPGA-based oscillators per voice, which UDO Audio calls DDS (Direct Digital Synthesis). Besides the standard waveforms (sine, sawtooth, pulse with PWM, triangle) and noise, they can also access a selection of alternative digital waveforms. These are stored in the internal memory and can be expanded or replaced via USB, as mentioned above. That means almost limitless possibilities for new sounds!
Activate binaural mode and the twelve voices are arranged as six "super stereo pairs". This allows you to modulate the left and right channels independently, which creates an unbelievable depth of sound. It almost feels like sounds begin to move through time and space. This is arguably the best feature of the Super 6 and I wish more synthesizers would offer something like it. And as if this wasn't enough, DDS 1 offers a Super mode that activates six "sister oscillators", which can be detuned and spread out in the stereo field, the latter of which can also be modulated. It doesn't take much to imagine that these are the ingredients for some really wide, fat, and lush sounds.
Digital Oscillators, Analog Filters
While the oscillators are digital, the Super 6 features an analog 4-pole low pass filter based on the SSI2144 chip, which is a remake of the SSM2044. It sounds very warm and you can choose from three drive levels (off, 1, 2) for extra punch and grit. At the highest resonance setting, the filter self-oscillates, which means you can also use it as a sine wave oscillator.
The high pass filter offers two modes. In addition to a fixed mode at 500 Hz, which is great for getting rid of excessive bass energy and low-end rumble, there's a tracking mode that links the HPF to the LPF, resulting in a bandpass configuration. The filter offers keyboard tracking and can be modulated by Env1, Env2 (or both), LFO 1, and DDS 2.
Modulation
For modulation, the Super 6 offers two envelopes and two LFOs. Envelope 1 is an ADSR envelope with an additional attack hold stage (HADSR). It also offers a loop mode, which turns it into a fancy LFO. This envelope can also be inverted. Envelope 2 is a standard ADSR envelope. Both envelopes also feature a "hidden" decay hold parameter, which is accessible via the shift button.
LFO1 is quite special. This is a polyphonic LFO, meaning that it modulates each voice independently. In addition to the familiar triangle, square, random, and ramp shapes, which can of course be synced, it offers a high-frequency mode that lets it oscillate at up to 20 kHz – perfect for FM. In this mode, you can also activate keyboard tracking and use it as an extra sine wave oscillator. It's even possible to send it to the audio channels of DDS 1 or DDS 2 and mix it with the oscillators. So you really need to think of it as an additional sound source, rather than just a modulator.
LFO 2 is a global oscillator with a triangle wave that affects all voices simultaneously. You can control it using the mod wheel or aftertouch and route it to the oscillator frequencies, filter cutoff, or VCA.
Arpeggiator, Sequencer, and Effects
If you've thought that that was all in terms of movement and sound, you're mistaken. The UDO Super 6 Desktop also offers an arpeggiator and sequencer that's got a few tricks up its sleeve. You can choose from standard arpeggio patterns, or program your own sequence with up to 64 steps, which can also contain rests. In addition to a swing parameter, the sequencer even offers slides and accents for 303-style patterns. Nice!
Finally, the Super 6 offers two digital effects: a Juno-style chorus and a stereo delay. The delay can be modulated and synced. There's no reverb, but I can absolutely live without it.
What's also very cool is the option to control the synth via MPE (MIDI Polyphonic Expression). This allows you to control each voice independently in terms of pitch, velocity, and aftertouch. If you've got a compatible controller, this greatly enhances the expressiveness.
Conclusion: UDO Audio Super 6 Desktop
Even though I already own a lot of synths, the UDO Audio Super 6 Desktop is a fantastic addition to my studio. It doesn't reinvent the wheel in terms of synthesis. But its binaural capabilities open up vast possibilities for spacious, atmospheric, and lush sounds. I also love the variety of mounting options for the desktop model, which make it easy to find a space for it in the studio. The build quality is very nice, and the controls provide quick access to all essential parameters.
Every so often, I wished for a display for more convenient preset management. But I think it's possible that a software editor might become available at some point down the line. The firmware is still at version 0.3, so we can expect additional updates here, too. While it isn't a cheap synth by any means, you have to figure in what it offers and where and how it's made. I'd absolutely recommend it to anyone!
Price and availability
The UDO Audio Super 6 Desktop is available at Thomann* for €2249. The keyboard model costs €2499.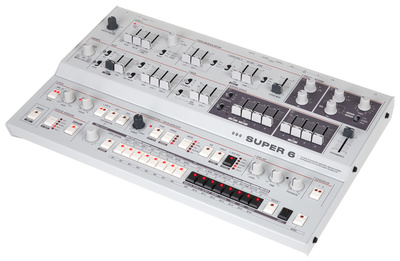 UDO Audio Super 6 Desktop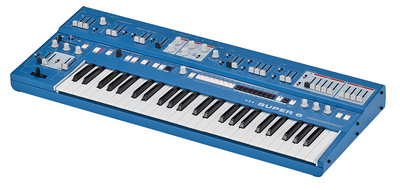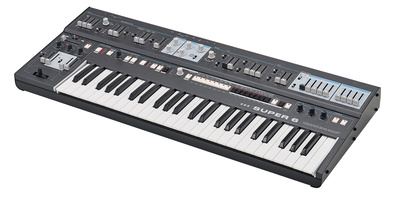 More info about the UDO Super 6
Videos
* This post contains affiliate links and/or widgets. When you buy a product via our affiliate partner, we receive a small commission that helps support what we do. Don't worry, you pay the same price. Thanks for your support!
Image Sources:
UDO Super 6 Desktop: Gearnews (Marcus)
Connectors on the back: Gearnews (Marcus)
The Super 6 Desktop has extendable feet: Gearnews (Marcus)
The binaural capabilities make the Super 6 so special: Gearnews (Marcus)
The desktop model fits perfectly into my studio: Gearnews (Marcus)
The Super 6 Desktop is a hybrid synth with digital FPGA oscillators: Gearnews (Marcus)