UAD Native, Flux, Softube and more: Software Deals
Deal
Ready to get your hands on the new UAD Native plugins from Universal Audio? Then grab yourself a great deal on the UAD Mix Edition! This week's best software deals also include Flux Ircam Trax 3, Cherry Audio, and more.
Note: Prices may vary depending on your location.
Universal Audio UAD Mix Edition Native
The native versions of Universal Audio's famous plugins have only been out since February. Now you don't need a pricey, DSP-powered Apollo series audio interface anymore to run UA's emulations of legendary compressors, equalizers, preamps, and more!
The UAD Mix Edition Native is a great package of essential processors for all your mixing needs. Besides the LA-2A, 1176, and Pultec Collections, it includes plugins like the API 2500 Bus Compressor and Vision Channel Strip, the Hitsville EQ Collection, the Lexicon 224 Digital Reverb, and a couple of tape recorder emulations. And those are just a few of the effects included in the UAD Mix Edition Native bundle.
The Universal Audio Mix Edition Native bundle is on sale at Thomann* until April 30, 2023 for $555. And you can also still save on the Creative and Diamond bundles.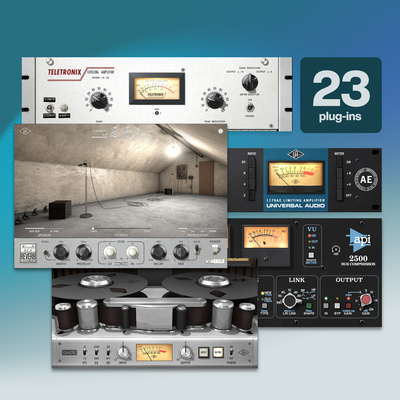 Universal Audio UAD Mix Edition Native Download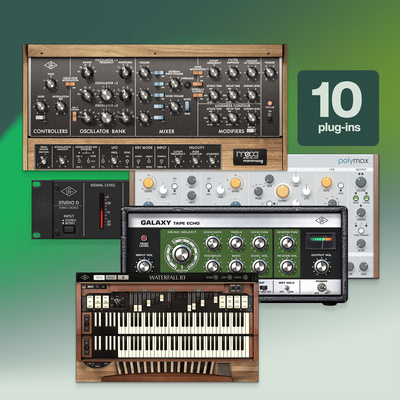 Universal Audio UAD Creative Edition Native Download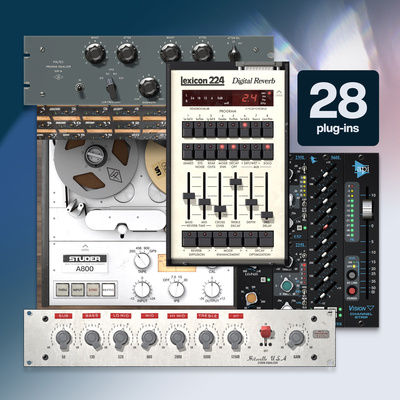 Universal Audio UAD Diamond Edition Native Download
Huge savings on Flux Ircam Trax v3
Flux Ircam Trax v3 is a vocal editing suite that includes three advanced plugins for manipulating voices. The algorithm allows you to adjust the gender, age, pitch, formats, and even breathing of speaking and singing voices. That's excellent if you need to perform complex voice modification tasks for post-production, sound design, or music production. Flux Ircam Trax v3 is also a great tool to have in your podcasting arsenal. Don't be put off by the slightly scientific approach of the plugins, which can be a bit intimidating at first. Once you get the hang of it, Trax allows you to do things to voices you never thought possible!
Flux Ircam Trax v3 is currently on sale at Thomann* for just $144 – that's over 65% off the regular price!
Softube Chandler Zener Bender for Console 1
If you own Softube Console 1, you might like this deal on the unique Chandler Zener Bender plugin. It combines emulations of the iconic Curve Bender Mastering EQ and Zener Limiter. The result is a powerful channel strip that's deeply rooted in classic EMI console designs from Abbey Road Studios.
Softube has modeled both famous processors at the component level to bring their true character to your DAW. They've also added a bunch of useful features like an external sidechain input, M/S processing, and channel linking.
Zener Bender for Console 1 is now on sale at Thomann* for $90.
Cherry Audio Mercury 6: a Jupiter-6 for your DAW
The Roland Jupiter-6 often plays the second fiddle compared to its famous bigger brother, the Jupiter-8. While the JP8 has been modeled in software many times, developers didn't seem to care much about the JP6 – even though it does offer some unique features like a multi-mode filter that the JP8 doesn't have.
Cherry Audio finally gave the Jupiter-6 the love it deserves earlier this year with the release of Mercury 6. Every aspect of the vintage polysynth has been carefully modeled to bring you the true Jupiter-6 experience. Read our review about the Cherry Audio Mercury 6 plugin to find out more.
You've still got the chance to grab Mercury 6 for the low introductory price of $44 at Thomann*. But be quick – this offer probably won't last much longer.
Get 75% off Sonnox Claro EQ
Plugin Boutique currently offers a great deal on the Sonnox Claro EQ plugin. Claro is a highly versatile EQ with 26 bands, M/S or stereo processing, and an extended high-frequency range up to 40 kHz. It offers three separate views for each step of the production process: Produce, Tweak, and Mix. Another fantastic feature is that you can see all Claro instances in your project at the same time to pinpoint frequency issues between tracks. If you need a precision EQ that can handle all your mixing and mastering needs, Claro is definitely worth a look.
The Sonnox Claro EQ is now on sale at Plugin Boutique* for just $34 – that's $100 off the regular price!
More about UAD Native and other software deals
* This post contains affiliate links and/or widgets. When you buy a product via our affiliate partner, we receive a small commission that helps support what we do. Don't worry, you pay the same price. Thanks for your support!
Image Sources:
Native UAD plugins are now available without subscription!: Universal Audio
Softube Zener Bender: Softube
Sonnox Claro widget: Sonnox
pb: Plugin Boutique