SSL Vocalstrip 2, Fabfilter, UAD, Sonarworks & more: Software Deals
Deal
For just a few days, you've got the chance to save over 90% on the SSL Vocalstrip 2 plugin! What an excellent opportunity to get your hands on this high-quality vocal processing tool. Other software deals this week include the UAD Native bundles by Universal Audio, the Fabfilter Essentials Bundle, vocal editing tools by Synchro Arts, and more.
Note: Prices may vary slightly depending on your location.
Save over 90% on SSL Vocalstrip 2
The SSL Vocalstrip 2 plugin is an all-in-one vocal channel strip that includes everything you need to make your vocal tracks shine. In addition to de-essing and de-plosing modules, Vocalstrip 2 offers a 3-band SSL equalizer fine-tuned to vocals with high-pass, "asymmetric notch", and air bands. Furthermore, the plugin features a unique dynamics module that incorporates both compression and expansion. By rearranging the signal flow, you can build custom vocal processing chains to suit your tracks. Needless to say, Vocalstrip 2 also offers comprehensive metering. Give your vocals that SSL treatment!
SSL Vocalstrip 2 is now on sale at Thomann* for just $14.50 – that's more than 90 percent off the regular price! But you'll need to be quick, this offer only lasts until May 25, 2023.
UAD Native Bundles on Sale
The three UAD Native plugin bundles from Universal Audio are also currently on sale. Now you don't need expensive UA hardware anymore to run these high-quality plugins on your computer! You can choose from three different bundles depending on your needs.
The UAD Creative Edition Native bundle includes a total of 10 software instruments and effects to jump-start your creativity. UAD Mix Edition Native has a selection of UA's most popular mixing plugins such as the 1176 Classic Limiter Collection, API 2500 Bus Compressor, Pultec Passive EQ Collection, and more. And finally, the UAD Diamond Edition Native is a comprehensive bundle that includes everything from emulations of classic studio hardware to meticulously modeled virtual instruments.
All three UAD Native bundles are currently on sale at Thomann*. These deals also end on May 25, 2023, so be sure to grab them while they last!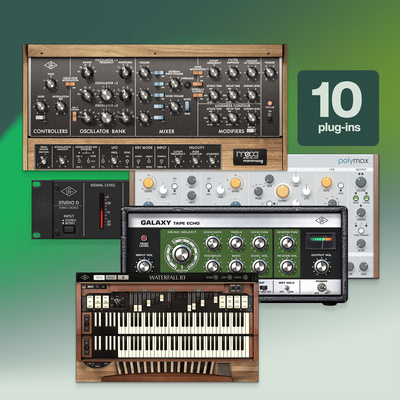 Universal Audio UAD Creative Edition Native Download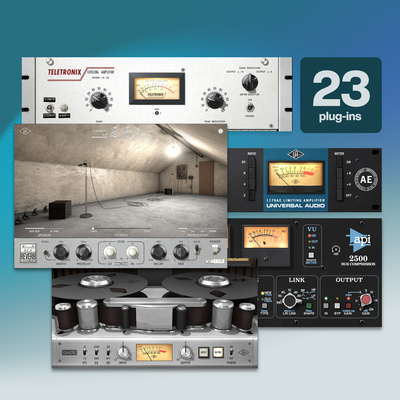 Universal Audio UAD Mix Edition Native Download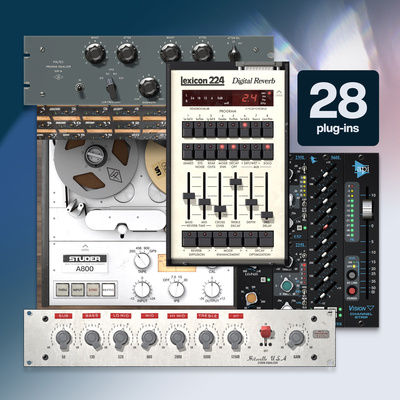 Universal Audio UAD Diamond Edition Native Download
Fabfilter Essentials Bundle: Save on 3 powerful Fabfilter Plugins
There's a reason why so many producers and engineers swear by Fabfilter plugins. Besides their unmatched level of precision, the company's high-quality processors are known for their intuitive workflow and great sound. The Fabfilter Essentials Bundle includes three excellent Fabfilter plugins – arguably the three most important ones from the developer's line-up.
Besides the famous Fabfilter Pro-Q 3, an insanely powerful dynamic equalizer, the bundle includes the Pro-C 2 compressor, which is no less comprehensive. In addition to this, you get the Fabfilter Pro-R plugin, which delivers high-quality algorithmic reverbs with very musical controls. It's the perfect way to get started using Fabfilter!
The Fabfilter Essentials Bundle is currently on sale at Plugin Boutique*.
Save on Synchro Arts Vocal Editing Tools
Now that you've got your vocal mixing sorted out with SSL Vocalstrip 2, you need some vocal editing tools to go along with it! The Synchro Arts RePitch and VocAlign Ultra Bundle includes two high-quality plugins that'll change the way you look at vocal editing. VocAlign Ultra lets you edit the timing and pitch of speech and vocal tracks with utmost precision. Features like user-definable sync points and adjustable tightness make it easy to get your vocals in sync. There's even a Match Pitch feature that allows you to transfer the pitch of one track to another.
RePitch is a natural-sounding pitch correction plugin with an interface similar to Celemony Melodyne. You can edit the pitch, sibilance, and breath sounds separately. The formant shift feature can transform the sound and perceived gender of your vocal recordings. Moreover, RePitch integrates via ARA2 in compatible DAWs, which eliminates the need for lengthy audio transfers between the DAW and plugin.
The Synchro Arts RePitch and VocAlign Ultra Bundle is now on sale at Thomann*. This offer is good through May 31, 2023.
Calibrate your speakers and headphones with Sonarworks SoundID Reference
To ensure that your mixes translate well, you need to be able to trust your monitor speakers and headphones to deliver the real picture. Sonarworks SoundID Reference is a speaker and headphone calibration software that analyzes your room and creates a custom adjustment curve. This way, you can be sure that what you hear is what you get. There's even a translation check feature that simulates more than 20 different playback devices, so you don't have to run outside to check your mix in your car. SoundID Reference lets you save an unlimited number of profiles for various speakers and headphones.
Now you can get Sonarworks SoundID Reference bundled with a high-quality measurement microphone at Thomann* for just $235!
Videos about SSL Vocalstrip 2 and other software deals
* This post about SSL Vocalstrip 2 and other software deals contains affiliate links and/or widgets. When you buy a product via our affiliate partner, we receive a small commission that helps support what we do. Don't worry, you pay the same price. Thanks for your support!
Image Sources:
Vocalstrip 2: SSL
Native UAD plugins are now available without subscription!: Universal Audio
Fabfilter Essentials Bundle: Fabfilter
VocAlign Ultra: Synchro Arts
SoundID Reference: Sonarworks
Fabfilter Essentials Bundle: Fabfilter
pb: Plugin Boutique