Two Notes ReVolt Guitar and Bass 12AX7 tube driven amp sim pedals
100% analogue circuit paired with 12AX7 tube tone
The new Two Notes ReVolt Guitar and Bass pedals contain a 12AX7 preamp tube, along with an onboard cabinet sim and three amp types, that are based on popular Fenders, Ampegs, Marshalls, etc Combining a 12AX7 tube with all-analogue circuitry to get you the best amp sim tones. 
ReVolt
The ReVolt Guitar and Bass pedals by Two Note Audio Engineering offer players a compact solution with a tube at the heart of the tone. By driving a single 12AX7 tube at 200 V internally, they manage to make the best of warm tube tone. Then factor in the all-analogue signal path and you have the basis of some quality amp tones.
Guitar vs Bass
ReVolt Guitar has amp sims inspired by the Fender Bassman 100, Marshall JMP Super lead and Soldano SLO 100.  These are labelled American Clean, British Crunch and Modern Lead on the pedal, each with a dedicated footswitch to engage the channel. American Clean has a two-band EQ with Bass and Treble, whilst the crunch and lead channels share a three-band EQ with Bass, Mid and Treble.
Then you can use the OD-Boost circuit, just press the footswitch for the engaged channel and adjust the universal Boost knob to dial in your tone further.
Then with the Revolt Bass, you have amps inspired by the Ampeg SVT '76, Marshall '92 JMP Super Bass Mark II and a custom high gain model, designed specifically for the pedal. These are labelled in a similar fashion to the ReVolt Guitar and with the same EQ setup as before. This gives you Classic Clean with two-band EQ,  plus Vintage Dirt and Modern Drive channels that both share a three-band EQ. Modern Drive also has a Dry/Wet blend that lets you blend the DI tone with the amp simulation.
Speaker Emulation
Both pedals come with a lifetime license to the Wall of Sound plugin-based tone shaper, plus 10 downloadable cab sims from the Two Notes DynIR Cabinet Collection. These cab sims have a value of around $100/€100 and can be used in conjunction with the Wall of Sound.
Connectivity
The pedals have some nice connectivity options including an effects loop and MIDI. They also allow for direct, four-cable mode and Hybrid connectivity. Hybrid allows you to blend the colour of your ReVolt preamp with the power amp stage of your amplifier. This could be great for both studio and stage work, as you can get your amp tones just where you want them.
Unfortunately, there are no official demos yet, so I cannot give an honest opinion on the tones. Though, on paper at least the specifications do look very good.
MSRP and Release Date
These new ReVolt pedals should ship in September 2022 and are priced at USD $399 / EUR €399 each. Thomann has both pedals available for preorder ReVolt Guitar * and ReVolt Bass *.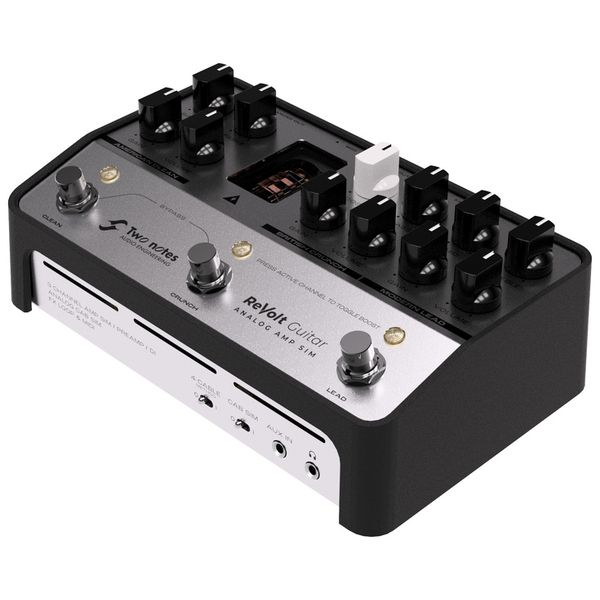 Two Notes ReVolt Guitar Preamp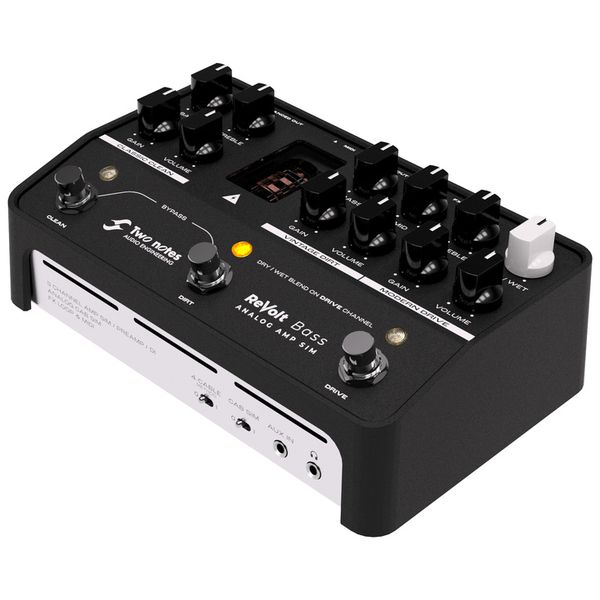 Two Notes ReVolt Bass Preamp
More Information
* This post contains affiliate links and/or widgets. When you buy a product via our affiliate partner, we receive a small commission that helps support what we do. Don't worry, you pay the same price. Thanks for your support!
Image Sources:
ReVolt Guitar: Two Notes
ReVolt Bass: Two Notes
Two Notes ReVolt Guitar Preamp: Thomann
Two Notes ReVolt Bass Preamp: Thomann