The Best DAW Controllers to improve your production workflow
Using a mouse exclusively can become too clinical, especially when trying to give your music a more organic feel. To overcome this obstacle, we're checking out some of the best DAW controllers for your home studio setup.
We've discussed various DAW systems recently, but external controllers become a considerable investment. So the first thing to think about when deciding which one to go with is looking at what exactly you are planning to control. Is it your DAW's transport controls? Faders? Or plug-ins?
To be even more certain, it helps to know what kind of DAW user you are. As a mix engineer, for example, you're probably going to be looking at something with 8 motorized faders and perhaps plug-in controls at a later stage.
Choosing the Best DAW Controllers
Alternatively, a live musician will benefit from adding clip launch functionality with a button grid while post-production editors love jog wheels with high sensitivity for scrubbing back and forth when working with video footage.
Touchscreen controllers aren't for everyone. However, iPads can be extremely versatile, allowing you to flip between multiple apps and offering almost seamless integration in some cases. So solutions like Logic Remote and Hexler TouchOSC are worth checking out.
Control Protocols
It's important to note that controllers use 3rd-party protocols and some DAW developers manufacture their own DAW-specific controllers.
Let's take a quick look at the most common controller protocols and their basic compatibility options:
HUI (Human User Interface) supports Pro Tools, Cubase, Studio One, Reaper, and Digital Performer
MCU (Mackie Control Universal) supports Pro Tools, Cubase, Studio One, Live, Digital Performer, Reason, FL Studio, Reaper, and Bitwig Studio
EUCON (Extended User Control) supports Pro Tools, Cubase, Logic Pro X, Digital Performer, and Nuendo
Other protocols like OSC (Open Sound Control) offer different advantages to MIDI CC, while native controllers might have their own specific protocols with excellent integration.
Find out which protocols are supported by your DAW, and remember not every controller offers plug-and-play functionality. Any controller could potentially work with any DAW, it just depends on how much time you have for creating your own custom mappings and trawling for controller templates online.
Now, we'll dive into various available options and discuss some of the pros and cons in each case.
PreSonus Faderport V2
Even the most advanced DAW users sometimes only automate one fader at a time for accuracy. So the PreSonus Faderport V2 is a great compact option with a single motorized fader, transport controls, and a rotary encoder.
The Faderport is also available in 8-fader and 16-fader versions and offers seamless Studio One integration, as well as support for HUI and MCU protocols.
In addition, the Faderport connects via USB 2.0 and includes a footswitch port. Meanwhile, it's powered with the included adapter.
AKAI APC40 Mk2
A trusted alternative to the Ableton Push controller, the APC40 Mk2 provides a portable comprehensive solution for Ableton Live integration. The interface allows you to quickly bank across Live's session view with the eight assignable faders and clip launch grid, giving you a complete overview.
At the top of each channel, the encoders can select pan, sends, or a custom user assignment while the other eight encoders on the right of the console provide more extensive control of your instruments, racks, and effects.
If you're looking to use Live on stage or create your arrangements on the fly, the APC is a great option that really doesn't require much expertise to reap the benefits. As an even more compact alternative, be sure to check out the APC mini!
Behringer X-Touch
Behringer has a great reputation for building DAW controllers with a wide range of compatibility options and the X-Touch is a perfect example of this. The 8-fader interface, with transport controls and a large jog wheel, provides access to all the core DAW operations.
Meanwhile, the connectivity options are extensive, with ethernet, MIDI I/O, and a USB hub. In addition, both HUI and MCU protocols are supported, as well as RTP (Real-time Protocol) MIDI and X32 remote control via ethernet.
Overall, the X-Touch is a versatile tool for the price that offers expandability, with applications in both studios and live music environments.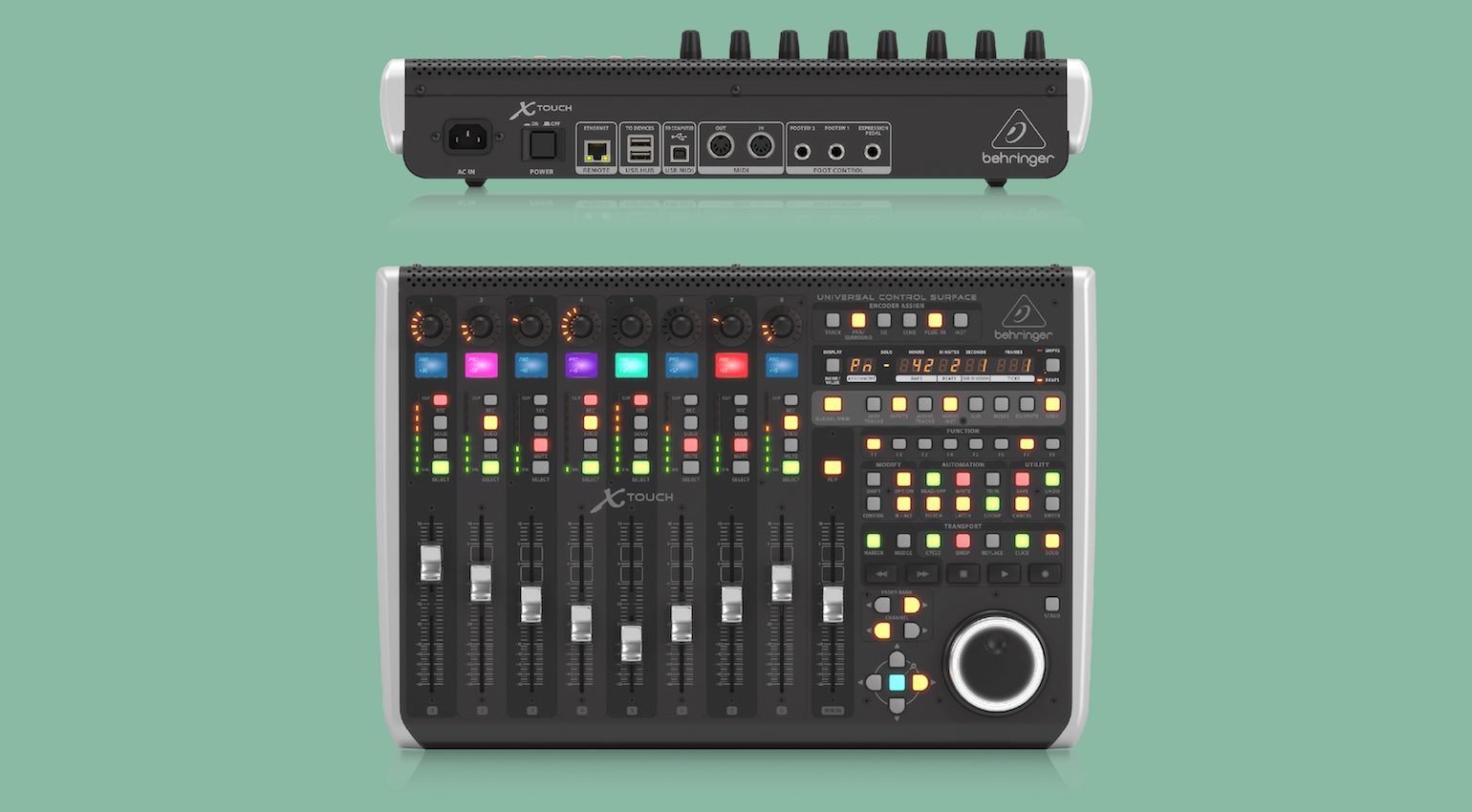 SSL UF8
When it comes to fader-based control surfaces, the UF8, although expensive, is without a doubt one of the best options available. It only makes sense that a world-renowned console manufacturer like SSL would create controllers with a similar sensibility and overall quality.
The UF8 includes mappings for most major DAW systems like Pro Tools, Cubase, Logic, Live, Luna, Nuendo, Studio One, and Pyramix. What's more, you can control up to 3 DAWs at once which makes it compatible with the most complex of workflows with up to 32-fader expandability.
The way it gives you quick access to plug-in parameters without mapping makes it a very powerful and tactile system. Moreover, if you want to delve deeper into solutions like SSL 360° and the SSL plug-in suites, also check out the UF1 and UC1 controllers in this range.
Slate Audio Raven MTi 2
If you prefer touchscreen interfaces, the Raven MTi 2 comes from a tried and tested series of controllers with a great reputation in the industry, especially among Pro Tools users.
The fundamental difference with touchscreen interfaces is all interaction is directly visible, so plug-in control is a breeze. This means you won't have to look back and forth between your screen and controller while working.
Furthermore, the Raven's multitouch interface allows gestures, with 2 and 3-finger tap assignments which can really speed up your DAW workflow. Your friends in audio certainly won't be making "Slow Tools" jokes anymore.
Also worth checking out:
More about DAW controllers:
Videos:
*Note: This article contains promotional links that help us fund our site. Don't worry: the price for you always stays the same! We will receive a small commission if you buy something through these links. We appreciate your support!
Image Sources:
Presonus Faderport V2: Presonus
AKAI APC40 Mk2: AKAI APC40 Mk2
X-Touch: Behringer
SSL UF8: SSL
Slate Audio Raven MTi 2: Thomann