Teenage Engineering TP-7 Review – Scratching Field Recorder
TP-7 from Teenage Engineering is their fourth device in the mobile Field series. Who is it for? What's inside that makes its hefty price tag justified? We take a look in our Teenage Engineering TP-7 Field Recorder Review.
Originally published at Gearnews.de by Marcus Schmahl. Translation by Julian Schmauch. 
Teenage Engineering TP-7 Review – Highlights
Compact and well-built 24-bit/96 kHz field recorder
A mobile workflow with professional features
High-quality recordings with the built-in microphone
Multitrack recording with three stereo tracks/six mono tracks
Audio interface for computers and smart devices
Always ready to record (even when powered off)
Built-in battery with 7h runtime
Unique playback with scratching
Companion iOS app with transcription function included
Additional features coming through a firmware update
TP-7 – a compact mini mixer and audio interface with pro features.
Teenage Engineering is known for its unique and rather unusual audio devices. OP-1 (now OP-1 Field), TX-6, a modular desktop system, and now the TP-7 are products of the Field series (the microphone CM-15 will follow soon).
The company is known for charging prices in the upper region. And there is a reason for that. In a recent interview, an employee explained how the price comes about: For each idea, countless prototypes are produced, of which only a few make it to the further stage.
In addition, TE develops a well-thought-out design and a great number of features in these small and very high-quality devices. This has to be paid for somehow.
Now the Field Recorder TP-7, which TE originally presented at Superbooth 2023, is available for order. Back then in Berlin, I was able to briefly take a look at the small recorder for the first time, and it was clear: I just have to test the device! Let's get into the Teenage Engineering TP-7 Review!
Unboxing
Unboxing of the field recorder is, like all products from Teenage Engineering, a real ceremony – very Apple-like. In the outer packaging, I find a white plastic case with the manufacturer's logo embedded – very chic.
This contains the device. There is also the plugged-in jack-to-mini-jack adapter, a quick start guide, and the USB-C cable.
What's inside?
The TP-7 Field Recorder is rather small and fits very well in the palm of my hand. Despite not having rounded sides, the unit feels excellent while I'm holding it. All the controls are very easy to use with one hand.
Main connections to the outside world, such as USB (power, audio interface, data transfer), audio inputs, and outputs, can be found on the front and back. On top as well as on the left and right sides you will find all the controls for the recording functions.
The TP-7 does not move an inch on a studio table due to its orange rubberized bottom when I push its buttons and scratch with the "wheel". All controls are, like the housing, made of aluminum and sit firmly installed on the hardware.
Professional Field Recording with a lot of Fun
The hardware's battery is charged via the USB-C interface. According to TE, you can use TP-7 without a power supply for up to seven hours. When turned on, the device shows the company logo and the version number on the small display. After that, the hardware is ready for use.
You should first check whether a firmware update is available on the TE's website after switching it on for the first time. If there is, the update can be installed automatically via a connection with a compatible browser (e.g. Google Chrome) and a computer via USB-C.
If I leave the TP-7 connected to my MacBook Pro (M1, current macOS), it is directly installed as an audio interface. You can also opt to transfer audio data that you recorded on it. The device can also be used with backing tracks to record another audio track (vocals, guitar, etc.) as a multitrack recording.
Furthermore, TE offer an app on the Apple App Store for iOS devices that communicates with TP-7 and manages all recordings. This app also optionally transcribes recorded voice files. Unfortunately, this option is currently only available in English, but other languages and more functions are likely to be included very soon.
The device itself is rather self-explanatory in design. On the right side, there is the "Memo" button to record voice memos when you press and hold it. This even works when TP-7 is turned off! Such a great feature. That also saves battery time.
On the opposite side sits the "rocker": this is a toggle switch that plays back what you've recorded either forward from slow to fast or in reverse from slow to fast.
On the surface, there are three large function buttons that start, play or stop a recording. Smaller buttons on the sides and top control other settings like input volume, moving through the menu, and activating channels).
A "Tape Reel" for Scratching?
The most noticeable component of the TP-7 is the spinning metal disk on the surface, which is called "Tape Reel". As soon as you record or play something, the disc spins. What makes this really fun is that you can intervene with playback live!
Stop spinning the disc, spin it faster or or even backwards. Scratching is allowed! And this works really very well. While recording you can even stop the disc and thus avoid recording moments you don't want. Then you can easily rewind to the end of the last phrase and continue recording there.
The disc seems very robust and feels damn good when "scratching". When you move through TP-7's menus with it, the disc also emits haptic feedback, which makes dialing it very satisfying.
Teenage Engineering TP-7 Review: the sound and the Workflow
Unfortunately, the TP-7 has similar cable plug issues as the TX-6. Due to the form factor of the device, you need these specially designed plugs. Normal sizes don't fit next to each other.
You can configure all three connectors either as inputs or outputs. Thus, the TP-7 can be used in different recording and presentation scenarios. In mix mode, you can record overdubs over existing recordings. In addition, you can even create three analog stereo tracks. While connected to your computer through USB-C, you can even use it to record six stereo tracks with the TX-6 mixer.
The integrated microphone offers a pretty good-sounding recording quality. And for professional recordings, you connect external microphones via line, but also USB.
The TP-7's audio output also delivers high-quality sound. Every recording I made sounds very authentic. Which is what you should expect from a product in this price range.
The built-in speaker doesn't deliver the most amazing sound, but it's absolutely sufficient for a quick listen. For better quality on the go, you can always plug in your headphones.
Due to its size, the TP-7 fits well in any pocket or backpack. Through its instant recording function, it can capture any moment or your thoughts and ideas even on the go. And 128 gigabytes of memory is definitely enough for a huge amount of recordings.
Conclusion
The Teenage Engineering TP-7 Field Recorder is definitely a highlight for me this year. Despite its compact size and low weight, you still have something in your hand. And the well-thought-out functions speak for themselves.
Of course, there are quite a few much cheaper similar products on the market. But they don't offer the fun factor and the intuitive usability of the TP-7. Also, the long battery life and integrated memory are features you rarely get from other field recorders.
When it comes to multitrack recordings, it's a mixed bag. An XLR or at least a mini-XLR connection with phantom power is sorely missed. But that would probably have meant the compact design wouldn't have been possible.
It's more than likely that the TP-7 will be updated with more features over the next few years. TE has done so with the OP-1 over many years. The TP-7 is a great product that will become my new go-to device for voice memos, interviews, recording DJ sets and live performances as well as doing field recordings.
Price, pros, and cons of our Teenage Engineering TP-7 Field Recorder Review
Teenage Engineering TP-7 is available right now at Thomann.de (Affiliate) for 1499 Euros. You can also get matching cables at Thomann.de (Affiliate).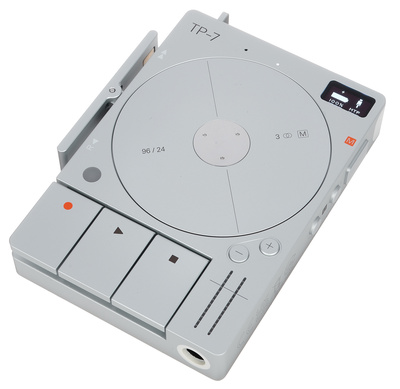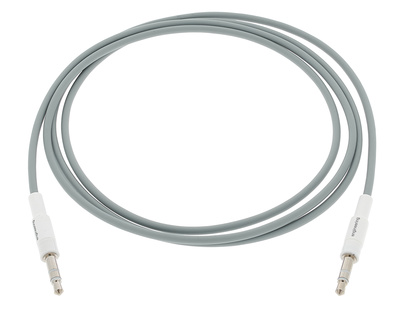 Teenage Engineering Field Audio Cable
More on Teenage Engineering and the TP-7
Pros and cons of the Teenage Engineering TP-7
Pros
Compact and well-built 24-bit/96 kHz field recorder
A mobile workflow with professional features
High-quality recordings from the built-in microphone
Multitrack recording with up to three stereo/six mono tracks
Audio interface for computers and smart devices
Always ready to record (even when powered off)
Built-in battery with 7h runtime
Unique playback function with scratch features
Companion iOS app with built-in transcription function
Additional features via firmware updates
Cons
Price
"narrow" inputs/outputs require plugs with small circumference
No XLR connection for microphones – no phantom power
Videos
* This Teenage Engineering TP-7 Review contains affiliate links and/or widgets. When you buy a product via our affiliate partner, we receive a small commission that helps support what we do. Don't worry, you pay the same price. Thanks for your support!
Image Sources:
TP-7 and TX-6: Marcus Schmahl
Teenage Engineering TP-7 Review: The Top!: Marcus Schmahl
Unboxing: Marcus Schmahl
Easy to hold: Marcus Schmahl
The front side: Marcus Schmahl
Teenage Engineering TP-7 Review: The other side: Marcus Schmahl
Transcribing with the iOS app: Marcus Schmahl
The inputs: Marcus Schmahl
Teenage Engineering TP-7 Review: The side: Marcus Schmahl
Teenage Engineering TP-7 Review: Sleek design: Marcus Schmahl
Scratching with the Tape Reel: Marcus Schmahl
The line adapter: Marcus Schmahl
The bottom side: Marcus Schmahl