Teenage Engineering TX-6 Review: Is it the world's smallest mixer?
The TX-6 from Swedish hardware designer and manufacturer Teenage Engineering is a super-compact 12-channel mini mixer and audio interface all in one. In our Teenage Engineering TX-6 review, we check out how the small unit works in a studio workflow.
Originally published on Gearnews.de by Marcus Schmahl. Translation by Julian Schmauch.
Teenage Engineering TX-6 – Highlights
Compact and extremely well-built 24-bit 12-channel USB audio interface.
Mobile mini mixer with professional features
Per channel three-band equalizer and compressor
Integrated battery with 7h runtime
Onboard synthesizer with sequencer
Built-in tuner
Two stereo multi-effects processors with eight effects for sound processing
Record directly on to connected USB stick
Teenage Engineering TX-6 review – what's it all about
Swedish manufacturer Teenage Engineering is known for its unique product designs in the world of professional audio. With the OP-1 (now OP-1 Field), they created an instrument – you might even call it a complete workstation – that is unrivaled in this form.
This unique design, its built quality and the huge numbers of features are not cheap. That is reflected in the selling price, which has had a polarizing effect on many in the music production world.
In April 2022 TE introduced the small mixer and audio interface called TX-6 at a price of 1139.00 euros. It has since been updated with many more features through firmware updates.
How does the new TX-6 sound? Can I also use it in my studio in combination with all my other equipment? How does it perform standalone in a mobile recording setup? Let's take a closer look with our Teenage Engineering TX-6 review.
Unboxing Teenage Engineering TX-6
Unboxing the small audio mixer, I was surprised by just how good the TX-6 looks. And how high-grade it feels when I first took it out of its box. Besides the device, a quick start guide, and a USB-C cable are inside.
TE TX-6's form factor is indescribably tiny – much smaller than I had expected. And it's super light. But that gives it an advantage, especially for smaller studios, live performers, and mobile recording situations that don't offer much space.
How does it feel?
Despite its ultra-small and compact form factor, TX-6 does not feel that small. All the knobs are quite easy to operate and don't wiggle in the slightest. However, turning them works smoother with slim fingers. But I never had the feeling of accidentally adjusting other knobs while turning them.
TX-6's connections to the outside world such as USB (power, audio interface, USB media for direct recording), and audio I/O are distributed on the front and back of the hardware.
Teenage Engineering TX-6 review – The workflow
As soon as you connect it to the power supply, the device's battery starts charging. And once it is fully charged, you can use the mixer without a power connection for up to eight hours.
Before you first start the TE TX-6 up, check whether a firmware update is available on TE's website. Updating is straightforward: you install any update by connecting it to a computer via USB-C. And If you leave the mixer connected to your computer, it is installed as an audio interface.
Connected to my DAW Ableton Live, TX-6 even receives and sends MIDI controller values in addition to 24-bit audio at 48 kHz. This means that I can remotely control software synthesizers with the mixer's knobs.
This also works with any current iOS device. So you can use your iPhone on the road as a (multitrack) recorder. Speaking of recordings: You can directly connect a USB stick or a USB hard drive to the TX-6 for recording. Perfect for mobile use!
Connecting the TX-6
The device has a very logical layout. Most should be able to grasp the user interface pretty quickly. On the left side, you have the mixing elements. Six faders for the volume of the six stereo channels and three pots per channel, whose functions can be freely configured.
On the right, you'll find the settings for the mixer's features. Two additional buttons on the front activate TX-6's settings for cue and aux connections. Due to its small form factor, you don't have separate controls for many functions. That means you often have to scroll through menus with the clickable endless controller.
Using the TX-6 in my studio
Unfortunately, you have to be careful what sizes your audio cables` plugs have. Because if you use the "usual" ones you might run into space issues due to the ports sitting very close to each other. If you use slim cables to connect to the stereo inputs, the cue, and the headphone outputs, however, they fit just fine.
As soon as you plug in a cable, TX-6 asks which type of input you want to use: mono, stereo, dual-mono/split. This means that you can connect up to twelve channels. Which can then be processed simultaneously and even sent to a DAW.
The included inputs have enough headroom that you rarely overdrive them accidentally. Of course, as with any digital mixer, you should be careful to avoid clipping.
The sound quality of the TX-6 is absolutely on a professional level. To further shape your input signals, you have an adjustable three-band equalizer, a high-pass and low-pass filter and a one-knob compressor at your disposal – per channel. You can even add a limiter to protect the main output.
Conclusion on our Teenage Engineering TX-6 review
The form factor and weight of the Teenage Engineering TX-6 definitely make it a good choice if you have limited space in your project studio. In addition, the integrated battery makes it a perfect fit for live performing or as a mixer for mobile recording setups.
The integrated effects work well for post-processing, refining, mixing, and even "mastering" your multitrack projects. Up to twelve audio tracks can be combined and streamed to a recording device via audio out. Same goes when the TX-6 is connected to iOS devices via USB-C, or directly to your computer. You can even control compatible MIDI devices remotely via Bluetooth.
Still, it does have a hefty price tag. For a similar sum, you can certainly get much higher-quality audio interfaces. But most of them don't have the special features of the TX-6.
Therefore, you should consider how you want to use a mixer or audio interface before buying. If the small box fits into your setup, you will certainly not regret the purchase.
I could do without the integrated synthesizer. For this, a built-in recorder with its own memory would have been much more useful. And for synchronizing various sound generators, an Ableton link integration would not be a bad idea. But that's something TE might still add in a future firmware update.
With the TX-6 from TE, you get a very solid, rather unique, great-sounding mixer and audio interface. For me, this hardware is an absolute gain for my live performances and mobile and small recording sessions. But if you are seriously considering it, take time to thoroughly test it.
Price, Pros, and Cons
Teenage Engineering TX-6 is now available here at Thomann.de (Affiliate) 1139,00 Euros. The matching cables are also available here at Thomann.de (Affiliate).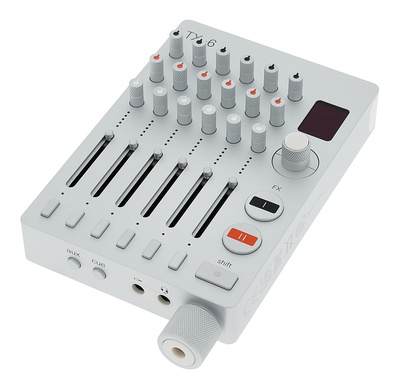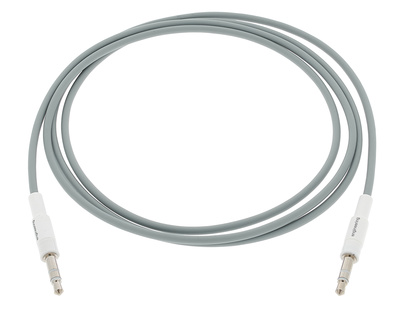 Teenage Engineering Field Audio Cable
Pros and Cons Teenage Engineering TX-6
Pro
Compact and well-built 24-bit 12-channel USB audio interface
Mobile mini mixer with professional features
Per channel three-band equalizer and compressor
Integrated battery with 7h runtime
Onboard synthesizer with sequencer
Built-in tuner
Two stereo multi-effects processors with eight effects for sound processing
Recording to a connected USB stick or external drive
New features via firmware updates
Cons
Price
"Slim" inputs/outputs require plugs with a small circumference
No XLR connector for microphones – no phantom power
Knobs are not for big hands/fingers
No built-in memory for recordings
Ableton Link missing
More on Teenage Engineering and the TX-6
Videos
This Teenage Engineering TX-6 Review contains affiliate links and/or widgets. When you buy a product via our affiliate partner, we receive a small commission that helps support what we do. Don't worry, you pay the same price. Thanks for your support!
Image Sources:
The TX-6 fits in the palm of my hand: Marcus Schmahl
Unboxing: Marcus Schmahl
What a beauty!: Marcus Schmahl
Firmware update through your browser: Marcus Schmahl
6 stereo inputs and a USB-C port: Marcus Schmahl
A jack-to-minijack adapter is included: Marcus Schmahl
Teenage Engineering TX-6 Review: Connected to my studio: Marcus Schmahl
Solid built quality: Marcus Schmahl
Sideview with the On/Off button: Marcus Schmahl
Teenage Engineering TX-6 Review - the non-slip bottom: Marcus Schmahl