Superbooth 2021: LPZW.modules Plgwitz Mk3, Out 1U, Elster and EC-mute expander
In a bumper bundle of modules, LPZW.modules has an updated mixer, a 1U output, a 909 cymbal section and logic from Euclidean Circles.
Plagwitz Mk3
An updated version of its 6HP 2-bus sub mixer with an improved audio path and better ergonomics. The patch sockets have been rearranged and the soft mute buttons have been given an offset to make them easier to finger. Digital control has been added over the mutes with a remote connector on the back for future control modules and a serial protocol that allows for mute groups, synced muting and momentary control.
LPZW.module will be showing the proof of concept with a 2HP control module with 8 gate or toggle inputs controlling two connected Plagwitz modules. So, if I've understood this correctly you can use a bunch of gates through an expander to control the mutes on the Plagwitz 4-channel mixer modules. That's pretty cool.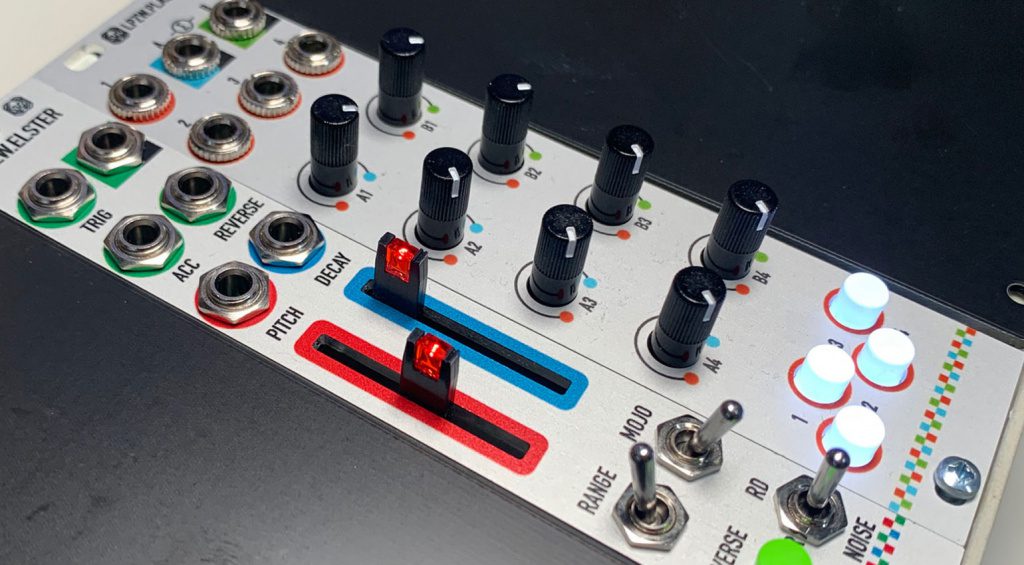 Elster
This module takes on the Roland TR-909 cymbal section. You can switch between 909 ride or crash and then control the pitch and envelope via the sliders. A third option lets you play with pitched white noise. Pitch and Decay can be controlled via CV and so can the option to reverse the sound.
Out 1U
A simple 4HP 1U module that connects to the audio output PCB on Intellijel cases and offers a high-quality balanced output. There's a three-level pad toggle switch for attenuating the signal to better match with external gear such as mixers. It can connect to the Plagwitz module internally.
EC-Mute Expander
Designed to be used with the EC-mute which added synced muting to VPME's Euclidean Circles. The expander turns it into a useful standalone logic module. You get 6 inputs, 6 alternative inputs and 6 outputs to switch logic signals. You also get 2 OR inputs to the first two channels and reset derived from the EC-mute's sync source. Clock can be normalled to the inputs so it becomes a super performable sequencer controller.
Availability
Plagwitz and the EC-mute expander should be available soon and the Out 1U will be coming along in the first quarter of 2022. The Elster is suffering from a lack of chips but is ready to go as soon as they get them. They are in booth Z270 at Superbooth.
More information
Image Sources:
Elster and Plagwitz: LPZW
LPZW Out: LPZW