Stone Deaf FX Black Edition: Updated Fig Fumb, Kliptonite & Warp Drive
Fig Fumb, Kliptonite and Warp Drive limited editions
Stone Deaf FX Black Edition is a limited edition run of the Fig Fumb, Kliptonite and Warp Drive. Each pedal is not just a new colour scheme. Rather a response to issues in sourcing the correct components for the original circuits.
Stone Deaf FX Black Edition
The Stone Deaf FX Black Edition consists of three of the UK company's popular effects pedals, reworked using updated components, due to supply shortages. This limited run will see 500 of each pedal made, using these modified circuits and altered voicings.
Fig Fumb
First up is the Black Fig Fumb and which is described as "a Muff-style fuzz with a different bark, a tighter bass response, an altered noise gate with a smoother feel and a wider usability in all extreme settings of the EQ."
Already a popular effect, this limited-run version could be popular with any fuzz fanatics. As it offers a different voicing and fuzz fans tend to love fuzz variations.
MSRP – GBP 150
Kliptonite
Next up is the Black Kliptonite combines their Velcro Fuzz circuit and Tube Sound overdrive which can be mixed together in different ratios.
This Black Edition version now adds a parametric EQ to the mix, to further enhance the tone. Which, in theory, should make it a super flexible pedal for drive tones.
MSRP – GBP 150
Warp Drive
Finally, the Black Warp Drive adds a new symmetrical LED clipping diode. Stone Deaf says results in "a more saturated and harmonically rich amp-like sound and feel by increasing the amount of opportunities for pinched even harmonics."
MSRP – GBP 150
Verdict
The idea of using different components due to supply shortages is certainly a good one. Stone Deaf FX already has a huge fanbase and I can see musicians wanting to check out these limited-edition Black Series versions.
Each effect is also suitable for bass, drums, keyboards and also analogue synths, so they make great studio tools for getting creative.
All the standard versions are still currently available, so it also gives musicians a choice.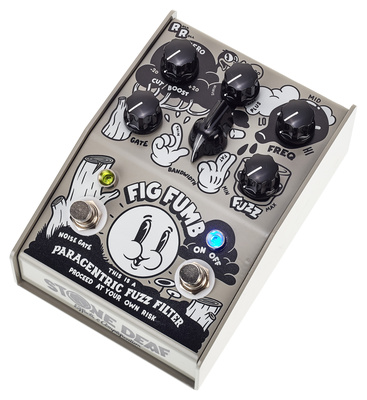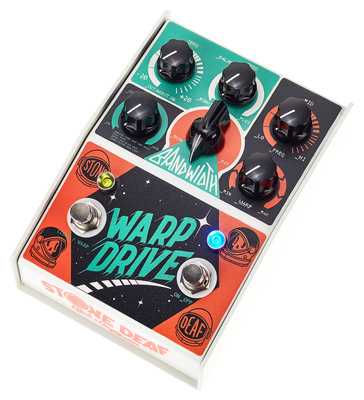 Stone Deaf Warp Drive Hi Gain Dist. & EQ
More Information
This post contains affiliate links and/or widgets. When you buy a product via our affiliate partner, we receive a small commission that helps support what we do. Don't worry, you pay the same price. Thanks for your support!
Image Sources:
Black Edition Fig Fumb: Stone Deaf FX
Kliptonite Black Edition: Stone Deaf FX
Warp Drive Black Edition: Stone Deaf FX