Steinberg releases Cubasis 3 for Android – a milestone for audio on Android?
Steinberg has released Cubasis 3.1 for iOS and – for the first time in the software's history – Android! By bringing its popular mobile DAW to Android devices, Steinberg provides a glimpse of hope to those who are longing for more audio software on the platform. Does this mean that Android will finally catch up with iOS in terms of available software for music making?
While Android is the market leader for mobile operating systems in many parts of the world, there's no denying that it's far inferior to iOS when it comes to making music. Compared to Apple's platform, Android users have to make do with a much smaller selection of available music apps. Most popular DAWs, software synths and effects are only available on the iPad and iPhone.
This is in part due to the fact that Apple has given iOS system-level media capabilities that resemble those of macOS, while Android's audio engine wasn't really designed for much more than making phone calls and watching videos. But part of the reason could also be that there just wasn't an attractive DAW available, one with enough advanced features to serve as a hub for people's music activities on the platform. With Cubasis 3 for Android, it seems that this could be changing. Is this release the turning point for Android as a music making platform?
Steinberg Cubasis 3 for Android
Cubasis 3 is one of the most popular and feature-rich DAWs on iOS. Its release for Android means that a major player embraces the platform for the first time. There's hope that this will increase the user base, making the development of Android music apps more attractive for other developers.
The features are almost identical to the iOS version. The main difference is the number of simultaneous inputs and outputs. While the iOS version of Cubasis can handle audio interfaces with up to 24 inputs and outputs, Android users are limited to one stereo input and output. The audio resolution is fixed at 48 kHz, compared to up to 96 kHz on iOS. Other than that, Cubasis 3 for Android does everything the iOS version does, from unlimited audio and MIDI tracks to the included effects plug-ins and virtual instruments to compatibility with the desktop version of Cubase. That's great news for anyone considering an Android device for making music! Here's a feature comparison from Steinberg's page: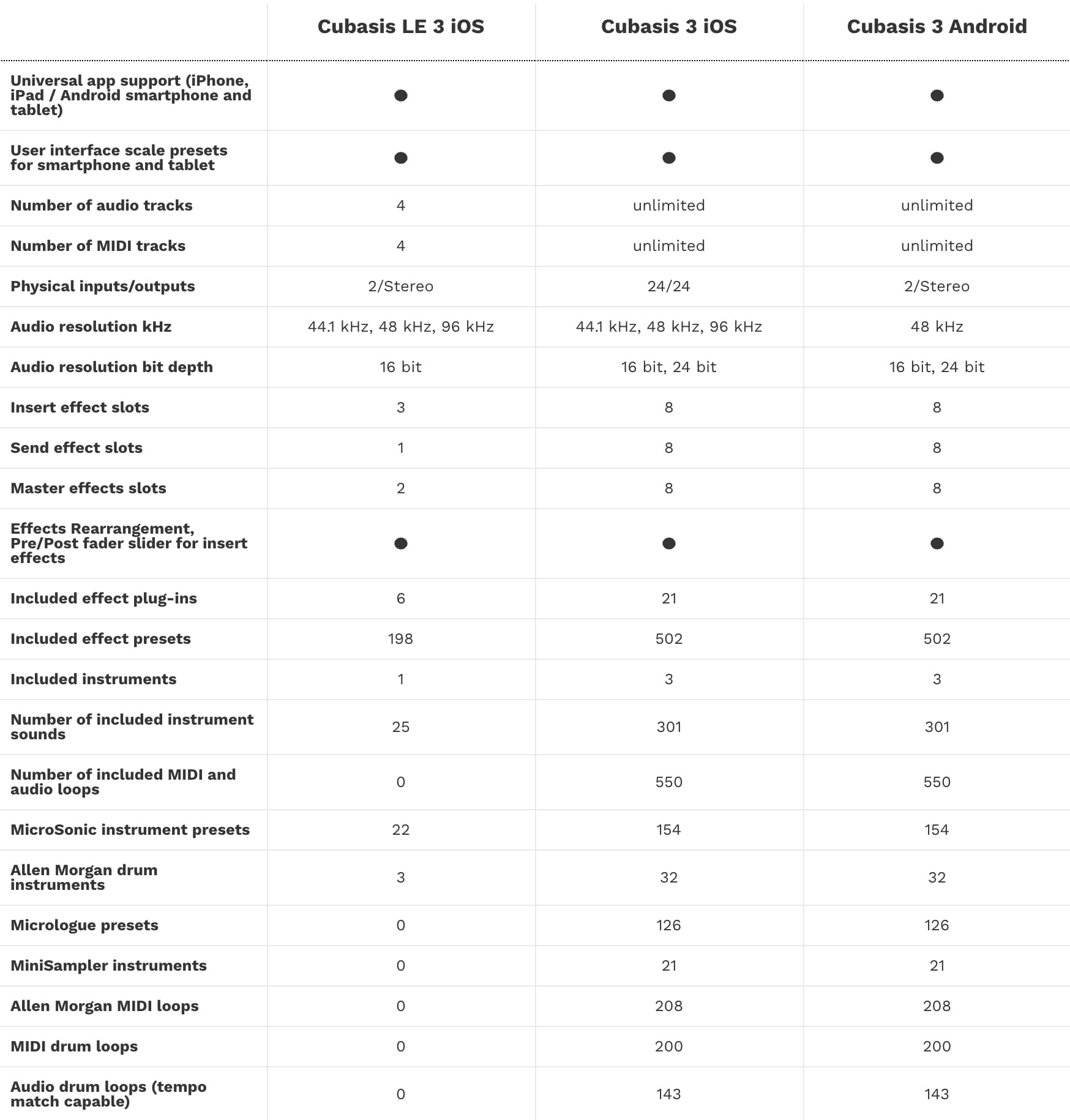 One major drawback is that as of now, there's very little in terms of external effects and instruments. While iOS users can choose from a huge selection of external software synths and effects, Android users are pretty much limited to the app's internal content. There's no Audiobus and inter-app audio on Android, and of course no AUv3. Sadly, this also means that the Waves plug-ins for Cubasis aren't available on Android. Let's hope that Cubasis 3 not only sparks the creation of additional music content for Android, but also the development of a capable real-time audio engine that makes the platform a viable option for music making.
Cubasis 3.1 update
On a side note, Steinberg has also updated Cubasis for iOS to version 3.1. In addition to some bug fixes and workflow improvements, the update introduces a master strip plug-in suite, comprised of a stereo imager, multiband compressor and loudness maximizer. This is available in the brand-new Android version, too.
Price and compatibility
Cubasis 3 requires Android 8 or higher.  According to Steinberg, it requires a 64-bit CPU tablet or smartphone supporting arm64-v8a ABI. The Play Store will let you know if your device is compatible.
Like the iOS version, Cubasis 3 for Android costs EUR 54.99. There are a few in-app purchases available, such as the Micrologue ARP Arpeggiator, Classic Machines and a couple of FX packs.
More information
Video