SmplTrek Portable Production Sampler: Killer SP-404 alternative?
Sonicware has just revealed the SmplTrek Portable Production Sampler on Kickstarter and its handheld, groovy nature could give the Roland SP-404 MKII a run for its money.
SmplTrek
Gosh, they really went to town on that official release video. While comparisons to the Roland SP-404 MKII seem obvious the video doesn't go for that lo-fi, laid back vibe at all. There could be more of a reflection of something like the Elektron Digitakt or the Roland MC-707, or perhaps we should stop comparing and look at what it has to offer.
Sonicware is headed up by Japanese developer Yu Endo and so far we've been treated to his unique takes on the groovebox with the Liven XFM, Bass&Beats and 8bit Warps. SmplTrek looks like a very different proposition but hopefully, it retains the fun and accessibility of the other boxes.
Firstly, it's a sampler and you can sample straight in via the built-in microphone on the front. Also, you can sample directly from your phone via a USB port. You record with the touch of a button and SmplTrek will auto-slice samples across the pads. As well as that you can time-stretch and pitch shift to keep everything together. Samples can be resampled and run through any of the 30 internal effects. It ships with a "massive" sample library (I'm not sure 500 samples count as massive) and you can add to the library via SD card.
Goovebox
Secondly, it's a groove box. It has 10 sequencer tracks for banging out your sample-based music. You can chain up to 16 of these sequencer "scenes" into songs. The pads are velocity-sensitive and function as drum pads and as a keyboard. The numbered buttons give you quick access to scenes in a song or steps in a scene. You'll also notice the gamepad style direction pad on the left for navigating the controls and menu system.
Thirdly, it's a multitrack recorder. You can record up to 3 audio tracks alongside your sequenced song. Obviously, you can sing through the onboard mic, but you can also plug a guitar or dynamic mic into the back and record right in.
Fourthly it's a device for live streaming. Using the USB port it can act as an audio device for your computer or phone and stream your songs directly into your streaming platform. You can sing and perform live alongside if you wish. All these things bring it together into quite a neat package and of course, there's plenty more stuff inside.
Flexible songs
The recording engine is quite interesting. Each track can have a different emphasis and a different function. it can be a Loop Track for a looping sample, a Shots Track for single one-shot samples, a Drum Track step sequencer, Instrument Track piano roll or a MIDI Track for external instruments. You then stack these sequences up into scenes for your whole song. The live recorded audio tracks run alongside. They don't have to be single takes as you can splice together various takes into a complete track.
Interface
The screen is definitely going to be helpful but what's interesting is the way Sonicware has designed the interface. Because the idea is that you hold it in two hands and use your thumbs to navigate around like it was a Gameboy or game controller. That seems pretty natural and gives it an instant, playable vibe that could really work well. The inbuilt speaker is not great though if it's the same as the Liven boxes. But hey, it has its uses.
Kickstarter
The SmplTrek has already smashed through its modest goal of just over £31,000 and it's only been online for a day. There's a Super Early Bird deal that's running for the first 5 days of the campaign for 35,000 YEN or around £222. The price after that will be around £298. That's is still a good deal cheaper than the SP-404 MKII or Digitakt.
This thing looks great, easy and straightforward without trying to be achingly cool. It says that it's battery-powered but doesn't specify whether that's an internal rechargeable battery or if you need to break out a bunch of double As. In any case, this could be fun.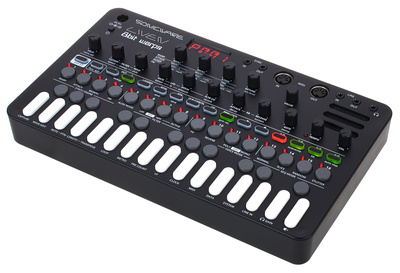 Sonicware LIVEN 8bit warps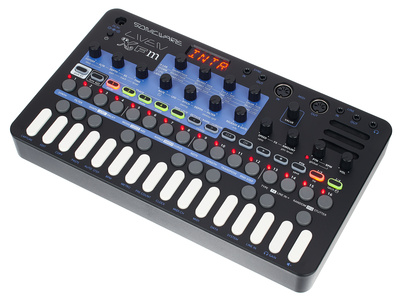 Image Sources:
Sonicware SmplTrak: Sonicware
Sonicware SmplTrak: Sonicware