Simon The Magpie The Beehive: 42 oscillator drone synth
The Beehive is yellow, covered in knobs and emits the power of 42 oscillators in a swarm of tone, noise and detuned beatings.
 The Beehive
This is the first synthesizer from YouTuber, synth bender and pedal maker Simon The Magpie. Available via his Magpie Pedals store, The Beehive is a shock of yellow with an army of knobs. It's full of oscillations that are configured in more ways than you'd imagine.
The Beehive is a drone synthesizer meaning that there's no envelope control so it's always sounding, and the pitch of each oscillator is set manually via the knobs, not controlled via a keyboard or sequencer. The 7 x 7 grid of knobs gives you control over 6 oscillators and the volume for that row. Therefore, the 7 rows give you 42 oscillators and 7 volume knobs.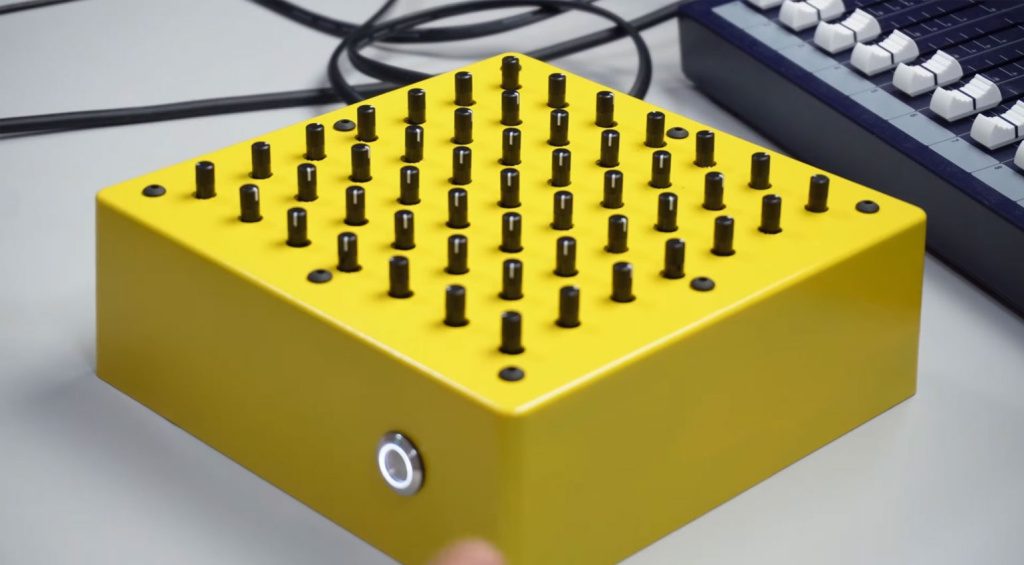 For every row of oscillators, there's an output on the back. They are all normalled to the last output to make things simpler if you don't have a mixer to hand, although if you do then there are some interesting things you can do with panning. So you could see it as 7 6-oscillator drone synths in a single box. The capacitor values for the oscillators also change across the row. So on one end you've got higher pitches and on the other lower pitches which pushes you into intervals and harmonies – or at least a wide palette of frequencies.
Simon says
Simon says that he's trying to keep it primitive, really minimalistic while still being possible to do a lot of fun things with. He was inspired by the very first thing he made a video on which was the Drone Thing by Electro Faustus.
The box is made from aluminium which you can buy either painted yellow by Simon's fair hands. Or naked ready for your own splash of colour. It can also all be powered off a single 9v battery.
The sound is cinematically industrial! Tones and waveforms emerge throbbing from a swarm of interplaying frequencies that pull and push each other into agreeable and argumentative tunings. It's fun! Add some reverb and delay and it's out of this world.
The Beehive is available now from the Magpie Pedals store. It costs 3,333 SEK for unpainted or 3,420 SEK for yellow, which is around £273 or £280.
Image Sources:
Simon The Magpie The Beehive: Simon The Magpie
Simon The Magpie The Beehive: Simon The Magpie