Review: Røde NT1 5th Generation – The mic for podcasts and streamers
One of the most popular entry-level microphones has received a massive update after nine years: here is the Røde NT1 5th Generation! We check out the new features like the added USB-C port and 32-bit recording. We also compare it to its bigger brother, the Røde NT2-A in this in-depth review. 
Originally published on Gearnews.de by Julian Schmauch.
Røde NT1 5th Generation – The Highlights
Large diaphragm microphone with cardioid pattern
Phanto-powered XLR output and (new!) USB-C
DSP effects: High-pass filter, Compressor, Noise Gate, Aphex Aural Exciter (for high frequencies), and Big Bottom (for bass frequencies)
DSP effects only accessible in Rode Connect software
Recording with sample rates 48, 96, and 192 kHz and bit rates 24-bit 32-bit possible over USB
Almost infinite headroom possible through 32-bit recording
Røde SM6 microphone holder, red XLR cable (6m) and black USB-C cable (3m) included
Røde NT1 5th Generation – What's included in the bundle?
While I'm unboxing, I meet a couple of old friends that I knew from my trusty old Røde NT2-A that I have been using for ages. The same SM6 microphone holder with an integrated pop shield comes with this package. The way Røde has implemented the pop shield makes it very easy to position it in all three dimensions.
Also included are an eye-catching red XLR cable (6 meters), a USB-C-to-USB-C cable (3 meters), and a dust bag. And the mic itself, of course, in black. I started with connecting the Røde NT1 5th Generation through the included USB-C cable as this is THE big addition in this update.
Røde NT1 5th Generation brings USB-C and integrated DSP effects
The big podcast and live streaming waves have not gone unnoticed by Røde in recent years. With Røde X they even created a whole separate brand for products specifically aimed at these use cases. Now it's time to integrate features for quick vocal recordings into their most popular mic series with the Røde NT1 5th Generation.
Therefore the large diaphragm microphone now brings a USB-C port included in its XLR port, no additional audio interface is needed. There are also DSP effects (compressor, EQ, noise gate, high-pass filter, Aural Exciter for low end (Big Bottom) and high-end (..)) included that can be accessed through Røde's proprietary software. The benefit of having the effects added by a dedicated DSP chip on the mic is next to no latency.
Setting up the Røde NT1 5th Generation
Connecting to and installing the Røde NT1 5th Generation on my Macbook Pro (M1 Pro, macOS Monterey 12.6.3) through USB-C is a breeze. The mic is instantly recognized and I can access its gain, sample rate, and bit rate setting through the Mac's Audio and MIDI Setup. I fire up Røde Connect, one of two apps you need for working with the mic. The app recognizes the connected NT1, downloads, and automatically installs a firmware update. In Rode Connect, you also set up the DSP effects.
Before we get down to the actual workflow or recording with the mic, let's take a quick look at the new conversion abilities. The NT1 converts at sample rates 48, 96, and 192 kilohertz. And in addition to recording at 24 bits, it now also works in 32 bits. The DSP effects, however, only work in 48 kilohertz and 24 bits.
Recording in 32 Bit – what's the big deal?
Recording in 32-bit floating point comes in handy when your recording has huge, sudden jumps in its dynamics. Because through this, you can have almost infinite headroom. This means your recording won't clip even with very sudden jumps in volume when you accidentally move too close to the mic.
Of course, this still does not rid you of properly setting up the Røde NT1 5th Generation's gain before recording. But to try it out for yourself (if you own an interface capable of converting in 32-bit), try screaming into your mic or strumming your guitar really intensely so the recording in your DAW noticeably clips. If you turn the audio clips gain down after, no clipping is audible. Compare that to 24-bit, where the clipping is basically baked into the recording and you'd have to repair it with something like iZotope RX. Neat!
Recording workflow and using the DSP effects
To start with, I record a couple of vocals and acoustics first in Audacity then in Ableton Live with the Røde NT1 5th Generation. I can adapt the mic's gain and switch sample rate and bit rate, but there isn't any audible change when I adapt the DSP effects in Røde Central. I emailed support and they reminded me that as of right now these DSP effects only work when recording with the dedicated podcast app Røde Connect – too bad!
Also, it is worth keeping in mind that as of right now, these DSP effects only work when recording in 48kHz and 24-bit. If you select any higher values, Røde Connect simply blocks you from using them. But support let me know that they are keeping an open mind about future additions in both regards: DSP effects outside of Røde Connect and with 32-bits.
What can't be fixed with a software update and is a bit of an unexpected omission: the Røde NT1 5th Generation has not headphone output for direct (latency-free) monitoring. Many USB-Microphones have this included nowadays, so I'm a bit surprised that Røde opted for monitoring through system audio or an audio interface (which would make the usage of an USB microphone rather pointless). Plus, due to high latency, you can't monitor with Bluetooth headphones either.
Røde Connect's Workflow
Røde Connect is for quick recording and live streaming, just like the Røde NT1 5th Generation. The mic is instantly recognized in the app here I can set up (and hear!) the DSP effects. You can also include any audio stream form your system's audio or specifically from any software (like your DAW) through the included virtual audio drivers Røde Connect System und Røde Connect Virtual.
You also get 8×8 pads where you can drop and trigger jingles, effects, and sounds. Recording with Røde Connect and the NT1 is a breeze and the DSP effects do make quite the difference. Unfortunately, the app is so simplified that recording and exporting are literally all it does. If you want to edit your recording, remove unwanted sections, or and "Uhm", you can only export the material and further work on it in your DAW.
Comparing the Røde NT1 5th Generation vs. NT2-A
When recording with the NT1 in "normal" mode through my RME Babyface FS, you don't have access to the DSP effects. But compared to my trusty old NT2-A, which is a bit higher grade, the results are pretty decent. It's no surprise Røde has become such a household name in podcasting and home recording in the past few years.
The sound of the NT2-A still is a bit rounder and fuller, less canny, when I directly compare recordings. But on the other hand, with it I don't have the option to record with some pretty well-sounding DSP effects that give that "radio voice" – latency-free.
Conclusion
You get everything you need for podcasting and live streaming in the Røde NT1 5th Generation bundle. And by including a USB-C port, Røde's nod to podcaster's and streamer's needs succeeds.
I'm hoping that they do make the DSP effects available outside of Røde Connect as that software is so severely limited, it's tough to recommend it. Also, using the DSP effects with higher sample rate or bit rates would be nice. And for the next iteration of the mic I sure hope that Røde includes a headphone jack. Until then, you can get the new NT1 5th Generation at Thomann* for 299€.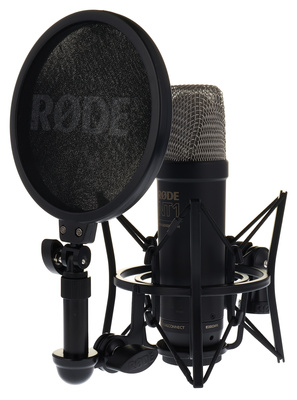 Rode NT1 5th Generation Black


Rode NT1 5th Generation Silver


Rode NT2-A Studio Solution Set
Pros and Cons
Pros
Almost infinite headroom with next to no chance for accidental Clipping with 32-bit recordings
fast and mobile workflow with USB connection
latency-free and high-quality improvement of recordings through DSP-effects
Good results through XLR
All necessary accessories like microphone holder, XLR and USB cable included
Cons
No headphone out for direct monitoring
DSP effects only accessible through Rode Connect
More on the Rode NT1 5th Generation
* This post contains affiliate links and/or widgets. When you buy a product via our affiliate partner, we receive a small commission that helps support what we do. Don't worry, you pay the same price. Thanks for your support!
Image Sources:
The Rode NT1 5th Generation bundle: Julian Schmauch
The USB-C port is included in the XLR port.: Julian Schmauch
Rode Central: Julian Schmauch
Noise Gate in Rode Connect.: Julian Schmauch
Audio Export in Rode Connect: Julian Schmauch
Røde NT1 5th Generation vs Røde NT2-A: Julian Schmauch