Review: Earthworks Ethos XLR Broadcasting Microphone – A new Standard?
If you're in the market for a premium broadcast microphone, the Earthworks ETHOS may just be the mic you've been looking for. We've had this superb microphone on long-term review and are now ready to share  our thoughts and impressions of this charismatic and stylish microphone with you.
Earthworks ETHOS – Long Term Test
Here at Gearnews we get sent a lot of press releases and see a lot of music gear; it's therefore massively refreshing when we see a new and unique product. Last year Earthworks released its Icon and Icon Pro Broadcast mics which couples a beautiful mid-century aesthetic with premium audio performance. I liked them so much that they made my list of the best live gear of 2021.
The team at Earthworks reached out to me over the Christmas holidays and offered to send me their latest flagship broadcast mic, the ETHOS. Since then I've put it to work as a streaming mic for Twitch sessions, voice-overs in video editing, and in use for video calls.
So, is the ETHOS any good? And should it join your shortlist of broadcast mics? Read on to find out.
Sexy Styling – Stunning Specs!
The first thing that hit me upon opening the box was the build quality and finish of the ETHOS. The body is beautifully machined from solid stainless steel and is flawless in its fit and finish. You might lament the loss of the metal windscreen of the ICON; however, the ETHOS combines a thick foam windscreen with a multi-stage metal wind/pop filter. The filter design is undoubtedly very similar to the famous Shure SM7b, and one that you'll find is very effective!
However, those good looks would be nothing without the specs to match; without a doubt, the ETHOS tech specs utterly astound! It should be noted that the ETHOS uses a small diaphragm (14mm) condenser capsule, which is very unusual for a broadcast vocal mic. Most broadcast mics use a large-diaphragm dynamic or condenser capsule. Earthworks' philosophy is one of pursuing fast transient response, for which a small-diaphragm design excels.
Let's start out with the frequency response, shall we? 20Hz to 30kHz with a frequency response that is fundamentally flat throughout! You'll also enjoy excellent directivity, as the polar pattern stays fundamentally hyper-cardioid throughout the frequency range.
As if that wasn't enough, Earthworks quotes a "peak acoustic input" of 145db SPL! In the real world, that should all translate to a mic that sounds detailed, lively, and almost impossible to overload. But do the specs translate to real-world performance?
First Impressions of Earthworks ETHOS as a Broadcast Microphone
Attaching and positioning the ETHOS to my mic stand was easy; you'll undoubtedly appreciate the included Earthworks' M2-R ball-mount. It really does make mic positioning quick and easy, exactly what you want on a stream or podcast.
One minor irritation is the positioning of the XLR output, which is on the end of the microphone (just like an EV RE-20). Unless you have access to a right-angled XLR connecter, this can make the mic a little unwieldy. I much prefer the Shure SM7b connector which places the XLR connection out of the way.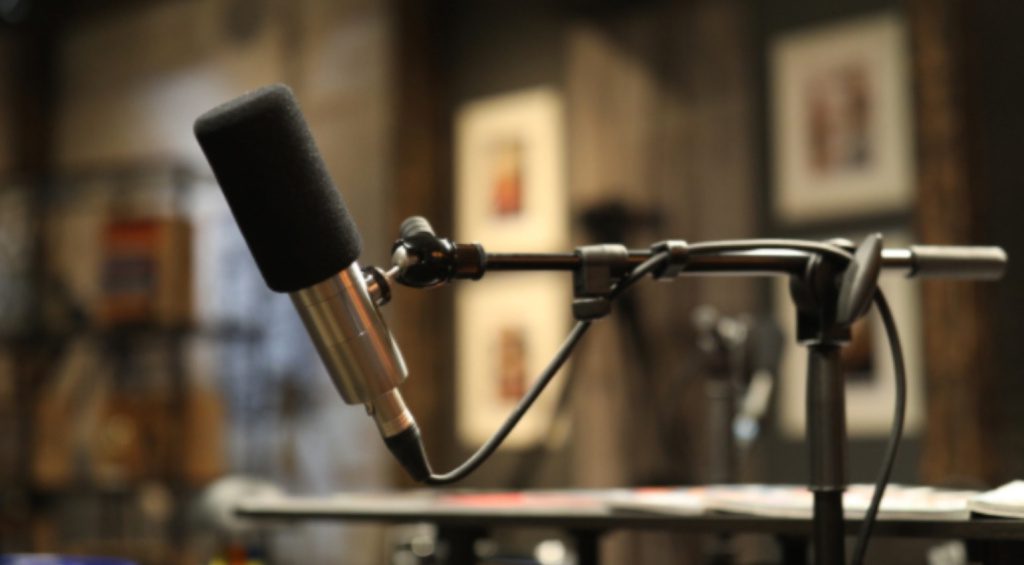 I expected the ETHOS to sound un-naturally bright, given that extended frequency response. In truth, the mic is extremely natural in its reproduction, with a very pleasant weight and detail to the sound when used close-miced on voice.
Some microphones, especially budget condenser mics, can end up "fatiguing" to listen to for long periods of time. This can be a factor of overly-hyped EQ, low-level distortion, or even a combination of the two.
In Use for Podcasting and Voiceovers
My first opportunity to use the ETHOS came over the Christmas Holidays, in less than ideal situations. I was away from home and conducting a podcast from an untreated front room with a high ceiling and untreated walls. It's a highly reverberant room and I expected less than impressive results. To compound this, I was using a budget audio interface, with distinctly average microphone preamps.
Watching the live stream back afterwards, however, I was astonished at how good the ETHOS performed in these less than ideal circumstances. There was virtually no room ambience on the recording, despite there being a hard wall only a foot or so behind me. My voice had a weight, presence and crispness that was in sharp contrast to anything I'd used before.
If you've used a condenser mic for live streaming before, you may have encountered issues with ambient noise issues. For example, you might find your microphone picking up noise from your computer's fans! In use, I haven't suffered any of these problems with the ETHOS when used as a close vocal mic.
Makes the most of your mic pre's
Importantly, as the ETHOS is an active condenser microphone, it offers a much hotter output than typical dynamic broadcast mics. This is yet another advantage as it will result in a lower noise floor. Additionally, as I found, it tends to flatter average mic preamps, as you won't be as reliant on gain from your mic pre-amps.
Indeed, it's very easy to listen to the ETHOS for long periods of time; a testament to the mic's transparency and low distortion. As a mic aimed predominantly at the broadcast and voice-over audience, this is a massive selling point and a huge boon in its favour.
Should you buy one?
Overall, I'm deeply impressed with the ETHOS. Indeed, it's now part of my daily "tool kit" and I'd feel somewhat lost without it. But should you buy one with your own, cool, hard-earned cash?
Admittedly, the ETHOS is not a cheap microphone by any stretch of the word. It costs roughly twice that of stalwarts such as the Shure SM7b or EV RE-20. In spite of that, I still think it's a valid price for what is a deeply impressive piece of design and engineering. Consider also, that if you bought one of the classic dynamic designs, you may find yourself buying a "cloud lifter"; factor that into the equation and the price comparison narrows.
In conclusion then, if you're after the "Rolls Royce" of broadcast microphones, I'd have no hesitation recommending the ETHOS. If you're really serious about the quality of your live streams, podcasts or voiceovers, then consider it a solid investment.
More Information on Earthworks ETHOS
Image Sources:
Ethos Frequency Response: Earthworks
Earthworks Ethos Podcast Mic: Earthworks