PreSonus Atom SQ: DAW-centric MIDI controller for Studio One and Ableton Live
PreSonus is riding 2020 with big announcements. Following the recent introduction of Studio One 5 – a major update to its popular DAW – the manufacturer unveiled a new USB MIDI controller, the Atom SQ. Geared up with 32 RGB touch pads, 8 encoders, touch strip and an arpeggiator, Atom SQ has the potential to bring a tactile, groovebox-like workflow to Studio One, Ableton Live, and other DAWs.
PreSonus Atom SQ
Arranged in staggered rows, the 32 RGB pads are velocity-responsive and allow for piano-like performances – handy when punching in bass lines, melodies and phrases. It's possible to play with pre-defined scales, which will combine nicely with the arpeggiator. Of course, no modern pad-oriented unit is complete without a step sequencer and clip triggering functionality. A multi-function touchstrip and eight freely rotating encoders provide additional performance possibilities like pich bends and parameter adjustments. Finally, a crisp-looking color display shows contextual information, such as tempo, swing, timeline position and so on.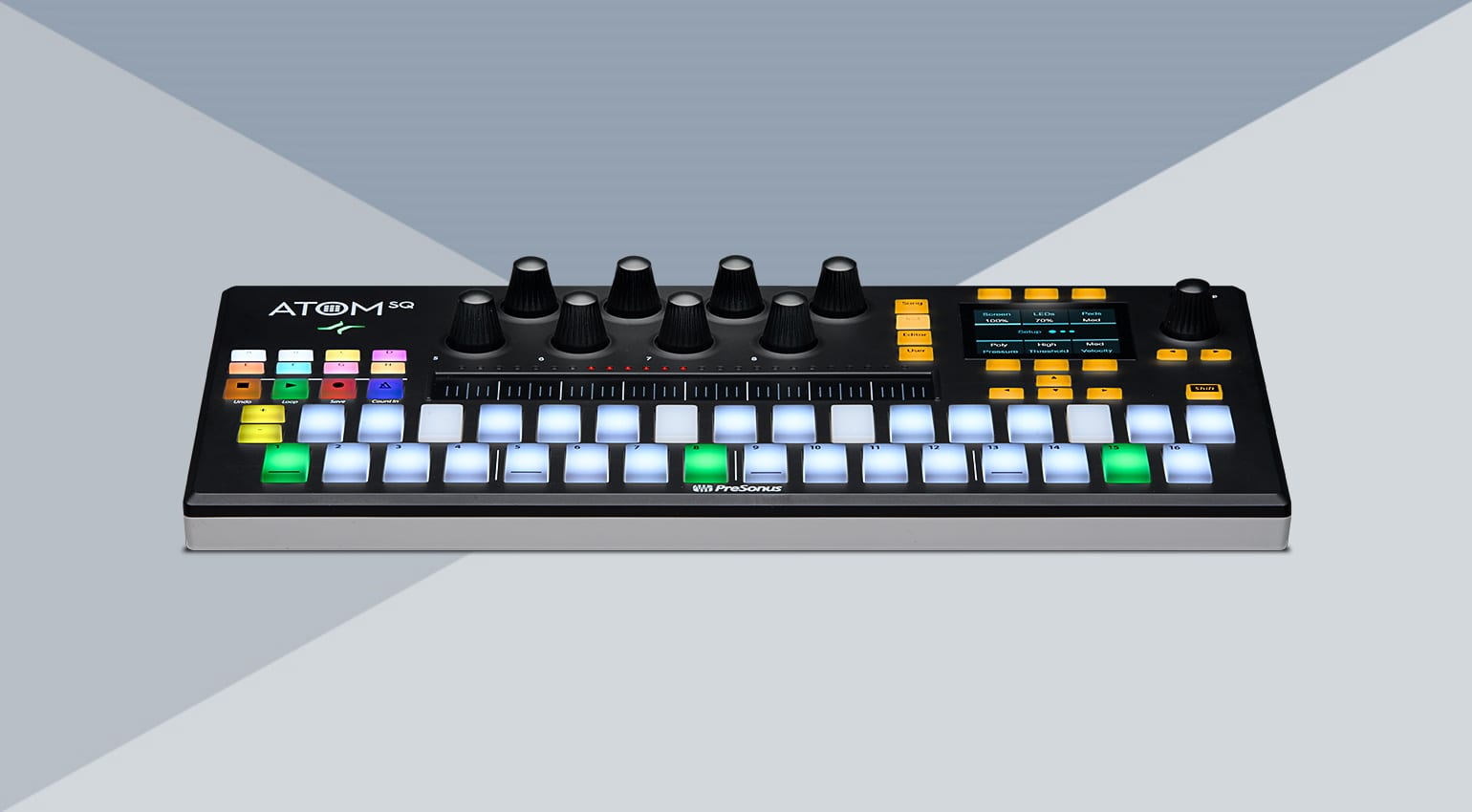 DAW Integration
Atom SQ is factory mapped to Studio One and Ableton Live, functioning as both your musical and DAW controller. Features include clip triggering, step editing, manipulating events (copy, paste, delete), transport functions (play, pause, stop, navigation) and parameter control (via MIDI CC).
Connectivity
Connectivity options are reduced to a single USB-C port for computer connection and bus power. MIDI ports are an obvious omission, which gets a point across – this is a strictly DAW controller, not a MIDI hub or sequencer for the rest of your hardware.
Price and availability
Shipping in an estimated two to three weeks, Atom SQ is priced EUR 239. The controller is already up for pre-order at PreSonus dealers.
More information
Image Sources:
PreSonus Atom SQ controller: PreSonus