Upcoming Electrostatz-based heaphone range – exclusive!
Mitchell and Johnson announce headphones with electrostatic technology for every budget
New kids on the hi-fi block Mitchell and Johnson have told gearnews about an upcoming new range of five new headphones, using, no less, electret technology coupled with a 40mm driver! The makers are using Electrostatz technology to achieve this. The first model to boast this new technology, the GL2SE, and was available via their Kickstarter campaign and is still the only model listed on their website. These 5 new units are said to cater for all market sectors, including DJ's and the pro audio community.
Electrostatz Technology
Electrostatic technology in headphones was developed a long time ago, but with the original tech requiring high voltage amplification they weren't practical or cheap. Original electrostatic transducers required a separate power supply and this made them heavy and not very portable. Mitchell and Johnson, however, are utilising a recent development by Electrostatz, who build electrostatic transducers which can operate on the power provided by any modern headphone amp, including those on iPhones and mp3 players. No additional power source or amplification is needed.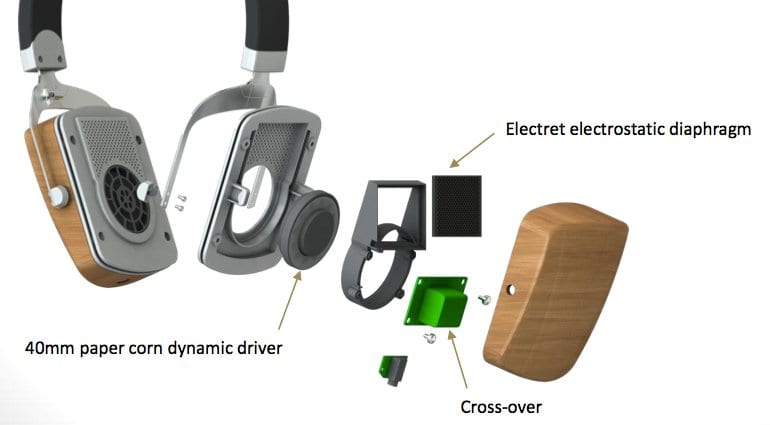 Mitchell and Johnson say that the benefits are distortion-free sound with a frequency response as high as 50kHz. Supposedly, these electrostatic transducers aren't prone to the same flaws that traditional paper or plastic driver cones are including driver break-up. They should apparently last longer too, offering the same response for life.
As these electrostatic drivers only have a high frequency response, Mitchell and Johnson have coupled them with a traditional 40mm headphone driver for the lower frequencies as seen above. Mitchell and Johnson also report that they are able to 'factory-tune' this tech so that they can tweak the sound to suit each intended market. See below for the new models which are due to be launched in a matter of weeks, each offering different price options and purposes.
The upcoming Mitchell and Johnson headphone range in full
Here's some official information from Mitchell and Johnson for Gearnews.com about the new models:
Lightweight portable design
Polymer enclosure
Modern bass tuned response
Specification:
Frequency Response: 12 to 30,000Hz
Sound Pressure level: 110dB
Impedance: 32 ohms
Acoustic System: Closed back
Total harmonic Distortion: <=0.5%
Include carry bag and 1⁄4" to 1⁄2" adaptor
UK retail price: 149 GBP

Lightweight portable design
Real walnut wood enclosure
Naturally tuned response
Specification:
Frequency Response: 12 to 40,000Hz
Sound Pressure level: 115dB
Impedance: 32 ohms
Acoustic System: Closed back
Total harmonic Distortion: <=0.5%
Include carry bag and 1⁄4" to 1⁄2" adaptor
UK retail price: 249 GBP

Over-ear design
Real walnut wood enclosure
3 Detachable Cables included
Naturally tuned response
Specification:
Frequency Response: 6 to 40,000Hz
Sound Pressure level: 115dB
Impedance: 32 ohms
Acoustic System: Closed back
Total harmonic Distortion: <=0.4%
Include carry bag and 1⁄4" to 1⁄2" adaptor
UK retail price: 349 GBP

MJ2 audiophile headphones

Over-ear design
Real cherry wood enclosure
Detachable Cable included
Naturally tuned response
Specification:
Frequency Response: 6 to 50,000Hz
Sound Pressure level: 120dB
Impedance: 32 ohms
Acoustic System: Closed back
Total harmonic Distortion: <=0.1%
Includes protective case and 1⁄4" to 3.5mm adaptor
UK retail price: 499 GBP
Over-ear design – Real cherry wood enclosure
Detachable Cable included
Tuned for DJ and live use
Swivelling earcup
High SPL for loud environments.
Enhanced bass
Specification:
Frequency Response: 6 to 50,000Hz
Sound Pressure level: 120dB
Impedance: 32 ohms
Acoustic System: Closed back
Total harmonic Distortion: <=0.1%
Includes protective case and 1⁄4" to 3.5mm adaptor
UK retail price: 549 GBP
This all sounds really interesting and I of course commend the fresh approach implemented here. I also think the headphones look great and the prices seem competitive, given the new technology at play, as long as they really perform as well as their maker promises. Having heard the pleasant and detailed sound of the prototypes last year, I am really curious to hear these. However, the initial question in my mind is how 'pro' the pro model sounds. Do they all have that coloured audiophile, hi-fi-type sound? We'll see…
Image Sources:
Mitchell and Johnson - Headphone Design: Mitchell and Johnson
Mitchell and Johnson GL1 stereo headphones: Mitchell and Johnson
Mitchell and Johnson GL2 stereo headphones: Mitchell and Johnson
Mitchell and Johnson MJ1 stereo headphones: Mitchell and Johnson
Mitchell and Johnson MJ2 audiophile headphones: Mitchell and Johnson
Mitchell and Johnson JP1 DJ/Live/Pro headphones: Mitchell and Johnson