New 16-inch MacBook Pro with Killer looks and sounds but keeps the T2 chip
Well, it happened – Apple announced the long-rumored 16-inch MacBook Pro. A direct replacement for the 15-inch 2018 OLED Touchbar model, the new machine offers credible upgrades for the same prices as the older laptop. It's an exciting computer that shows Apple listens, even if we can't expect a display of humility. Here's the gist of it:
Bigger screen
16 inches diagonal have replaced 15: The new Retina display is not just the outcome of slimmer bezels, but also of smaller pixels, where more populate the newfound space. Thus, resolution has been increased to 3072 x 1920 from 2880 x 1800, preserving the pixel density of 220 pixels per inch. The brightness (500 nits) and P3 color gamut are the same, which is fine and dandy.
Better speakers and integrated mics?
An important one for music makers – sharing first-hand impressions, Apple pundit John Gruber said the new MB Pro speakers blow all other built-in squeakers out of the water. Like, a night and day difference. The new speakers are "a lot louder" and supposedly sound like "good dedicated portables" while vibrating less, not distorting at higher volumes and delivering "real bass". Yeah, color me interested! Apple has indeed re-engineered the speakers by pairing drivers back-to-back to emit sound both up and down, borrowing pages from the HomePod and AirPods pro hardware books.
About the mics – a new three-microphone array has been deployed, with Apple claiming you can credibly record a professional podcast with it. While they probably won't make people throw away their Shure SM7Bs, I'm sure music producers will appreciate the ability to sketch out higher quality demos using just their laptop – no interface or USB mic in sight.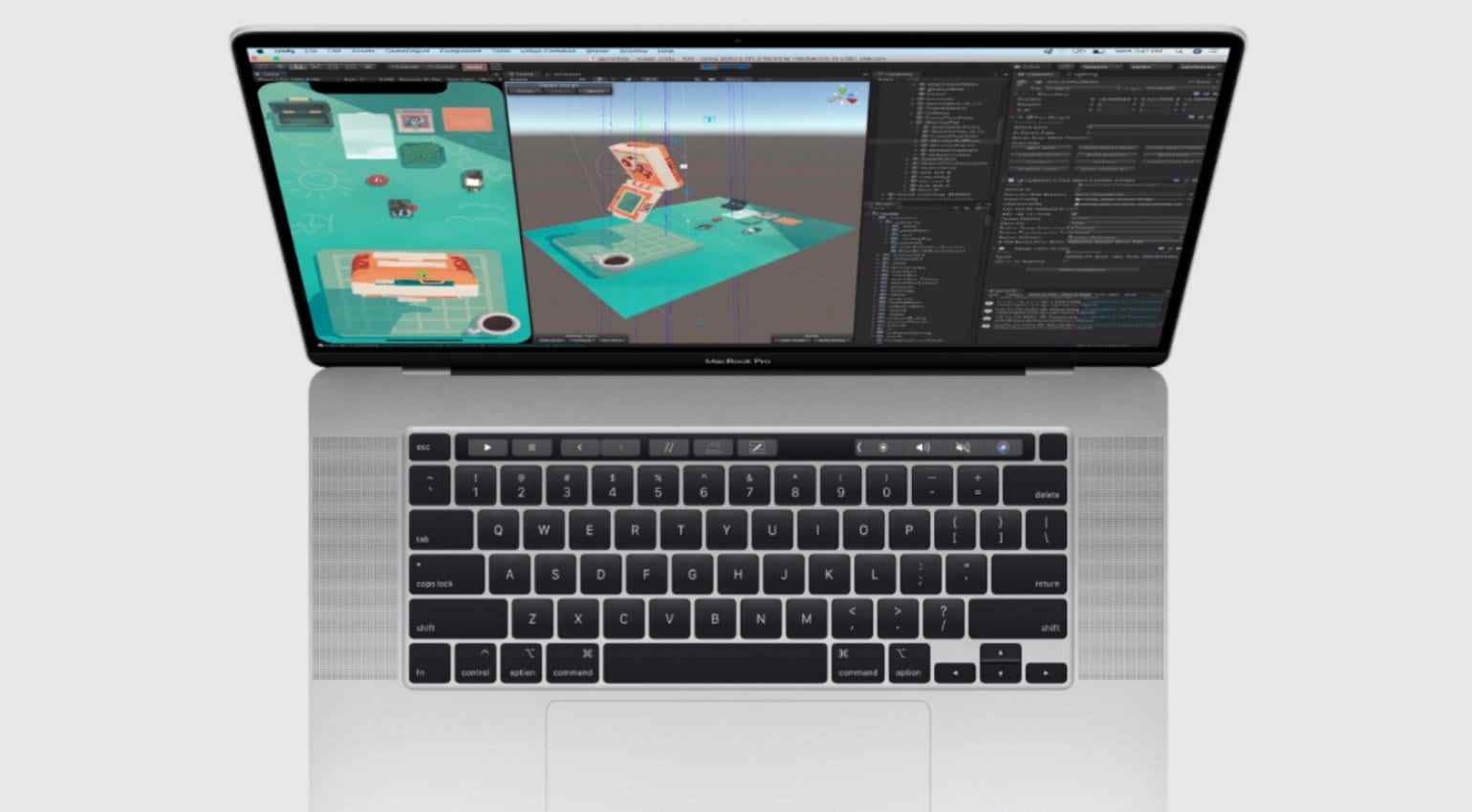 Butterfly keyboard begone!
In short, the scissor key mechanisms are back, and so is the inverted T arrow key arrangement, the Escape key, and actual key travel – 1mm instead of 0.5mm on the bad old keyboard. The inspiration behind it is Apple's own Magic Keyboard, a very good keyboard indeed that the company kind of waited too long to incorporate in its laptops. Keys are also spaced out at 0.5mm, typing is quieter, and Apple believes it's done due diligence to make this keyboard last. The new laptop won't be covered by the keyboard service program for the time being.
Performance upgrades
CPUs stay the same – 6-core and 8-core Intel Core i7s and i9s – but the new MacBook Pro takes in a whopping up to 64GB of DDR4 memory and gets a new thermal system for more effective cooling (12 watts more maximum sustained power), a faster Radeon Pro 5000M graphics unit with up to 8GB of GDDR6 VRAM, and up to 8TB of SSD storage. Apple also fit a larger battery to power the laptop for up to 11 hours of browsing and video playback. Yup, this is a machine worthy of the 'Pro' in its name. The ports are unchanged, though – four Thunderbolt 3s and a headphone jack. Interestingly, Apple allowed the new MacBook Pro to be both wider, thicker and heavier than the 15-inchers, although the differences are miniscule. According to Gruber, it effectively feels the same size in person.
Prices
The 16-inch MacBook Pro starts at USD 2400 for the 6-core model and USD 2800 for the 8-core model. Pretty much the same prices and configurations as the 15-inch models, save for the faster graphics. The computer is available now from the Apple web store. I know I will be exploring trade-in options for my 2018 MB Pro, which went through a full chassis replacement after 8 months of somewhat irregular use… thanks, Butterfly keyboard!
Cons
The T2 security chip stays, and so does the potential for USB audio troubles with certain interfaces. The computer ships with macOS Catalina, which means some of your music software might not work right out of the box if you make the jump right now.
More information