Legends of Tone: How to sound like Slash from Guns N' Roses
Slash: One of Rock music's most instantly recognisable guitarists both in his image and his guitar style and tone. We take a deep dive into the top-hatted axeman's tone and show you the gear he relied upon to craft those classic rock riffs.
Wearing a top hat, tight leather trousers and a near-permanent cigarette hanging out of his mouth, there's no mistaking Slash. As lead guitarist with the 1980s rock juggernaut Guns N' Roses, Slash undoubtedly became one of rock's iconic guitarist.
Guitars
If there's one guitar that Mr Saul Hudson, aka Slash, is immediately associated with, it's a 1959 Gibson Les Paul Standard. For a 1980s "hair metal" guitarist, a Les Paul was far from an obvious choice and indeed, the story of how Slash came to be associated with the model might surprise you! You see, that iconic 1959 Les Paul Standard that Slash is instantly recognisable for using, isn't actually a Gibson at all…
Early days – Replicas and 'Riches
If you take a look at the kind of guitars most LA metal guitarists were using in the 1980s, you'll see a pretty common theme. Chances are your favourite 80s rocker would be playing something pointy, Floyd Rose equipped and sporting a lairy paint scheme!
Likewise, if you'd have watched Guns N' Roses live, you'd likely have seen Slash playing a BC Rich of some description. So how come we associate the top-hatted guitar maestro with the Les Paul? Well, tales and legends vary, but most agree that Slash's obsession began with an instrument crafted by luthier Kris Derrig.
Legend has it that just as Guns N' Roses were about to record Appetite none of Slash's guitars was getting the tone he and the producer were after. The band's manager, Alan Niven, appeared with a beautifully made 1959 replica Les Paul and presented it to Slash. Allegedly, an instant affinity was formed and that instrument became THE Slash guitar.
And therein, lies one of the best-kept secrets in the celebrity guitar world; the Les Paul that kick-started the vintage Gibson market, was in fact a replica! Undoubtedly, a beautifully made, very high quality, master-level replica, but nonetheless, a replica of a 1959 sunburst Les Paul Standard!
The Derrig guitar was loaded with Seymour Duncan Alnico II pickups which became Slash's go-to pickup choice. You can now buy a signature pickup patterned after those in the Derrig guitar.
Guns and Gibsons
Another of Slash's famous squeezes is a 1987 Les Paul Standard, which became a main touring guitar, right up until around 2010. From then onwards Slash largely toured using his own signature model Les Pauls. Aside from the Les Paul, you'll occasionally see Slash wielding a Gibson EDS-1275 double-neck, with occasional oddities such as a Travis Bean, and the occasional vintage Telecaster and Stratocaster.
If you want to get some of that Slash Signature action, then there are models available at various price points, from the cheaper Epiphone signature Les Pauls through to Gibson Custom Shop creations. You can also buy a signature set of Seymour Duncan pickups to retro-fit on your Les Paul.
Amplification
When it comes to guitar amps and Slash, then one name towers above all others: Marshall. Listen to any Guns N' Roses album or live show, and you'll hear the tone of a cranked tube Marshall head. But which Marshall amp is the best one for getting the Slash sound? Well, that very much depends upon which era of his tone you like the most!
Appetite for Destruction and the S.I.R Superlead
Many myths have swirled around the original Marshall head used by Slash on the Appetite sessions. What seems clear, however, is that it was a modified 1960s Marshall Superlead amp head, owned and modified by LA rental company Studio Instrument Rentals.
There's some debate whether S.I.R. #39 or #36 was used on the sessions. Either way, the amplifier was modded to a design by Tim Caswell adding a master volume and an extra gain stage. The resulting amplifier enjoyed huge demand by LA's rock elite. Unfortunately, for Slash, it was taken back by S.I.R. leading him to pursue other Marshall models.
Enter the JCM800
If you were a rock guitarist in the 1980s, then there's a very good chance that a Marshall JCM800 would be part of your backline. It was one of Marshall's first "master volume" amplifiers and an evolution of the original Superlead circuit.
Slash gravitated towards the 2203 model JCM800 and you'll find its tone peppered liberally across early Guns N' Roses albums. Yet again, an S.I.R. modified amplifier, SIR #34 – based on a JCM800 – became a main squeeze for Slash.
Thankfully a JCM800 is much easier to get hold of than a 1960s Superlead! Marshall reintroduced the amplifier as part of its Vintage Reissue series.
The Silver Jubilee
An amp intimately associated with Slash is the model 2555 Silver Jubilee. Introduced in 1987 to mark Marshall's 25th Anniversary, it offers more gain and bite than any Marshall that came before it. With its half power switching, the Silver Jubille was an instant classic.
If you caught Slash on the road in the late 80s and 90s, you'd have seen 2555s onstage. Long out of production by the mid-90s, Slash's love of the 2555 led to Marshall's first signature amplifier; the limited edition 2555SL was a reissue of the Jubillee with Slash's signature reproduced on the amp.
Thankfully you can buy the Jubilee again as the reissued 2555X and if you're looking for "Slash tone in a box" it's a great place to start.
The AFD100
In 2011, Marshall released the long-anticipated AFD100 amp head; a strictly limited edition amplifier created specifically to Slash's requirements. If you'd ever dreamed of an amplifier that could perfectly replicate the Appetite for Destruction sound, as well as the #34 SIR JCM800, then here it is! The AFD100 features a power scaling type atenuator, auto-bias, foot switchable FX loop and #34 mod.  If you're the lucky owner of one of these now out of production amps, you'll know what a unique amp it is.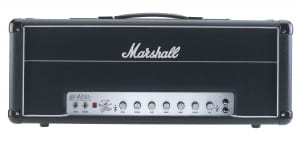 Speaker Cabinets
Once again it's Marshall to the rescue! The classic pairing of a Marshall head with a matching 4×12 cab, loaded with Celestion speakers, will come as no surprise. Speaker wise it's likely some of the early Appetite for Destruction tones were recorded with the classic 25W "Greenback" speaker. However, Slash is noted for using the ubiquitous Celestion Vintage 30 speaker, which was introduced in 1986.
If you're after great Slash tone (or any modern rock tone for that matter) the Marshall MR1960AV should be at the top of your list!
Effects
Welcome to The Jungle wouldn't sound the same without delay and Paradise City wouldn't sound the same with a dash of chorus. Likewise, can you imagine the solo to Sweet Child o' Mine without wah? Undoubtedly it's his tasteful use of effects here and there that adds the garnish! We've listed the effects pedals below that Slash is known to use; you won't find any rack-mount multi-effects here!
In your quest for the Slash tone, you'll want to try a Boss GE-7 to boost solos, and an MXR M134 Stereo Chorus to add shimmer to clean parts. Naturally plenty of wah pedal action on the solos, and what better wah than one of Slash's signature Dunlop models? A Boss DD-3 for delay will get you on the right track, too.
Here are a few other effects associated with the legendary tone of the Cat in the Hat:
Jim Dunlop Cry Baby (DCR-2SR rack unit, 535Q or SW95 Slash)
Dunlop Heil Talkbox (used on tracks such as "Anything Goes" and "Dust and Bones") – as an alternative how about the MXR M 222?
Boss OC-3 Super Octave
MXR M108 10-Band Graphic EQ /M134 Stereo Chorus/M104 Distortion+ /M101 Phase 90/M103 Blue Box/MC401 Boost/Line Driver/Cry Baby KFK Q Zone/M135 Smart Gate
That's it, we hope you enjoyed this tour through the gear behind Slash's tone! This post contains affiliate links and/or widgets. When you buy a product via our affiliate partner, we receive a small commission that helps support what we do. Don't worry, you pay the same price. Thanks for your support!
Image Sources:
Gibson Slash "Victoria" Les Paul Standard Goldtop: Gibson/Facebook
Slash and Marshall, a match made in rock'n'roll heaven: YouTube/Gibson