IK Multimedia TONEX Pedal new amp modeller. A Kemper Killer?
ToneJunkie TV leaked the new TONEX pedal, but now it is official!
Is IK Multimedia about to release their TONEX technology in a pedal format? According to a YouTube video leak, IK may be poised to release an amp-sim multi-effect pedal with amp capture technology. Is this a potential Kemper Killer? 
UPDATE 16/02/2023
The leak was pretty much 100% on the money. IK has officially released the new TONEX Pedal today and it offers Kemper-like amp profiling, just like the existing TONEX software.
Models
It offers  up to 150 Tone Model presets at a time.  With over 1000 Premium Tone Models of the included TONEX MAX software. There is also a handy librarian feature and access to ToneNET that has over 6000 more user Tone Models that are free to download. This gives the system a great head start and should allow new users to explore lots of great amp tones.
Versatile
The Tone Models can also be played not only from the TONEX Pedal but also from the included TONEX software and the TONEX iOS app. This integration and versatility could help the pedal take a huge chunk out of Kemper's sales, as it does a similar job but at a much lower price point.
I also like that it has MIDI for control over more advanced rigs, as that makes it perfect for more complex setups. There is a lot to like here and I can see it becoming a popular product. Especially with guitarists that want to experiment with lots of amp tones.
MSRP – EUR 469 *
TONEX Pedal
If this leak is to be believed, then the IK Multimedia TONEX pedal will offer what their existing TONEX software does, just in a more stage-friendly compact stompbox format.
This leak was shared on the ToneJunkie TV YouTube channel and the video shares most of the major specifications and details of the forthcoming pedal.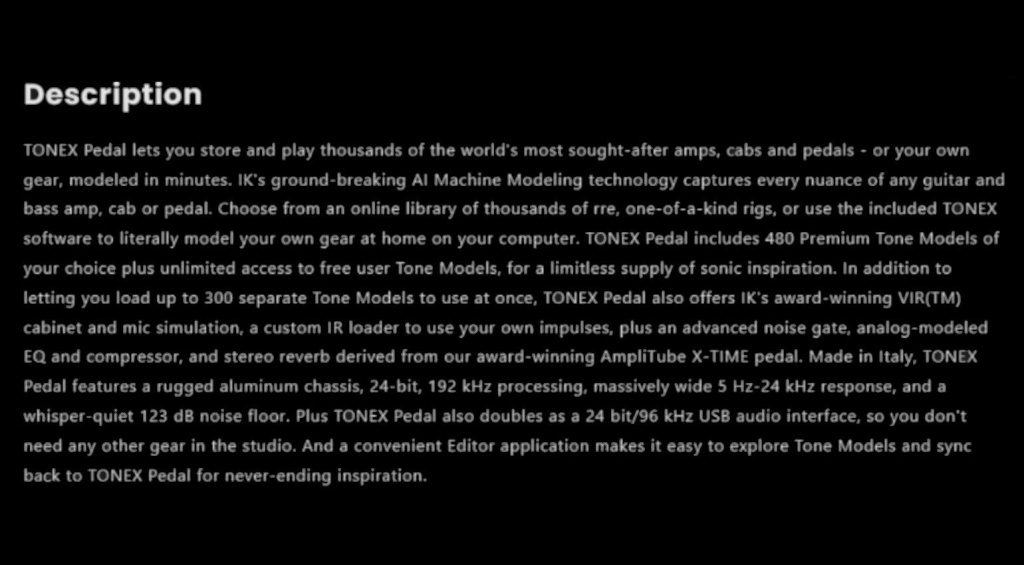 Specifications
The TONEX pedal will deliver guitar and bass amps created by AI Machine Modelling. A total of 480 tone models are to be available – in addition, there are various VIR cabinets (apparently an in-house development based on impulse responses) with different speakers and microphones. User's Own IRs can also be loaded adding to the proposed functionality…
Effects included:
Noise gate
EQ
Compressor
Stereo Reverb (taken from the X-TIME pedal)
Digital signal processing is rumoured to take place at 24 Bit and 192 kHz, with 123 dB background noise; additionally, we believe you'll be able to use the TONEX pedal as a USB audio interface (24 bit/96 kHz).
TONEX
Currently, the TONEX software is the only official version of this amp modelling system. This pedal, if the leak is legitimate, could be a great solution; I'm guessing it could also be a lot cheaper than a Kemper system…
IK Multimedia TONEX MSRP – EUR 169 *
More Information
Video
* This post contains affiliate links and/or widgets. When you buy a product via our affiliate partner, we receive a small commission that helps support what we do. Don't worry, you pay the same price. Thanks for your support!
Image Sources:
TONEX Pedal: IK Multimedia
Kemper Killer?: IK Multimedia
ik-multimedia-tonex-leak: YouTube/ToneJunkie TV
IK Multimedia AmpliTube TONEX: IK Multimedia