IK Multimedia AI Machine Modeling: Like Kemper for AmpliTube
Utilising a neural network and machine learning
IK Multimedia claims to integrate revolutionary amp modelling technology into their flagship AmpliTube software with the new AI Machine Modeling. Similar to Kemper's approach of modelling actual hardware, now you can run it on your computer system and within your favourite DAW.
IK Multimedia AI Machine Modeling
IK Multimedia, the creators of AmpliTube are launching their new AI Machine Modeling, artificial intelligence and machine modelling software. With the aim that guitarists and bassists can model the sound of their amplifiers and speakers or combos as well as pedals such as distortion, overdrive, fuzz, EQ or boost themselves and use it within AmpliTube. Since AmpliTube runs standalone or within a DAW this could be a great move for a lot of musicians and sound engineers.
Allegedly with a new accuracy that is practically indistinguishable from the actual hardware. The neural network with machine learning captures the sound of your rig in just a few minutes. Even with real guitar signals, not just with test sounds. According to the manufacturer, this should achieve "a previously unimaginable level of authenticity."
How Does it Work?
You simply route the special guitar/bass capture track from IK through its setup to record the sound of any rig or device. It is then fed into the Deep Neural Network software together with the original DI track. The AI Machine Modeling software compares the DI and wet signals to create an exact algorithm of the modeled rig within a few minutes.
Tone Models
The result is called a "tone model" and is a dynamic software clone of the captured rig. The technology is supposedly so advanced that even an amplifier and a speaker cabinet can be modelled together and virtually separated afterwards, allowing, for example, the ability to test other speakers.
Minimum hardware requirements
The algorithm can also capture an entire rig including fuzz, overdrive or other drive pedals before the amp. Creating a tone model seems simple and requires only a few standard recording devices in addition to a computer: An audio interface such as IK's AXE I/O with its special amp output is ideal for users who want to create tone models with just one microphone and without additional hardware.
But any normal audio interface with 2 inputs/outputs and an additional reamping box can also be used to record amplifiers, combos and pedals. Therefore, it appears that any decent audio computer setup should be able to run this new software. I must say that I am quite excited by the prospect of this new software. Partially, as I am a huge fan of AmpliTube already and this would potentially be a huge upgrade to the capabilities of this already pretty high specified piece of software.

IK Multimedia AXE I/O Solo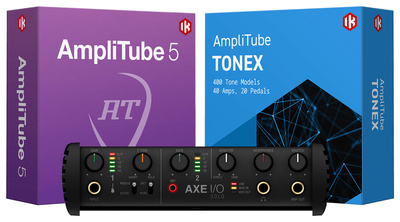 IK Multimedia AXE I/O Solo+AmpliTube 5+Tonex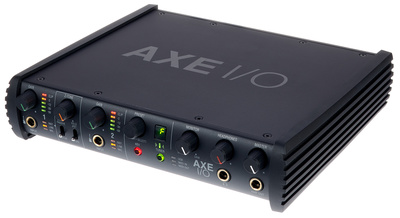 Coming Soon
You still have to wait a little longer until the release. Currently, it is  "Coming Soon." To hear the new AI Machine Modeling in action now and compare it with the original modelled devices, simply visit the company's website link and check out the video below.
More Information
Video
This article contains advertising links that help us finance our site. Don't worry: The price for you always remains the same! If you buy something through these links, we will receive a small commission. Thank you for your support!
Image Sources:
Using neural network with machine learning: IK Multimedia
Profiles of complete rigs possible: IK Multimedia