LEAK: Fender preps new Parallel Universe Series for NAMM 2018 launch
Includes Jazz Tele, Whiteguard Strat, Strat Tele Hybrid, Troublemaker Tele and Jaguar Strat
After yesterday's massive leak by Fender dealers of the new Limited Edition Meteora model launching later this month at NAMM, we now have more information of new models from the American guitar giant's new Parallel Universe Series for you to check out!
Leak ahead of NAMM 2018
These guitars have been accidentally leaked by Fender dealers Wunjo Guitars and are now all over the internet on guitar forums like these articles here and here, both on the TheFretboard guitar forum. They also appear here on the Offsetguitar forum as well and in both cases it looks like Fender dealers have let the cat out of the bag.
I'm sure someone at Fender isn't happy about this, but, boy don't they look cool! They are called the Parallel Universe Series and I managed to grab some screenshots and basic information before the site pages were taken down again.
Parallel Universe Series
We understand they all retail around £1599 each and that they are all being listed on dealer sites as Limited Edition models for 2018, so a little bit like the Chinese-made Pawn Broker Series from a few years ago, just around a £1000 more expensive.
We don't know yet if these new models are made in the USA, Japan or perhaps even Mexico, as all the Fender dealer sites have – or had – conflicting information (most of it has now been removed). So tell us what you think of this new Limited Edition range for 2018 – love 'em or hate 'em?
Fender Limited Edition Jaguar Strat
All we know about this guitar is that will probably have an Alder body with a nitro paint finish, a modern 25.5″ scale length Deep C neck profile with a rosewood board and 22 tall/narrow frets.
It is likely to be loaded with American Vintage '65 Jaguar single coil pickups and has a Jaguar trem system.
 Fender Limited Edition Troublemaker Tele
The Troublemaker Tele comes loaded with WFR Wide-Range pickups a 2T in the bridge and a 1T in the neck position. These pickups are controlled by a two volume, two tone control setup with a three-way toggle switch.
An Adjuto-Matic bridge is fitted to the mahogany body, which has a maple top and the guitar has a Deep C mahogany neck with a 22-fret rosewood fretboard.
A very Gibson-esque Fender Telecaster indeed!
Fender Limited Edition Jazz Tele
The new Jazz Tele is the polar opposite of a Telemaster-style guitar and is a Telecaster-shaped Jazzmaster, with a smaller non-offset body, but with Jazzmaster pickups, electronics and hardware.
This one is ash with a maple neck and a rosewood fretboard. It comes loaded with a pair of Pure Vintage '65 Jazzmaster pickups. All that is missing is the Rhythm Circuit that a normal Jazzmaster would have, but essentially this one is a Jazzmaster for players that don't like offsets.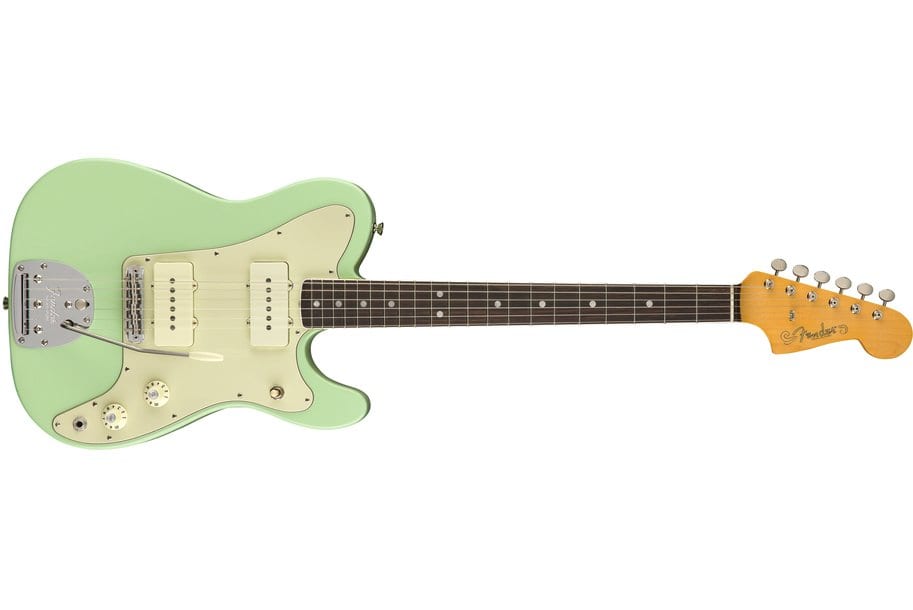 Fender Limited Edition Jazz Tele
Fender Limited Edition Whiteguard Strat
This one is a hybrid Stratocaster and Telecaster in Vintage Blonde and a single ply white pickguard. The Whiteguard Strat comes loaded with a pair of Custom Shop '51 Nocaster pickups and a Telecaster bridge, control layout.
Fender Limited Edition Strat Tele Hybrid
The Strat Tele Hybrid is a mix of Telecaster and Stratocaster styles, likely with an ash body and a maple neck. It is the oddest looking of the lot in my opinion – but we don't have any more details at the time of writing.
Fender Limited Edition Tele Thinline Super Deluxe
This bright orange Tele Thinline Super Deluxe comes with a Rosewood board with block fret markers and looks pretty bling. Again, we don't have as much in the way of details on this one at the time of writing.
Any of these tickle your fancy? There's a lot to like – and debate – about these new models. Which is your favourite? Let us know in the comments section below.
UPDATE
Thet are all now offical and so we have some footage below from Premier Guitar with them at the NAMM Show.
VIDEO
Image Sources:
Wunjo Guitars leak new Fender 2018 lineup: Wunjo Guitars/Fender
Wunjo Guitar Fender leak Jazz Tele: Wunjo Guitars/Fender
Fender Limited Edition 2018 models leaked: Fender/Wunjo
Fender Jaguar Strat: Fender/Wunjo
Fender Troublemaker Tele: Fender/Wunjo
Fender Troublemaker Tele: Fender/Wunjo
Fender Limited Edition Jazz Tele: Fender/Wunjo
Fender Limited Edition Jazz Tele: Fender/Wunjo
Fender Limited Edition Whiteguard Strat: Fender/Wunjo
Fender Limited Edition Strat Tele Hybrid: Fender/Wunjo
Fender Limited Edition Tele Thinline Super Deluxe: Wunjo/Fender