Klark Teknik updates DN100 and DN200 DI boxes to V2
Klark Teknik DI boxes are stage stalwarts the world over, instantly recognisable by their purple colour scheme. The DN100 and DN200 units have recently been updated, so we felt it time to take another look at these classic units.
Klark Teknik DN100 and DN200
The press release for the "new" Klark Teknik DN100 and DN200 Active DI Boxes had us scratching our heads. After all, the DN100 and its stereo brother, the DN200, are one of those staple items you'll find at most pro venues. It's one of a handful of DI boxes you can pretty much guarantee to see in the live arena.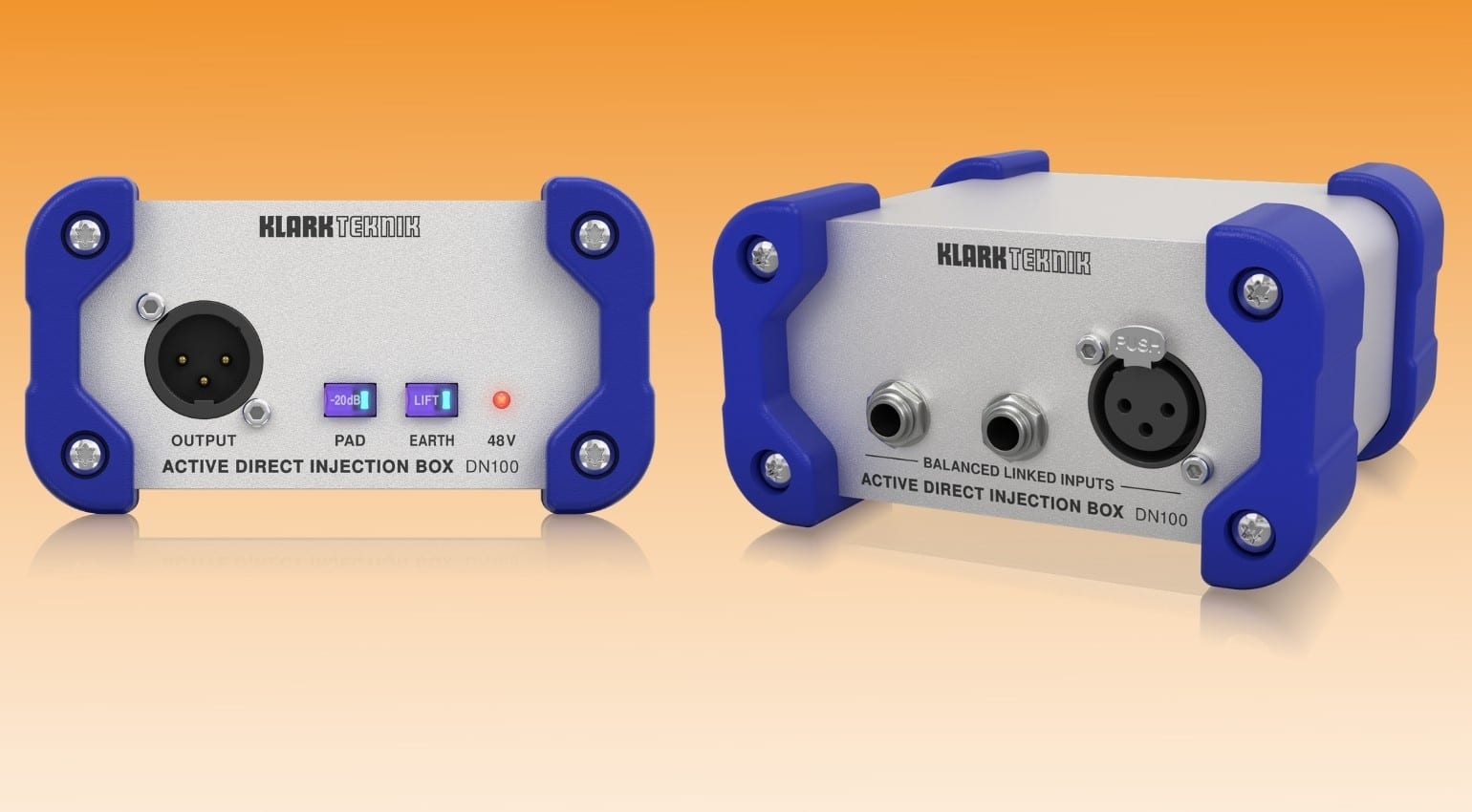 So how much "new" is in the V2? Well, the biggest difference is the redesigned enclosure. The DN100 and DN200 of old were instantly recognisable for their all-encompassing purple silicone sleeve. The new versions have done away with that and gone for a "bumper" type re-design.
Just like the old units, the V2 offers parallel balanced inputs on two 1/4″ sockets and XLR. You also still get an XLR balanced output with illuminated pad and ground lift switches as well as a phantom power indicator. Inputs and outputs are, likewise, still transformer isolated.
Apart from the box, the Kensington lock has been deleted from the DN100. On the DN200, meanwhile, the twin RCA inputs of the V1 have been swapped for a 3.5mm jack input.
You'll find the new units are smaller, lighter and more affordable, which all sounds like a "win" in our book. Competitors? Predictably much the same as before: The BSS AR-133 is a stalwart DI that retails at a nearly identical price (and, it seems, has influenced the current DN100 industrial design). There's the Radial Engineering Pro 48 for slightly more money. If you're looking for an innovative take on the classic DI, perhaps consider the Warm Audio Direct Box.
More Information
Image Sources:
Klark Teknik evolves the trusty DN100 and DN200 to V2.: Klark Teknik