KAM KWM Series: Bargain Wireless Microphones?
KAM KWM Wireless microphone systems have hit the market at an unbelievably low price. A two-microphone, multi-frequency wireless microphone system for under £90? Can that really be right? Let's take a look and see if the KAM KWM wireless is cheap and cheerful or cheap and nasty…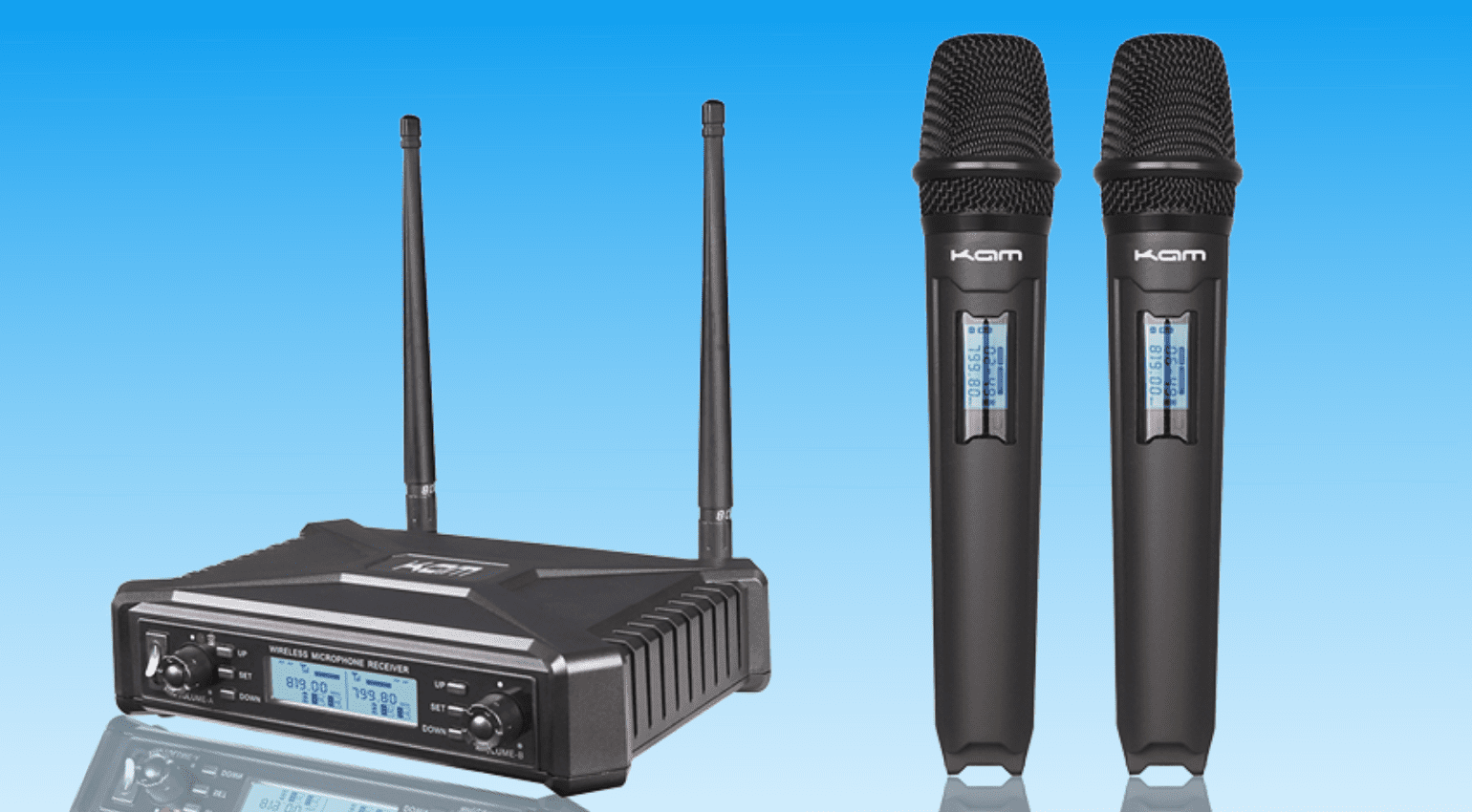 KAM KWM Wireless
KAM is a brand typically attached to affordable DJ gear such as lighting, PA systems and wireless microphones. Catering very much to the budget end of the spectrum, we'll place our snobbery on the shelf for a moment and be as objective as possible. Let's look at the price point of the KWM Wireless systems: £49.99 gets you the entry-level KWM6PRO with the range rising to £89.99 for the KWM1920
We'll focus on the KWM1920 setup here as it's probably the system most people will go for. The KWM 1920 bundle comes with two microphones and one receiver, all packaged in a handy plastic "flight case". The KWM 1920 bundle is a two-channel, multi-frequency system which uses one receiver unit for both microphones.
Cheap and Cheerful?
Let's keep expectations realistic; the KWM 1920 system costs about the same as one Shure SM58 wired microphone. It would be unrealistic therefore to expect professional levels of audio fidelity and wireless integrity. Nonetheless, the specifications seem very reasonable for a wireless system at this price point.
Two groups of ten-channels are available, and we're happy to see they're allocated on the UHF frequency band; no issues here with taxi radios or overcrowded Wi-Fi channels! Unfortunately, this is a non-diversity system, so expect to suffer from the occasional RF dropout, in spite of KAM's claimed 50m range. We're unquestionably happy to see proper, balanced XLR output connectors though!
So, should you buy a setup from the new KAM Wireless series? If your budget only stretches to £90 for two microphones but you absolutely have to rely on the performance of those microphones, possibly not; we'd perhaps suggest you buy a pair of wired microphones for the same cash*. What if you simply *must* have a pair of wireless microphones though? At this price point, there's AKG's WMS 40 system* although that's fixed frequency only.
At this price point then, and with these features, there's not much that can touch the KAM Wireless systems for the money, although we wouldn't recommend them for professional or demanding applications.
More Information
* Affiliate link
Image Sources:
Can KAM's KWM Wireless 1920 GN come up with the goods?: KAM