Jef's Pedal Round-up this week: Spitfire VT-1 preamp and Specular Tempus delay/reverb
A new custom valve preamp and a cool delay
This week's pedal round-up includes a couple of very boutique pedals including a brand new UK-manufactured all-valve preamp in a pedal and a cool, boutique-ish delay and reverb pedal from Indonesia. Let's take a closer look.
VT-1 Spitfire
Dave Hall Amps have come up with a guitar version of its VT-1 Pro Bass Drive – the VT-1 Spitfire. Dave Hall Amps, located in Devon, England, manufactures amplifiers for guitar, bass and keyboards as well as hand-made effect pedals.
Their best-known products are probably the VT models, available as rack or floor pedals. The VT range includes overdrives/pre-amps, a tremolo, a bass compressor and a blender/FX loop. The models are available as VT-1, VT-2 and VT-3 versions, the number indicating the number of installed tubes.
All in one
The VT-1 Spitfire pedal has the same specifications as its bass counterpart but has been tuned to match the sound of guitars. Its sonic character is intended to appeal to guitarists who are looking for clean and crunch sounds for blues and rock. The single 12AX7 tube is onboard for an authentic tube sound, while the active 3-band EQ with Q-filter lets you fine-tune the overdrive pedal. The signal can be tapped via the integrated XLR-DI-Out and directly connected to a mixer or digital audio interface as well.
In addition, a headphone amplifier is installed for silent practice hours. The headphone output can also be used to drive two speakers with 1 Watt each. The Line In is used to connect a CD player, iPod, MP3 player or smartphone. The incoming signal is then mixed with the headphone signal.
As an optical gimmick, a cool blue background lighting is activated, which is visible through the ventilation slots of the tubes.
RRP: GBP 189
More Information
Specular Tempus
The new GFI System Specular Tempus combines two effect pedals in one housing. Based on the GFI System Clockworks Delay and Specular Reverb, the manufacturer has combined these two effects pedals into a freely programmable reverb/delay and added further features.
The Indonesian manufacturer GFI has caused a bit of a sensation in the pedal business with its digital effect devices – the specular reverb and the clockwork delay can be found on many pedalboards.
GFI says the Specular Tempus can cover a wide range of sounds, from standard to extreme, going through shimmer and endless sounds along the way. The Delay section should offer nearly everything your heart desires, from standard delays to filter and multi-head echoes.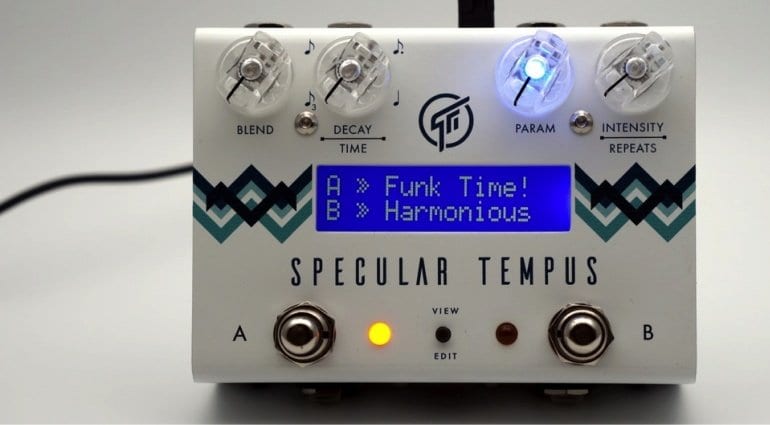 Software Editor
The free SpecLab software gives you access to many other parameters for how the algorithms process the signal. The 32 presets are spread over 4 pages, each page containing four banks each with two patches (A and B). Pages 2, 3 and 4 are accessible via MIDI. The pedal is designed as a stereo effect, as the manufacturer is convinced that delay and reverb effects simply sound better in stereo. After a look at the videos, I think the Specular Tempus Delay-Reverb pedal sounds fantastic.
RRP – EUR 319
More Information
Video
Image Sources:
DHA VT-1 Spitfire preamp, overdrive and EQ: Dave Hall Amps
DHA VT-1 Spitfire preamp, overdrive and EQ: Dave Hall Amps
Specular Tempus: GFI System