Jared Dines and his insane Mountain Dew Meme 20-string Guitar!
The Mountain Dew meme is alive!
What initially started life as a meme has now become a reality. Yes, Jared Dines had the Mountain Dew Meme 20-string guitar built, and yes, it is ridiculous!
20-string Guitar?
Built by Chinese company 10S Custom Guitars, this 20-string behemoth guitar/harp is the culmination of Jared Dines constantly being tagged with the Mountain Dew guitar meme for years. And it looks insane. If you have been living under a rock, then I have put the image below so you can see what all the fuss is about.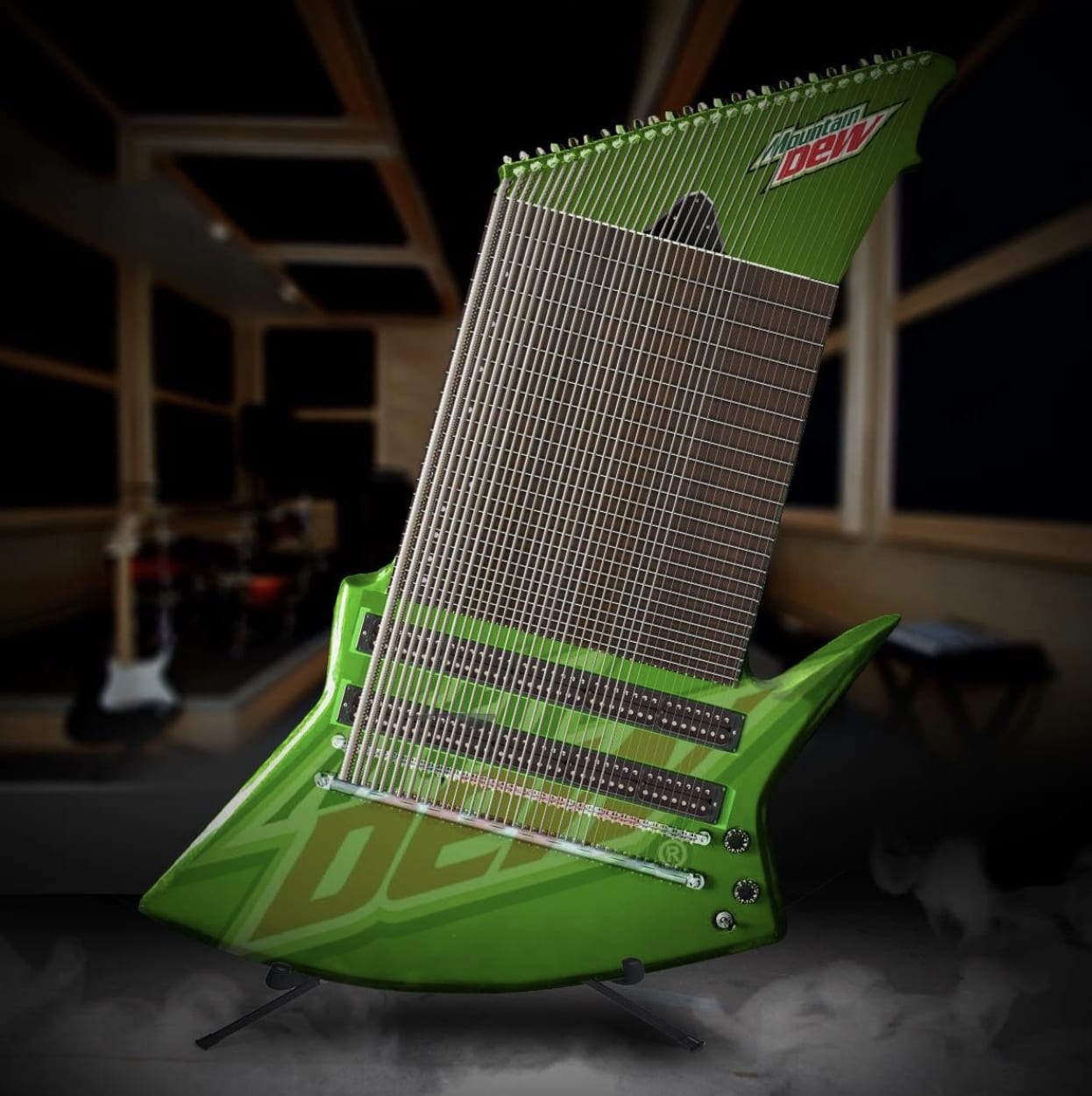 Mountain Dew guitar meme
Mountain Meme
Well, the meme is now a real life 20-string guitar that you can listen to in the video below. The neck is so incredibly huge that Jared has to play the guitar like a lap steel, as you could never get your hand around the massive neck.
"I figured what better way to stop the thousands of tags, all the time, of 'Hey Jared, have you seen this picture?', 'Hey, have you seen this meme?' I've seen it. Stop tagging me."

"This has been in the works for over half a year thanks to the wonderful people over at 10S guitars who agreed to help me make this beautiful monster of an instrument," the YouTuber says. "It is fully functional as you can see in the video, sounds great, and definitely djents!"
"Hey Mountain Dew…"
Back in 2017, Dines even shared the Mountain Dew meme on Twitter saying "hey Mountain Dew, let's collab". And now it actually exists. I'm not entirely certain if this is a good thing or not, but it is funny.
It does djent and sounds pretty good with tons of distortion, but does it sound like a harp when played clean? You can hear Jared do his thing with his new 20-string monstrosity in the video below.
More Information
Video
Image Sources:
Mountain Dew guitar meme: Twitter/Jared Dines