iZotope Music Production Suite 5 with Neutron 4, 3D reverbs, Brainworx
Deal
iZotope dropped Music Production Suite 5 Universal Edition today! This release brings the all-new Neutron 4 mixing suite, 2 surround reverbs (Stratus 3D & Symphony 3D) by Exponential Audio, and 6 Brainworx plug-ins. Furthermore, two major flagship product updates will be coming to owners of the suite this fall, at no cost. Could it be oZone 10? It looks like we'll have to wait and see…
iZotope Music Production Suite 5 Universal Edition
Let's start with the gist of it for all you busy readers! Music Production Suite 5 Universal Edition (currently USD 599 for new buyers) includes the following new products:
Neutron 4 (sold individually to new buyers for USD 299)
Brainworx Creative Mixing Set (bx_delay 2500, bx_boom!, bx_saturator V2, bx_subsynth, bx_cleansweep Pro, bx_refinement)
Symphony 3D 24-channel surround reverb by Exponential Audio
Stratus 3D 24-channel surround reverb by Exponential Audio
The rest of the suite contains the familiar stuff:
Ozone 9 Advanced
Nectar 3 Plus
RX 9 Standard
Neoverb
VocalSynth 2
Insight 2
Tonal Balance Control 2
Melodyne Essential
You can buy Music Production Suite 5 and Neutron 4 (including upgrade, crossgrade, and edu variants) from our affiliate partner Thomann *. While your affiliate support is extremely appreciated, owners of any iZotope products ought to log-in and check the website for personal 'loyalty' offers.
More information about the new products is available below.
iZotope Neutron 4 – what's new
Neutron 4 is the focus of this release. The new version of iZotope's augmented mix tool upgrades the Sculptor, Exciter, and Transient Shaper modules while adding more features and updates. The AI-powered Mix Assistant becomes the new Assistant View where your audio is analyzed, a reference starting point is generated, and you are left to finish the job from an intelligent control center.
The newly added Intent Controls let you dial in punch and distortion before heading into Detail View. There, you can tone-match your track to a sample or stem using the new Target Library. You can load references into it and the Assistant will match drums, bass, guitar, vocal, and audio tracks to the reference sounds. You can also use presets or import your own stems, sounds, and acapellas for future reference.
Neutron 4 is also better at discovering and fixing frequency masking problems. The new Unmask Module analyzes and separates two competing tracks, making it easy to balance bass and kick or poke holes in guitar and synth tracks to let vocals breathe. I believe fixing masking problems – a crucial part of any multi-track mix – has never been easier.
Moving on, the Exciter Module in Neutron 4 recycles bits and pieces from the good old Trash 2 to make Trash Mode. You can dial in character changes from the new Tone Slider and use the Tame button for distorting to hell and back while preserving dynamics.
The Compressor Module gets a new Punch Mode that lets you control and visualize the impact of your sounds. Punch Mode complements the existing Modern and Vintage modes which offer more traditional compression. Also new is the Oscilloscope View which also visualizes sidechain input.
Brainworx Creative Mixing Set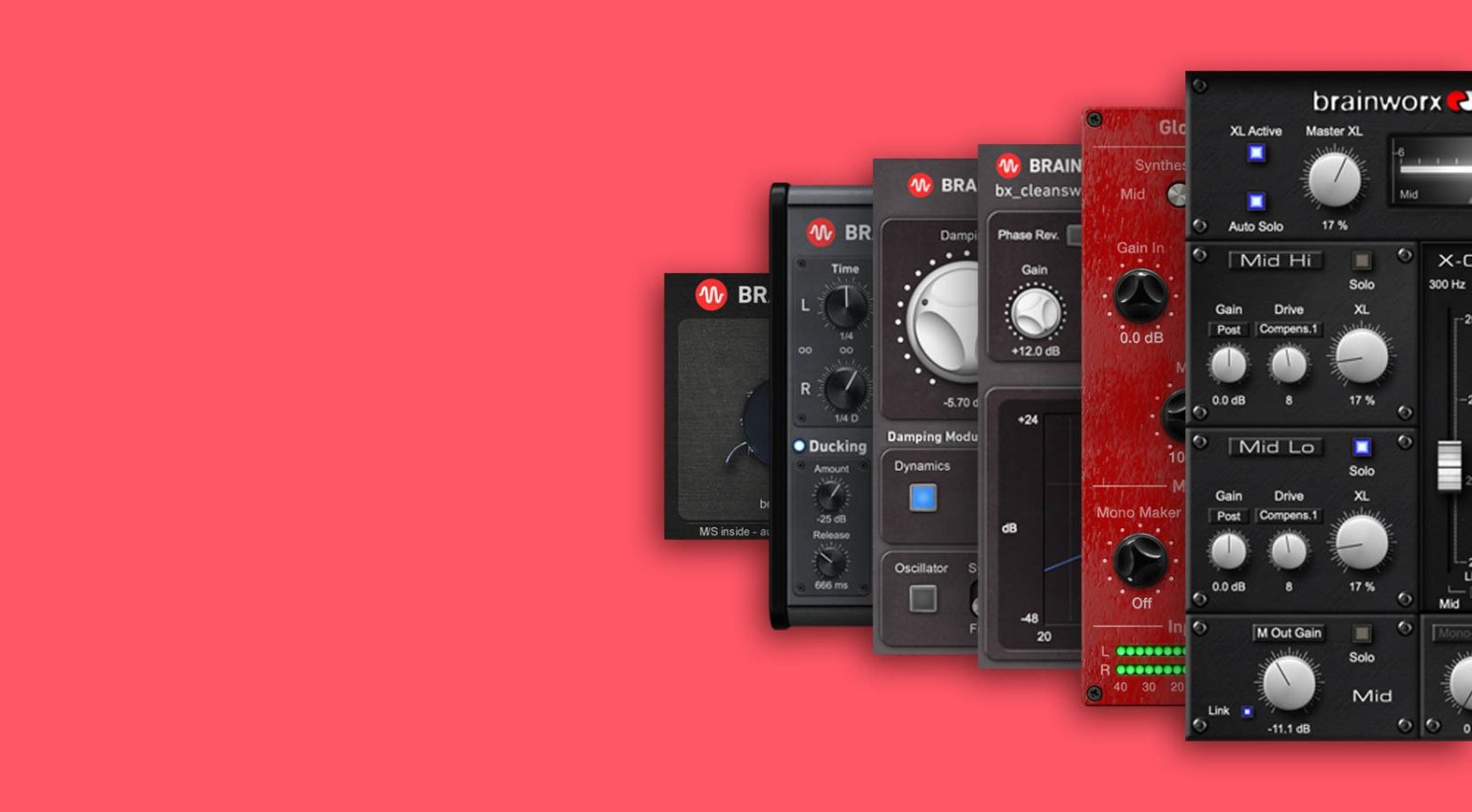 Earlier this year, Brainworx joined forces with NI and iZotope in Soundwide. Resultingly, 6 cherry-picked bx plug-ins made it into iZotope's flagship offering:
bx_delay 2500 (creative delay)
bx_boom! (blows up kick drums)
bx_saturator V2 (multi-band saturation)
bx_subsynth (bass synth supreme)
bx_cleansweep Pro (clean up problematic frequency ranges)
bx_refinement (tame harshness)
3D Reverbs from Exponential Audio
iZotope-owned Exponential Audio's Symphony 3D and Stratus 3D reverbs get 24-channel audio support upgrades. You can now spread the modulation, dynamics, depth, and dimension goodness to multi-channel music and post-production projects. Also of note, Stratus 3D alone has 1,700 surround presets for starters, and I assume at least half of them kick ass.
Price and availability information
New buyer prices are currently USD 599 for Music Production Suite 5 Universal Edition and USD 299 for Neutron 4. With iZotope, owning any of their products is a ticket to various upgrade, crossgrade, and edu offers.
Our affiliate partner Thomann * is on top of these and your support of Gearnews is extremely appreciated! But we absolutely don't want to be dorks about it, so here's a reminder for owners of iZotope software to log-in and check the iZotope website for personal 'loyalty' offers.
Additionally, buyers of Music Production Suite 5 Universal Edition will receive two flagship product upgrades this fall for free. We don't know what's in the cards, but oZone 10 sounds almost inevitable!
As for system requirements, iZotope and related products are available in 64-bit AAX, AU, and VST3 plug-in formats for macOS (10.15.7 to 12.3.x) and Windows 10 to 11. They are also native for all Apple Silicon Macs, except for the Symphony 3D and Stratus 3D reverbs which will be updated by fall.
Learn more about the new iZotope products
Videos
* This article contains affiliate links to help us fund Gearnews. If you buy something through these links, we will receive a commission. Don't worry – the price for you always stays the same. Thank you for your support!
Image Sources:
Thomann banner: Thomann
Neutron 4: iZotope
Trash Mode in Exciter Module: iZotope
Unmasking Module: iZotope
Punch Mode in Compressor Module: iZotope
Brainworx Creative Mixing Set: iZotope
Symphony 3D: iZotope
Stratus 3D: iZotope