Is Fender about to drop a new Jim Root Black Paisley Jazzmaster?
A new signature model for the Slipknot guitarist?
Fender shared photos of the instrument on its Instagram account, and the Slipknot guitarist has also been spotted using the guitar live. Does that mean a production Fender Jim Root Black Paisley Jazzmaster is in the works?
Fender Jim Root Black Paisley Jazzmaster
In the video below, you can see the guitarist wielding a Fender Black Paisley Jazzmaster V4 model during a Slipknot gig. And, as mentioned in the introduction, Fender has also shared images of the guitar on its official Instagram account.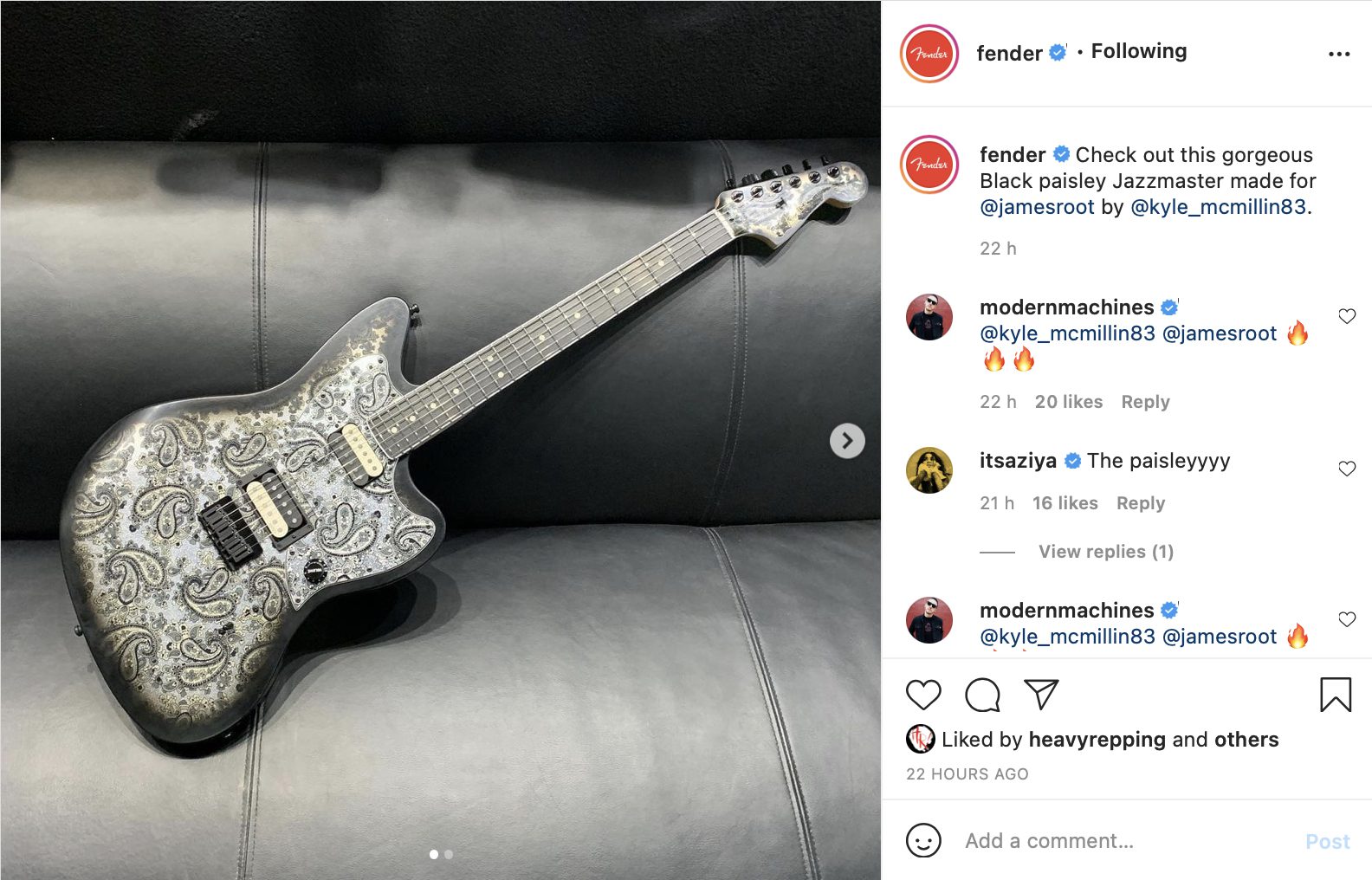 Black Paisley
We recently wrote about how Fender now offers Black Paisley as an option for the Acoustasonic Telecaster, so the finish definitely has a big fanbase. And of all the paisley finished models, that is one of my own personal favourites. So if Fender does choose to release these as a regular run, I have a feeling they will sell like hotcakes.
The guitarist has had a lot of variations of his signature model over the years. Currently his Fender Jim Root Jazzmaster model comes with EMG pickups. He also has a Black Paisley Stratocaster and Telecaster in his personal collection.
If Fender were to make it a regular production model, do you think it could be popular? Let us know in the comments section below.
More Information on the Fender Jim Root Black Paisley Jazzmaster
Fender Jim Root Black Paisley Jazzmaster Video
This post contains affiliate links and/or widgets. When you buy a product via our affiliate partner, we receive a small commission that helps support what we do. Don't worry, you pay the same price. Thanks for your support!
Image Sources:
Fender Jim Root Black Paisley Jazzmaster: Instagram/Fender
Jim Root shares photos of his new Black Paisley offset: Instagram/Jim Root
Jim Root's Black Paisley Stratocaster: Instagram/Jim Root