Gibson Billie Joe Armstrong Les Paul Junior Signature is back!
Now in a Custom Artist Signature Pink Protector Hardshell Case with a Leopard Print Interior
These Gibson Billie Joe Armstrong Les Paul Junior Signature models are the latest guitar for the frontman of the punk rock band Green Day. Powered by a single P-90 which should pack a punch. These now quite sought after signature models are back in production.
Billie Joe Armstrong Les Paul Junior
The new Gibson Gibson Billie Joe Armstrong Les Paul Junior Signature is now available in Vintage Ebony and Silver Mist finishes.
Under the paint is the classic mahogany body paired with a mahogany neck, with a special Armstrong Slim Taper profile. This is accompanied by a rosewood fingerboard with 22 frets and a set of classic dot fret markers.
Then a set of Vintage Deluxe tuners with white buttons fitted to the black headstock. A standard wraparound bridge finishes off the hardware and should work well. All pretty standard stuff for a Les Paul Junior and the perfect formula for this '50s student guitar.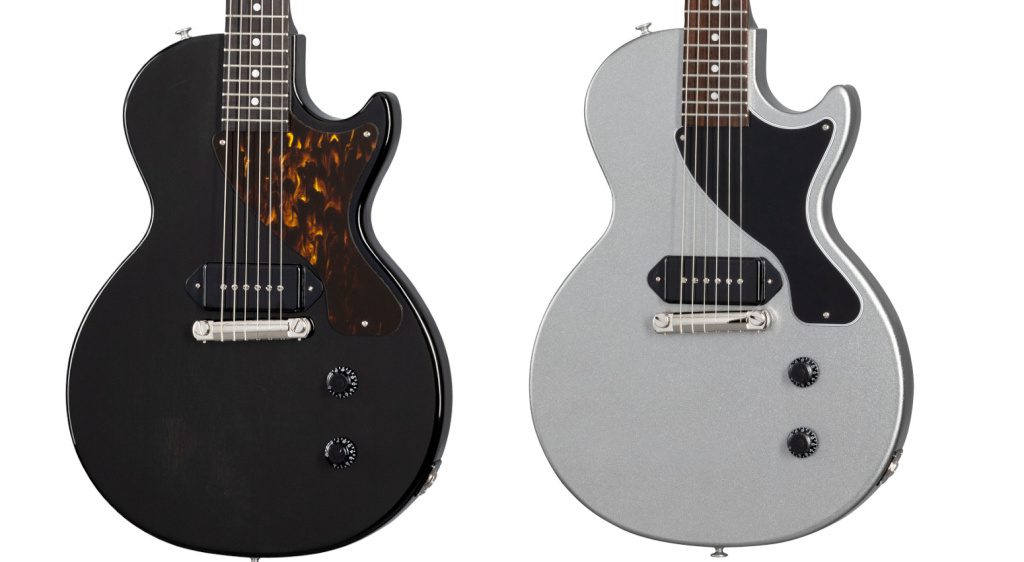 P-90
They come fitted with a Dogear P-90 in the bridge position. This particular model is actually a sidewinder with two coils and this helps suppress hum better. It will work better with gain, but you may lose a little of that classic P-90 growl.
Fancy Hard Case Upgrade
Each guitar comes in a Gibson hard case, each with a leopard print fur interior, just like the original run did.  Except that this case is a bright pink Protector case and so a lot more roadworthy.
Signature Tax?
A nice simple guitar, with an artist association and so it costs a little more than a regular Les Paul Junior. One for fans of Green Day and thin neck profiles perhaps?
The original run from the early 2000s are now very collectable and so these new 2023 models will no doubt sell well. I like the nice solid case, and that is certainly a decent upgrade.
MSRP – USD 2199 / EUR 2499 *


Gibson BJA Les Paul Junior VEG


Gibson BJA Les Paul Junior SM
Image Sources:
gibson-billie-joe-armstrong-les-paul-junior-signature: Gibson
Custom Artist Signature Protector Hardshell Case with Pink Exterior and Leopard Print Interior: Gibson