GForce Software, Sound Particles and Sugarbytes – software deals of the week!
Deal
Plugins from GForce Software, Sound Particles, and Sugarbytes are heavily discounted this week! In our weekly software deals, we have an emulation of a legendary synthesizer. In addition, two new and creative ways to panning are part of our deals. And a very peculiar multi-effects plugin is part of this week's bargains.
GForce Software OB-E
Right after the release of Minimonsta 2, an emulation of the legendary Minimoog, there is another classic on offer, an emulation of the Oberheim SEM from GForce Software. In this case, you'll get an eight-voice synth powerhouse for your DAW. In addition to the characterful oscillators and the ultra-smooth filter, the developer has added some interesting effects to the package: the Matrix-Reverb and a stereo delay. You also get over 700 presets included.
GForce Software OB-E is on sale until March 30, 2023. It's down to €129 from €200 over at Thomann*. The complete GForce Bundle is on sale as well. Besides the OB-E, the Overheim SEM is included. The bundle is running at €159 instead of €233 Euros at Thomann*.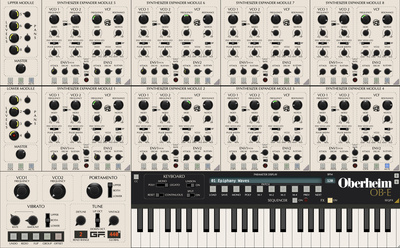 GForce Oberheim Bundle Download
Sound Particles Panner Collection
Panning is an odd parameter in music production. If you don't do it, your mono is overloaded in the middle. If you overdo it, your stereo image can feel weak and imbalanced. Some mixers only do it the old-school way of LCR. Others never go beyond 10/2 o'clock except for overheads. But one thing remains the same: the pan position is static. Sound Particles Energy Panner and Brightness Panner offer two very unique ways of getting movement into a sound's stereo position. Brightness Panner moves a sound based on the amount of high frequency content. So the brighter the sound, the more it will fly around your head! Energy Panner does the same thing, but with dynamics. The louder a loud is, the more it moves. Imagine that effect on a very dynamic drum loop or vocal effect!
Sound Particle Panner Collection is going for €45 instead of €73 over at Thomann*.
Sugarbytes Graindad
The more you develop your own sound and craft your own sounds with delicate sound design these days, the better. And Graindad from Sugar Bytes can be just the thing for that. You can tell by its name that this VST is a granular effect. Tiny piece of audio, grains, are split from the incoming signal and then sent to a variety of effects in Graindad. You can choose different orders and destinations within the plug-in, making this one of the most versatile granular effects on the market.
In addition to these effects, there is a powerful modulation matrix in Graindad. And just about every effect parameter can be modulated with it! A very unusual feature in the plug-in is the Harvester view. In it, you can edit the most important parameters in real-time and move up to twelve parameters simultaneously! Sound like a lot of fun!
Sugar Bytes Graindad is on sale over at Plugin Boutique*. It's down to €78,34 from €98,18 only until March 5, 2023!
More on GForce Software, Sonible and Sugar Bytes
* This post contains affiliate links and/or widgets. When you buy a product via our affiliate partner, we receive a small commission that helps support what we do. Don't worry, you pay the same price. Thanks for your support!
Image Sources:
Sugar Bytes Graindad: Sugar Bytes
pb: Plugin Boutique