IK Multimedia, Sonible, UJAM, Magix in our software deals of the week!
With a limited free offer as well!
Deal
We found some pretty sweet deals from IK Multimedia and UJAM this week. Both plugin companies have some of their popular bundles on offer. And there are two new plugins from Sonible with a nice intro offer. Let's start this week's software deals with a free plugin from Magix! 
Magix coreFX VolumeFormer is a free ducking FX plugin
Let's get this party started with some serious sidechain pumping! Hip Hop, EDM, Pop, you name it, the rhythmic volume shaping known as sidechaining (formerly known as tremolo) is everywhere in electronic music production. And Magix has a free plugin up their sleeves that creates this sidechaining effect without any complicated routing or additional compressor settings.
coreFX VolumeFormer works in a similar manner to the popular plugins from Cableguys where you can draw a ducking curve. And for a short time (until April 2nd, 2023) you can get this VST for free! Magix offers versions for Windows and macOS. That's even better than the insane deal from IK Multimedia!
You'll find the deal over at Magix' website. 
IK Multimedia Max Madness with up to 83 % off for the Max Bundles
Only for a couple more days (until March 29, 2023), many of the popular Max Bundles from IK Multimedia are on offer. There just might be one for you. The ultimate heavyweight in this case surely is IK Multimedia Studio 3.5 MAX. The bundle is down to 199€ from 1190€ with 63 included plugins! Just check it out over at Thomann*!
If you're more of an axe-wielder then IK Multimedia Amplitube 5 MAX might be just the right bundle. Carefully crafted emulations of 107 stomp boxes, 107 amps, 101 cabinets, 31 speakers, 18 microphones, 44 r ack effects and 8 studio rooms are part of the MAX bundle. And while Amplitube 5 MAX regularly runs at 714€, Thomann currently offers* it for 115€!
Mastering in the box has come a long way. And one of the most respected plugin bundles among professionals is IK Multimedia T-RackS 5 Max. 38 effects ranging from mastering-grade compressors and EQs, to sought-after channel strips and reverbs to legendary limiters are part of the bundle. T-RackS 5 usually costs 595€, but right now you can get the bundle for 115€ over at Thomann*.
If classic synthesizers are more your thing, then IK Multimedia Syntronik 2 MAX might be worth a look. Syntronik 2 uses gigantic multi-sample libraries that carefully sampled the oscillators of many legendary synths. Plus, many other components like the synths' filters have been emulated as well. Right now, the bundle's price is at 115€ instead of 356,99€ at Thomann*.
In addition to all these bundles, Thomann has deals for a variety of upgrades to IK Multimedia's software product line on offer as well. Take a look*!
Out now: Sonible pure: comp und pure:verb
Plugin maker Sonible who is known for their AI-assisted smart series has introduced two now plugins and a new bundle. Both pure:comp and pure:verb draw from the same AI as the smart series does. But like pure:limit they focus on a quicker workflower and faster results. Content producers should feel right at home.
The AI running in the background of these plugins automatically analyses the incoming signal and suggests settings to improve. The workflow in both plugins is pretty straightforward and should lead to quick results.
In addition, these tools are quite a but cheaper than the smart series which is more aimed at professional mixers and producers. Both pure:comp and pure:verb are down to 35€ from 49€ as an intro offer until April 24, 2023.
There is also the newly released pure:bundle which includes these two VST plus pure:limit, Sonible's simplified limiter. The bundles runs at 69€ instead of 99€ also until April 24, 2023. Almost as good a deal as IK Multimedia!
You can get pure:comp* here and pure:verb here and the pure:bundle here at Plugin Boutique.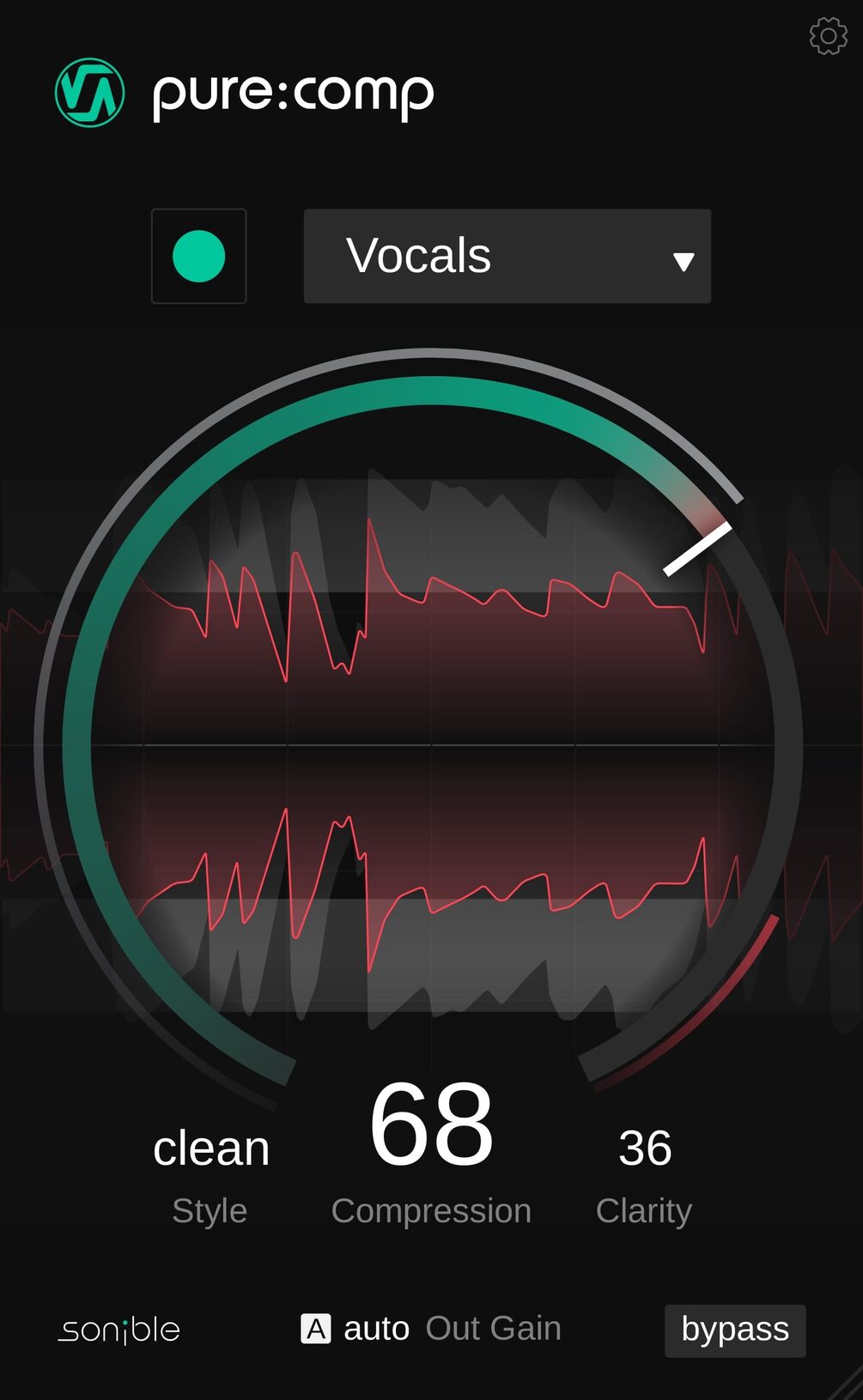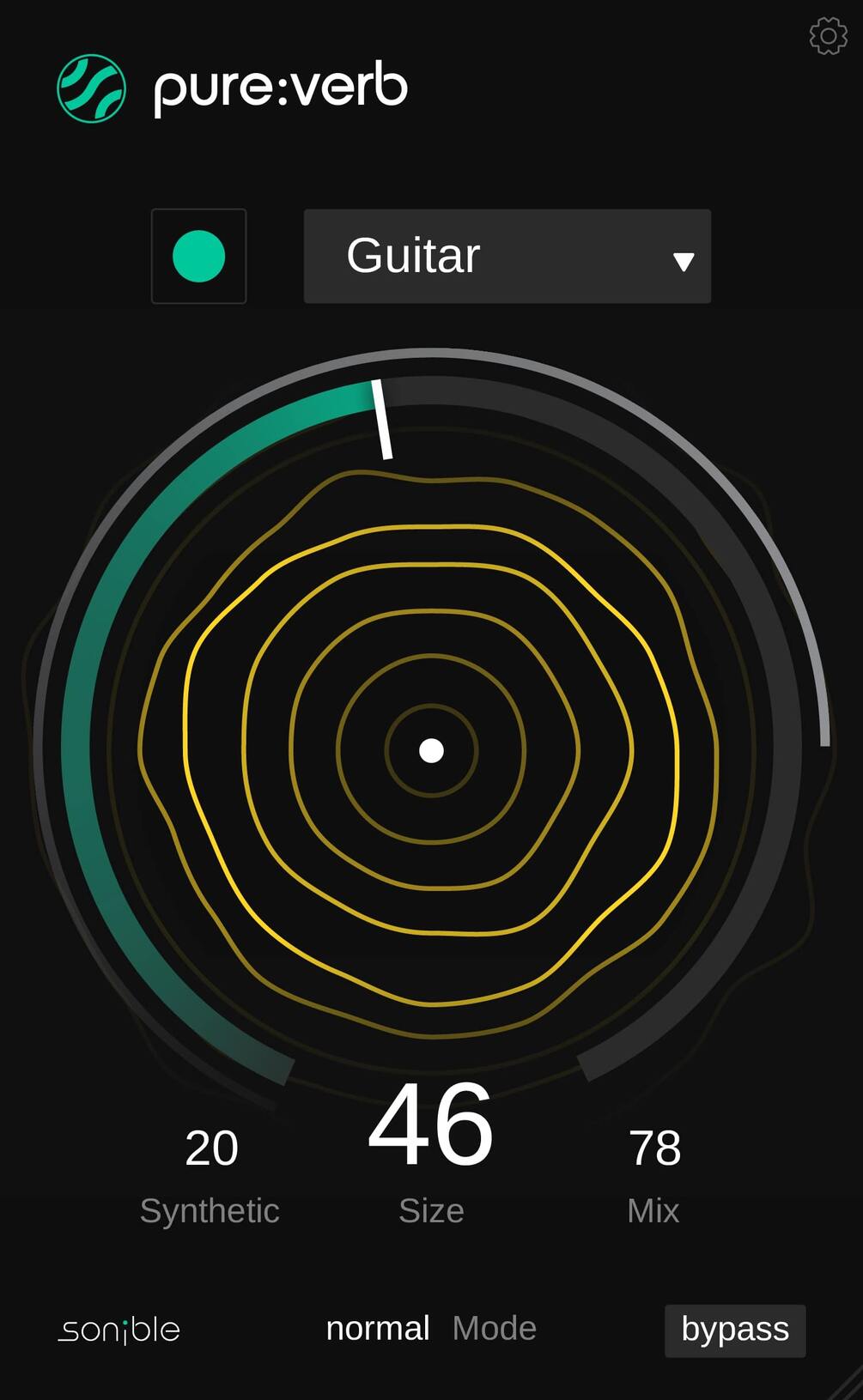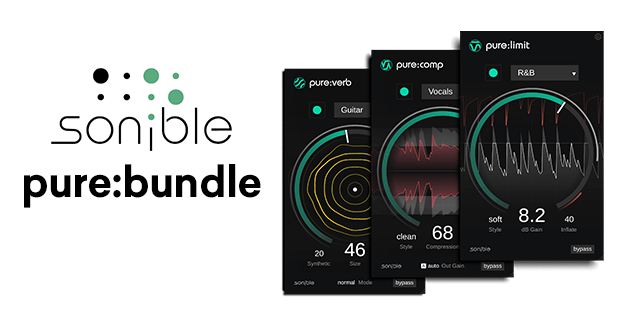 UJAM plugins down by up to 72%
UJAM is known for creating professionally sounding virtual instruments and cool effects with an easy workflow and a broad range of presets for just about every electronic genre. And there is currently a sale going on where you just might find the sounds or effects you didn't know you were looking for.
UJAM's virtual instruments mainly offer ready-made sounds for producers who are less inclined to hours of tinkering and sound design and just need instant professionally sounding results. But even if you are more of a mangler f sound, you might find a VST from UJAM that surprises you.
You can save even more when you get one of UJAM's bundles. There is the Finisher Bundle* that includes the full range of UJAM's Finisher effects. And with the Usynth Bundle* you'll get a whole range of ready-to-play soft synths. If you're looking for new inspiration for your bass line game, then Virtual Bassist Bundle 2* might be worth a look and there is also a deal going on with UJAM's Hitmaker Bundle*. Almost as good as the deals for IK Multimedia!
Check out all of the UJAM deals over at Plugin Boutique!
More on IK Multimedia, Magix, Sonible and UJAM
* This post contains affiliate links and/or widgets. When you buy a product via our affiliate partner, we receive a small commission that helps support what we do. Don't worry, you pay the same price. Thanks for your support!
Image Sources:
Magix coreFX Volume former: Magix
Sonible pure:comp: Sonible
pb: Plugin Boutique
Sonible pure:verb: Sonible
Sonible pure:bundle: Sonible