FKFX Noise Bleach: multi-band noise gate plug-in
Deal
FKFX is a French developer with interesting output thus far. Its latest release is Noise Bleach – a multi-band (you can also call it 8-channel) noise gate plug-in that lets you apply the filtering per frequency band. This makes it possible to pull off surgical clean-ups and introduce rhythmic gating effects.
FKFX Noise Bleach
FKFX Noise Bleach removes unwanted noise and resonances as good as any gate. It can also be used as a production tool to add chops, glitch and stutter effects. It only takes a bit of imagination.
The plug-in offers 8 channels / bands with a Dynamic Matrix Threshold level parameter available for each band. You can also hear individual bands in isolation to make sense of what you're doing. There is also the following automated functionality to harness:
Noise Gate: automatically set thresholds levels for basic gating
Noise Bleach: automatically set thresholds levels for hard noise gating
Transients: automatically sets thresholds levels to extract the main transients
Gate Invert: reverses the gate opening to let you control the removed parts of the signal
Also available are Bypass and Latency Compensation features. By default, Noise Bleach uses its internal latency compensation system, which can be disabled in the plug-in preferences. This makes it possible to apply the plug-in in a live performance context.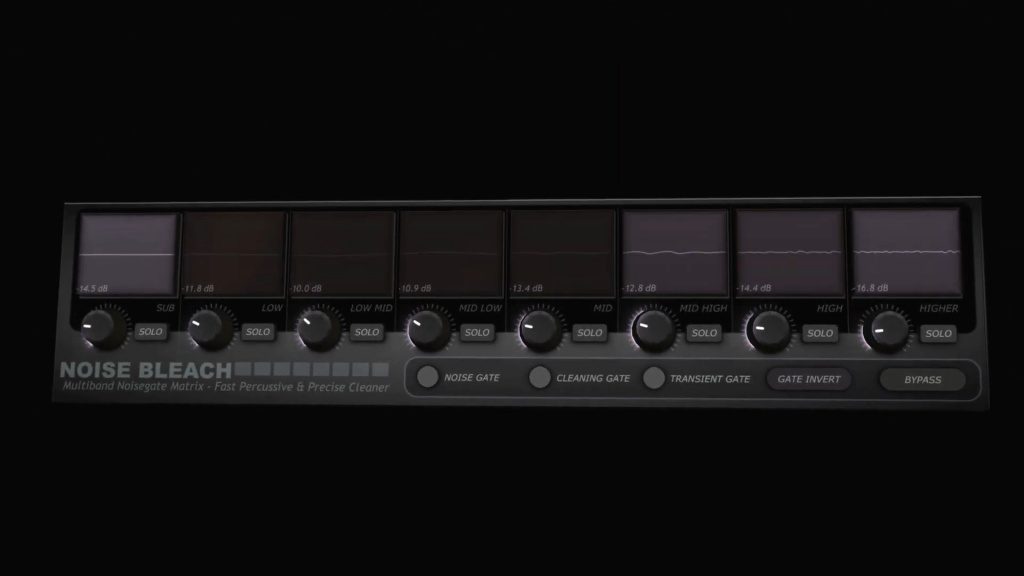 All in all, Noise Bleach is a clever and powerful gate. Adding multi-band functionality and some automated smarts to familiar effects like noise gates can make you rediscover them in new and unexpected ways.
Price and availability
Like all FKFX plugins, Noise Bleach is free to download and use with a nag screen timer which rids itself after purchase. That costs a reasonable EUR 39. The plug-in is available in VST and AU formats for modern Windows and macOS computers.
More information
FKFX Noise Bleach – Video
Image Sources:
FKFX Noise Bleach 0-15 screenshot: FKFX