Filtron, EQ1979, Graphic EQ: Free Plugins of the Week
Filtron is an exciting new state-variable filter plugin by Polyverse – and it's free! This week's collection of free plugins also includes an emulation of the famous Neve 1073 equalizer, as well as a precision Graphic EQ from Viator DSP.
Polyverse Filtron: Versatile State-Variable Filter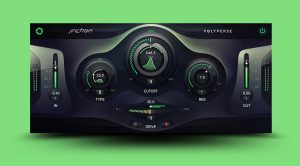 Polyverse Filtron is a 12 dB state-variable filter that allows you to transition seamlessly between lowpass, bandpass, and highpass modes. According to the developer, the self-oscillating resonance goes up to 11! Filtron also boasts an internal saturation stage, as well as a post-filter overdrive module with two different modes. Moreover, it can receive CV signals, so you can pair it with external modulation sources such as the developer's Gatekeeper plugin. Great stuff!
Filtron is available for macOS and Windows in VST, VST3, AU, and AAX formats.
Belles Ondes EQ1979: Free Neve 1073 Emulation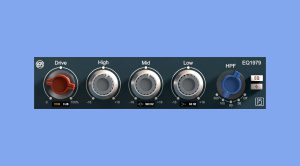 If you read our article about classic EQs that made history, you know that the Neve 1073 is one of the most iconic preamp and EQ designs of all time. Developer Belles Ondes has now released a free emulation of the 1073's saturation and filter stages. You get the iconic red drive knob, three bands (low shelf, mid band, high shelf), and an additional highpass filter. If you're looking for a free alternative to a costly 1073 emulation, EQ1979 is definitely worth a look!
EQ1979 is available for macOS and Windows in VST3 and AU formats.
Viator DSP Graphic EQ: Graphic Equalizer with Dynamic Bandwidth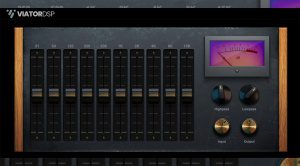 On to a completely different beast of an EQ. Viator DSP's new Graphic EQ plugin goes beyond what a traditional graphic equalizer can do by managing the filter bandwidth dynamically. As you increase or lower the gain of any of the 10 bands, the filter bandwidth narrows, which helps to zero in on problematic frequencies. In addition to this, the plugin offers a pair of highpass and lowpass filters, as well as a colorful VU meter to help keep the levels in check.
Graphic EQ is available for macOS and Windows in VST3 and AU formats.
Looking for more free plugins like Filtron, EQ1979, and Graphic EQ? Head over to our archives!
Video about Filtron
Image Sources:
polyverse-filtron: Polyverse
belles-ondes-eq1979: Belles Ondes
viator-dsp-graphic-eq: Viator DSP