Fender's "Roasted Earth": A reply to the PRS Silver Sky!
Fender's new Roasted Earth blends old with new
Images have just popped up on the net of a "Roasted Earth" model by Fender. The images are of a guitar that can only be understood as a reply to the recent Silver Sky by PRS, whose design closely resembles that of Fender's legendary Stratocaster.
Fender Roasted Earth
Apparently, the Roasted Earth took two and a half years to develop. The images show a twin-humbucker design with a 25″ fender scale length and has a modern 6 point tremolo system. The flame maple top is matched to a lightweight mahogany back. The 22-fret maple neck features a rosewood fretboard with dot inlays and is fitted with 22 jumbo medium frets.
Scooped
With the classic snap of a bolt-on design combining with the scooped double cut design and a mahogany body, this model has the best of all possible worlds. The twin nickel-covered humbuckers are hand-wound by experienced American pickup winders. They can be split using the push-pull on the tone control, (Look ma, no switches!) allowing you to get some nice single-coil tones from the guitar.
A reverse headstock with a classic Fender shape completes the look and makes for a nice straight string pull, so should help with keeping the Roasted Earth in tune. Also very handy is that you have to reach down and further to get at the machine heads.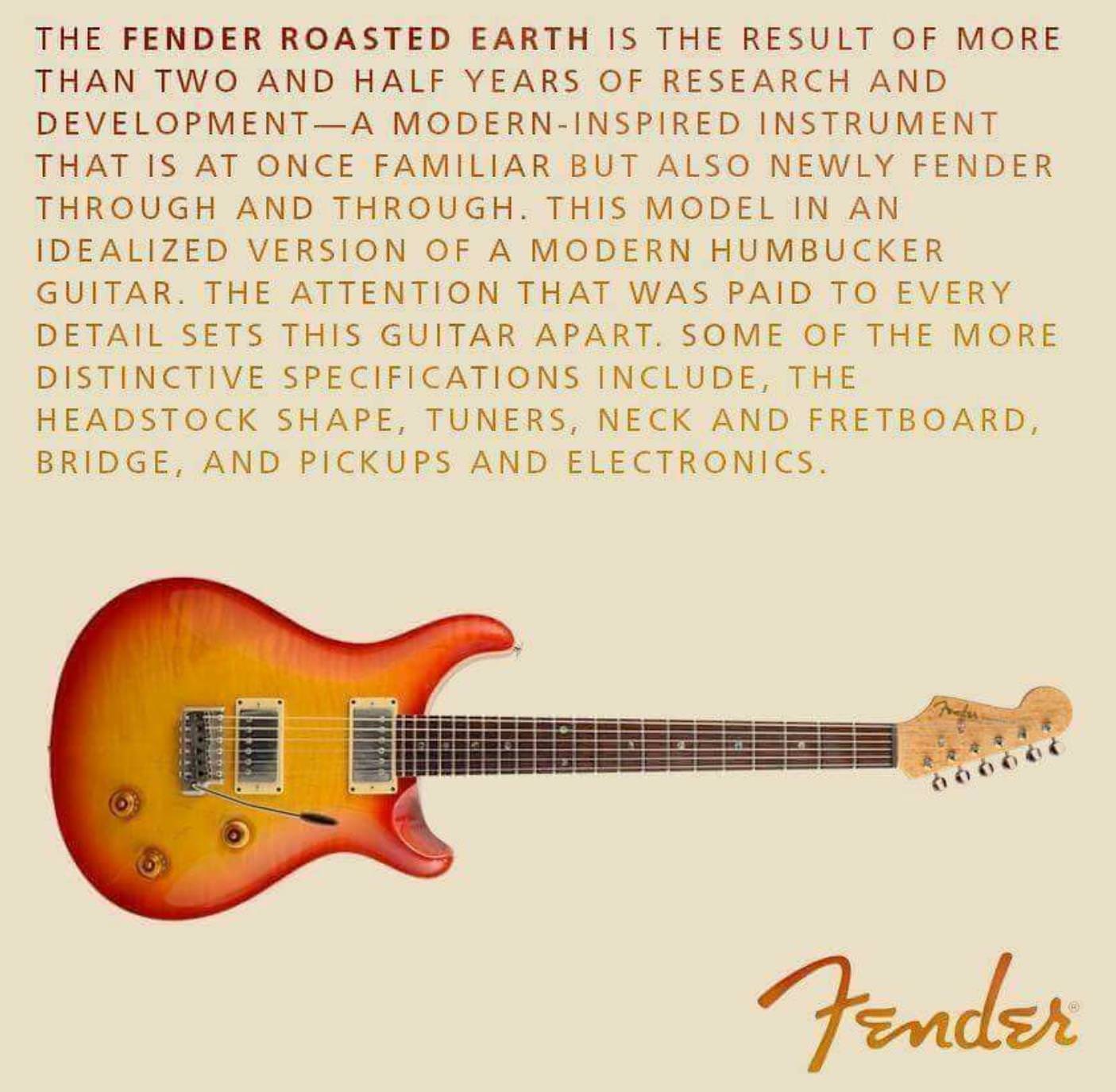 Fender "Roasted Earth"
John Mayer
Fender's 'Roasted Earth' is, of course, a fake, knocked up on the internet and currently doing the rounds on guitar forums.
What this says to me is that guitarists are very much stuck in the mud with their traditions, associations and opinions. Especially about what guitars should and should not be and who should play certain models.
PRS has just released the Silver Sky developed with John Mayer. Many players are up in arms over the fact that Paul Reed Smith could allow himself to make a guitar that even resembles a Fender Stratocaster and then claim it is a new guitar.
Well, I'm sure that John Mayer didn't just slap a reverse PRS headstock onto a Stratocaster then put his name to the model, but what do I know? However, I can say with confidence, that us guitarists are a funny bunch!
Oh, and then there was this:
Gibson John Mayer Signature due 2020…
Video
Image Sources:
Fender Roasted Earth Modern design meets '50s styling: thefretboard
Gibson John Mayer Signature: Rabs/thefretboard