Epiphone Nancy Wilson Fanatic Review: A Perfect Strat/Les Paul Hybrid?
Announced at NAMM 2021, Epiphone's Nancy Wilson Fanatic signature model definitely caught our eye. Based upon the cult classic Nighthawk, the Fanatic marks a welcome return for this design. Epiphone was kind enough to send me one to take out for a spin. And super-interesting it turned out to be, too! Here are my impressions of Nancy Wilson's new signature model.
Epiphone Nancy Wilson Fanatic
Let's start off with some background on the history of how this guitar came to be. There are various stories as to how this shape appeared in the Gibson catalogue. Importantly, most of them involve Nancy Wilson of the rock group Heart. According to Wilson herself, Gibson approached her regarding a signature model in the 1980s. As a consequence, she presented Gibson with the outline of the guitar which became the Gibson Nighthawk.
Finally, in 2013, Gibson released Wilson's design as the "Nancy Wilson Nighthawk" along with a hefty price tag too! Now, in 2021 we have the Epiphone Nancy Wilson Fanatic, an affordable version of her Gibson signature model.
From the moment Epiphone announced the Nancy Wilson Fanatic signature model, I was itching to get my hands on one. I've been a long term Les Paul player, but nowadays prefer guitars with less physical heft and more versatility. The Fanatic suggested I might just find the perfect balance of Gibson and Fender design details. Without a doubt, this was one guitar I was eager to review…
First Impressions
Unpacking the Fanatic from its shipping carton, I first found a very attractive black vinyl covered hard case. Buyers will rejoice in hearing that this case is included in the purchase price. Clearly, a nice touch, especially on a non-standard sized guitar.
Opening the case, I was not disappointed, this is a handsome guitar! It should be noted you can only get the Fanatic in one colour, namely, Fireburst. Undoubtedly though it's a beautiful finish and really compliments the figured maple veneer top.
From a purely superficial, aesthetic standpoint, Epiphone has absolutely nailed it with the Fanatic. Lift the lid on the case and it has a "wow factor" beyond its price point.
Fit and Finish
A criticism I've had of Epiphones of the past is the "plasticky" lacquer used on their guitars and sadly the Fanatic suffers just the same. Admittedly, at this price point, you're not going to find a nitrocellulose finish! That aside, I had to look really hard to find anything disagreeable in terms of fit and finish. There's some slight overspray on the binding, but again at this price point, it's an impressively screwed together guitar.
Putting fingers to fretboard I was deeply impressed by the factory setup. The action is low and buzz-free and the intonation from that hardtail strat-type bridge is spot on. I particularly like the ebony fretboard with neatly installed inlays.
The tuners are an Epiphone branded version of the classic "Gibson Deluxe"-style tuner and have a solid and smooth feel in operation. Tuning stability was superb. Indeed, the guitar was perfectly in tune out of the case and stayed that way through most of my playing!
The Neck – Fender Scale and Gibson Profile?
I don't know about you, but the profile and feel of a guitar's neck is absolutely a "make or break" feature for me. Just as the rest of the guitar is a hybrid of Fender and Gibson design touches, likewise so is the neck. You'll find a Fender-style 25.5″ scale length along with a chunky, Gibson-style Rounded C profile neck. Clearly, this is going to be a very personal preference you'll either love or hate.
I personally loved the note definition and chime the extra scale length gave chords and individual notes. On the other hand, I found the combination of a chunky neck with extra scale length a literal and metaphorical handful!
I should point out that I have smaller than average hands and so usually favour short scale and thin necked guitars. By the same token, I'd hoped that a guitar with slimmed-down body dimensions and reduced weight might have a slinkier neck than this.
Once again, neck profile and shape is a very personal issue. But I can't help but feel a slimmer neck profile would make this a more attractive guitar to a wider cross-section of players.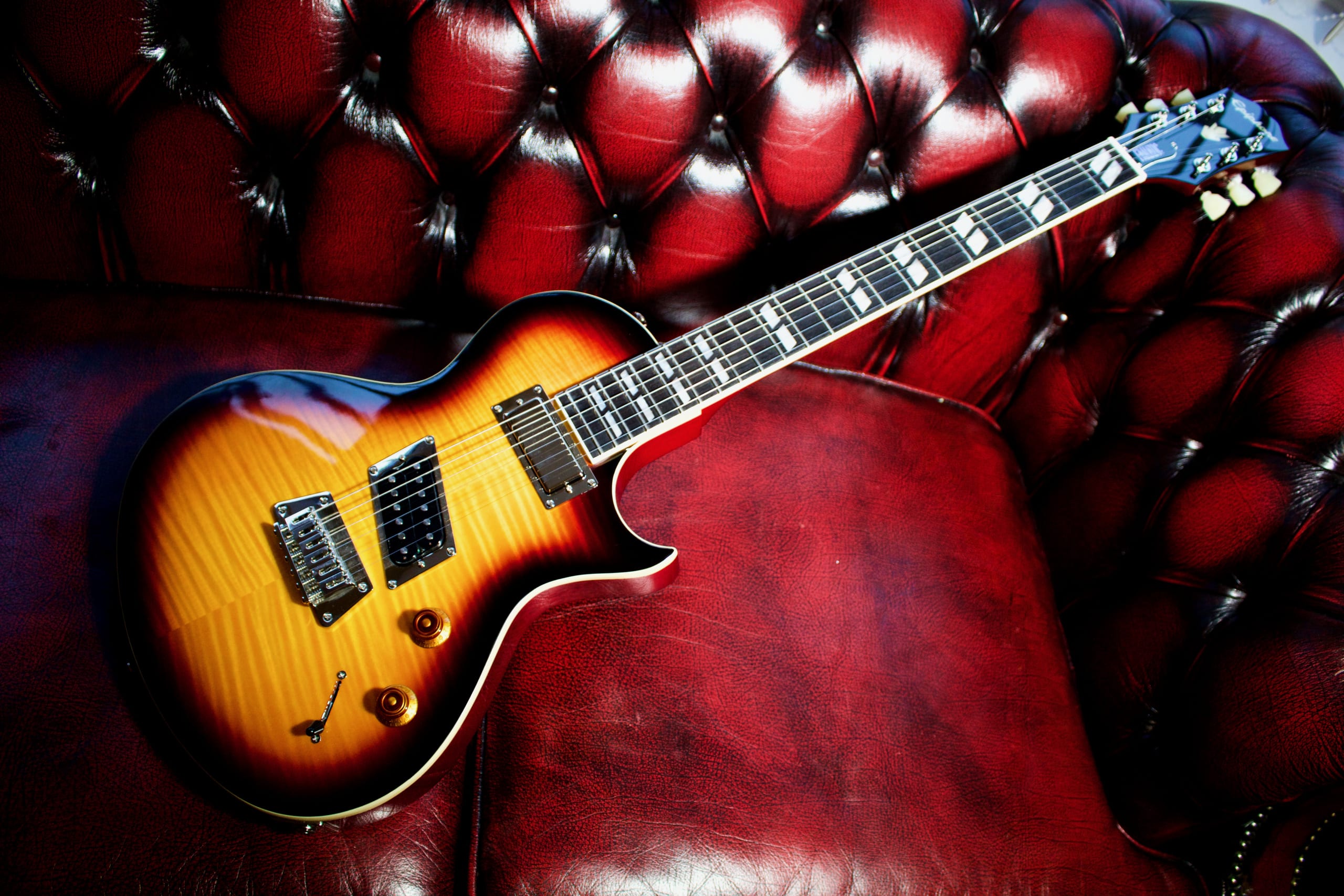 Pickups and Electronics
In years gone by, Epiphone pickups and electronics undoubtedly let their guitars down. I'm pleased to say that judging from this example, those days are long gone. I found it impossible to criticise the Epiphone ProBucker pickups in any way, considering the price point.
I couldn't resist a cheeky look in the electronics cavity and was consequently impressed with what I found. Some cheaper guitars manufactured in east Asia suffer from electronics that may not stand up to vigorous playing or stage use. But this looks competently done.
Instead of the dreaded mini-pots and circuit board style selector switch, you'll find proper full-size pots and a traditional wafer-style, five-position selector switch. Impressive!
Tones and Playability
Thanks to the five-way selector switch, you have access to a mix of full humbucking, coil tapped, and coil tapped pickup mix tones. Even more impressive is how good the coil tapped tones sound; the centre position tone with both of the inner coils mixed together is glorious. Like a warm, rich and full Telecaster! It's one of the standout tones on offer.
The control layout is, admittedly, always going to be one of personal preference. I have no issue with the Strat-type pickup selector location. What I found irritating was the position of the volume knob that always seemed to be in the way. I find it equally irritating on a Strat, however, so perhaps this is another one of those areas of Gibson vs Fender design features you'll love or hate.
Undoubtedly, The Nancy Wilson Fanatic has a unique tonality all of its own. As I've already mentioned, the Fender scale length and through body stringing gives remarkable sustain and definition. Couple that with the mahogany body, neck and Ebony fretboard and you have something quite special.
Indie guitarists will simply love the chime and the warm, rounded tone from big open chords. Tuning down to D or further, that longer scale length coupled to the warmth of the mahogany makes this a machine for doom and metal styles too.
The Gearnews Verdict
Without any doubt, the Epiphone Nancy Wilson Fanatic offers incredible value for money. At this price point, any negative criticism comes down largely to personal preference. I continue to find it amazing just how much guitar you can buy for between €500-600 nowadays!
It's a great looking guitar and everyone I showed the review example to was taken in by its good looks and equally amazed it didn't cost significantly more money.
Even so, from a personal perspective, I sorely wish the neck had a slimmer profile to complement the slimmed-down, more comfortable body design. I recommend you try one out for yourself to see if the hybrid of Fender and Gibson features strikes the right balance for you.
More Information
Image Sources:
Epiphone Nancy Wilson Fanatic: Bob Malkowski
Attractive "Fireburst" figured maple veneer finish.: Bob Malkowski
Ebony fretboard with neat inlays and binding.: Bob Malkowski
Nancy Wilson's signature adorns the reverse of every Fanatic headstock.: Bob Malkowski
IMG_1245: Bob Malkowski
Epiphone ProBucker Pickups are controlled via five-way selector switch: Bob Malkowski
Good quality, neatly installed pots and switchgear: Bob Malkowski
The headstock: Bob Malkowski