Empress Effects party on with "10th Anniversary" Tremolo edition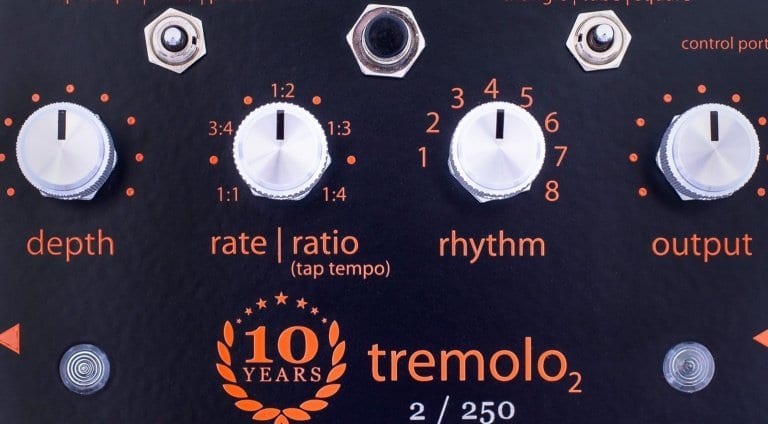 Empress Effects Limited run 10th Anniversary Tremolo pedal. With Serial Number on front panel · Source: http://empresseffects.com/collections/products/products/10th-anniversary-tremolo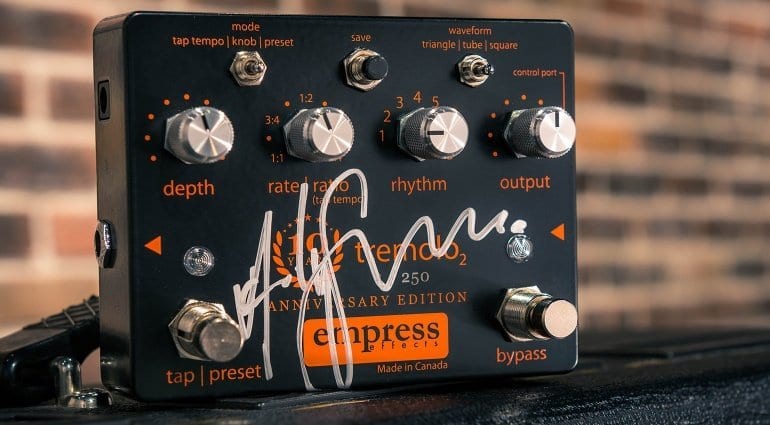 Empress Effects Limited run 10th Anniversary Tremolo pedal. Signed by Andy Summers! · Source: http://empresseffects.com/collections/products/products/10th-anniversary-tremolo
Empress Effects are currently celebrating their 10th anniversary and to celebrate they are releasing a limited run of their original Tremolo pedal that started the Empress success story. 
10th Anniversary Tremolo
The Canadian company started 10 years ago in a garage and has since grown into a very well respected boutique pedal builder, with some big-name players on their list of users. Their now.calssic Tremolo is a very well respected tremolo effect, is verý tweakable and has the added advantage of onboard presets as well as a tap tempo function.
One such player is Andy Summers of The Police, who was one of the first to use the original orange-coloured Tremolo pedal. Now Andy has kindly signed number one of the 250 10th Anniversary pedals, which is being auctioned off for charity.
A portion of the price of pedals in this limited production run will also got to charity. Each pedal has a serial number proudly emblazoned on the front of each unit, so you'll know that you have one of the limited run units. Also, they are black rather than bright orange!
Charity
If you are in the market for an Empress Effects Tremolo, then now is really a good time to go buy one, as I'm sure the limited run versions in black will be popular with collectors. Whether or not you bid on the Andy Summers signed 'number one' pedal will more than likely come down to if you are a fan of his or like giving money to charity.
Either way, it is a nice idea that a charity also benefits from the interest here, and the limited run in black looks pretty cool, as well.
RRP: $249 plus shipping and taxes
You can read all about the Empress Effects Tremolo 10th Anniversary models here
Image Sources:
Empress Effects Limited run 10th Anniversary Tremolo pedal. Signed by Andy Summers!: http://empresseffects.com/collections/products/products/10th-anniversary-tremolo