Blackstar Debut 50R: The perfect pedal platform?
Utilising a discrete MOSFET preamp for tube-like amp tones
These Blackstar Debut 50R combos are an all-analogue design with a simple layout and plenty of features. Designed as an alternative to entry-level digital modelling amplifiers.
Blackstar Debut 50R
The new Blackstar Debut 50R is a 50-watt 1 x 12 combo, available in a Cream/Oxblood or Black finish, and is described as the perfect pedal platform.
It has two foot-switchable channels: Clean and Overdrive along with a discrete MOSFET preamp design, which gives a tube-like response without the cost of tubes.
Features
Key features include Blackstar's patented ISF tone control, power reduction and a built-in reverb. These 'studio quality' Plate and Hall digital reverbs should cover most bases for general use.
What also makes these amps nice and versatile is the ability to knock the power down from 50 watts to a more home/studio friendly 5 watts.
Pedal Platform
The idea behind these combos is essentially to offer a well-priced analogue amp and one that offers good quality tube-like amp tones, just without breaking the bank.
As a pedal platform, these could be an ideal way for players to get great tones. Without going down the modelling amp route. Making them potentially a great option if you have a selection of effect pedals that you have built your signature sound around. They have a series effects loop to help you accommodate your effects.
Recording
Thankfully, Blackstar has also included a very useful speaker emulated Line Out for silent practice and recording. Plus, they can handle stereo playback of any Line In sources through headphones.
It is quite a simple amp in many ways. But all these handy features certainly make these Debut 50R combos versatile and a good alternative to digital amp options.
I can see these being a nice option for a lot of guitarists. Especially if they need to gig and record. Having that power reduction is a very nice useful feature for many players.
MSRP – EUR 229 *  footswitch sold separately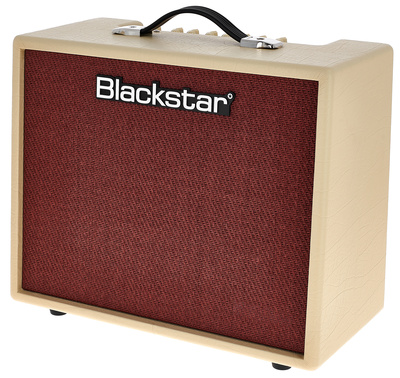 Blackstar Debut 50R Cream Oxblood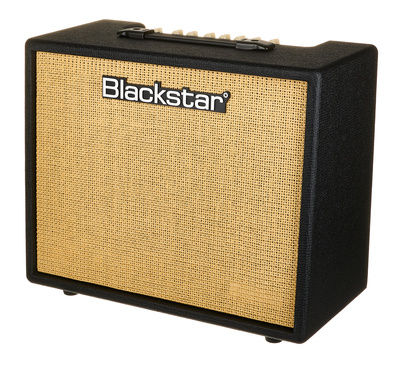 Blackstar Debut 50R Black
More Information
Video
Image Sources:
Cream/Oxblood: Blackstar
Black: Blackstar
The perfect pedal platform?: Blackstar