Blackstar Amped 3: 100 watt pedal amp with presets
New 100-watt amp in a pedal with presets
Blackstar Amped 3 follows on from the recent Amped 2 that I reviewed in January. Now with a new reverb, more distortion tones and finally presets, so save and load your own presets.
Blackstar Amped 3
The Blackstar Amped 3 offers 100-watt power and adds the much-requested presets feature.  In addition, a boost and a reverb are included. There are also three modes: Clean, Crunch and Overdrive. Each of the three modes has two sub-modes as well, so it is pretty flexible.
Dual Modes
Users can choose between Warm and Bright for the Clean. Crunch also has the Crunch and Supercrunch options.  Overdrive has OD1 and OD2 modes.
There are also two options for Boost and Reverb. The boost can be set Pre or Post. And with the reverb, you have the choice between Dark and Light.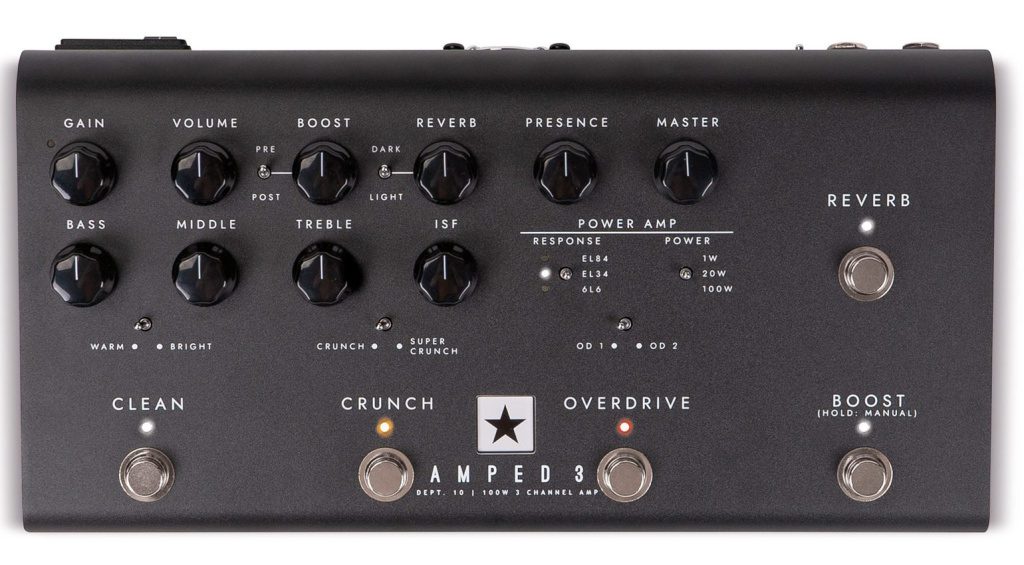 Amped 1, 2 and 3 Differences
Compared to Amped 1, Amped 2 and  Amped 3 have many similarities
Both have 3 power amplifier emulations of different tubes, EL84, EL34 and 6L6 and a presence controller. You can also switch between the output powers 100 watts, 20 watts or 1 watt with Amped 2 and Amped 3.
Amped 2, the effects were Drive, Modulation, Delay and Reverb, which are activated by the footswitch.
The three integrated distortion tastes UK, USA and Classic could only be selected with one switch, opposite each of the three sound characters in the Amped 3 can be selected individually using the foot button.
In addition, if you like it in Clean, Crunch or Overdrive in Amped 3, you can save and retrieve a preset as a finished preset.
MSRP – EUR 599 *
More Information
Video
* This post contains affiliate links and/or widgets. When you buy a product via our affiliate partner, we receive a small commission that helps support what we do. Don't worry, you pay the same price. Thanks for your support!
Image Sources:
100 watt pedal amp: Blackstar
Dual Modes: Blackstar