REVIEW: Blackstar Amped 2 compact all-in one amp solution
A flexible 100-Watt with built-in FX all in a compact pedal format
The new Blackstar Amped 2 is a compact solution for guitarists. Offering a 100-Watt amp, a cabinet simulator, built-in effects and a DI solution for both live use recording. In this first-look review, I'm going to share with you my opinions on this new compact floor unit.
Amped 2
Blackstar was kind enough to send me one of the new Amped 2 pedals to check out a week or so ahead of the official release date. This meant that I could put it through its paces and test out the features. There are a lot of features, so I had plenty of things to try out. 
The new red unit follows on from the original white-coloured Amped 1 unit released in 2022.
My first impressions of the Amped 2 are that it is solid, with a nice build quality, so should handle being gigged and taken to rehearsals or studio sessions with no issues. The pedal itself weighs in at just under 2kg and has an aluminium chassis in that nice bright red anodised finish.
Before you plug it in it gives off an air of quality, I was also impressed by the number of ports on the rear and the easy-to-work-out user interface on the front panel.
The included manual isn't really required and thankfully all the basic information fits onto neatly the folded instruction sheet. Inside there is a QR code so you can download the Architect editing software. I installed this onto my MacBook Pro so that I could check out how it integrates with the pedal.
Flexible
My first act was to unplug my amp head and attach the review unit to my guitar cab. It wires in just like my regular amp and I used the 8ohm speaker out on the rear.
Once it has fired up, I dialled in a basic crunch tone, and I was off playing.
I can do technical and so I'm not scared of getting dug into complex gear. However, this unit is very user-friendly and the front panel is neatly laid out. That took over the next 3-4 days and I just found the whole experience a breeze.
There are three basic preamp tones: USA, UK and Classic. These cover all the basics and are more than enough to do the job. Along with three tube power output emulations including EL84, EL34 and 6L6, plus, a presence control.
And, of course, you can also choose between 100 Watt, 20 Watt or 1-Watt power output settings. 
You have the standard basic amp controls that all make sense and then there are four effect sections, each with its own set of controls and effects choices. They include a Drive section, Modulation, Delay and Reverb sections.
Each section has a mini toggle switch that allows you to choose the style of effect you want i.e the Drive section can be a Boost, Drive or Fuzz. 
The foot switches below allow you to turn on and off the various built-in effects and there is a dedicated tap tempo switch as well. 
Dial in
I was impressed at how easy it was to dial in a decent tone and I love that the small OLED display on the right side tells you exactly what setting you have dialled in. This will make it simple to use on a dark stage, or rehearsal room. Plus, it allows you to navigate quickly, which I found beneficial.
Having a 4×12 cab to hand, I decided to go through that as well and found it could drive that with no issues at all. All three of the output wattages are usable and whilst at home, I tended to hang out in the 20-watt setting. Though it will happily do a full 100-watt or neighbour-friendly 1-watt and it sounds good on all settings.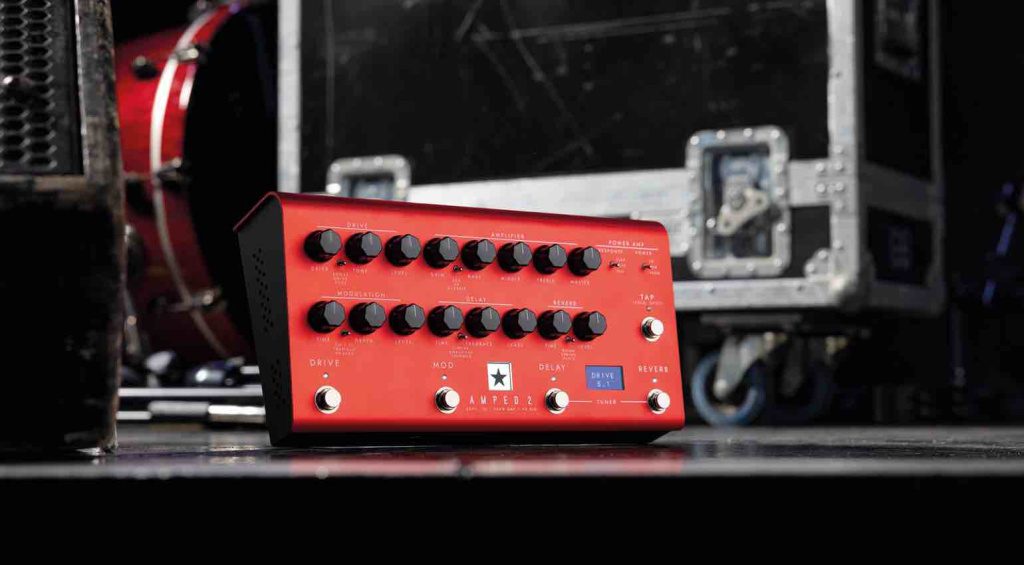 Effects
The built-in effects are all pretty usable, and they cover all the basics you would need for most tasks. I wasn't blown away by any particular one straight out of the box, though I liked that you can tweak them (and the cabinet settings) via the Architect editing software. Once I tweaked them a little using the editor, I found they were pretty useful to have around.
Having extra control via holding down foot switches to enable freeze functions for the effects is also useful.
Drive 
• Drive types: Boost, Drive and Fuzz 
 Modulation
• 3 Modulation types: CH/FL (Chorus/Flanger), Tremolo and Phaser 
• Deep editing via Blackstar's Architect software • Hold footswitch for 'Emphasis' effect 
 Delay
• 3 Delay types: Linear, Analogue and Shimmer 
• Deep editing via Blackstar's Architect software • Hold footswitch for 'Freeze' effect 
 Reverb
• 3 Reverb types: Room, Spring and Plate 
• Deep editing via Blackstar's Architect software • Hold footswitch for 'Freeze' effect 
Tap foot switch for tempo/BPM input
• Hold: Shift function to access secondary functions of front panel controls
Architect
The Architect editor is quick and easy to use. For me, it makes the system a lot more useable, as you can tweak it to your heart's content and make the Amped 2 your own. Sure, I could have used the unit without it, but I loved the benefits that it offers. It allows you to tweak all manner of useful things, including delay tails, reverbs, effects loop settings (for what you want to integrate your favourite stomp boxes) and virtual cabinet/microphone settings, etc 
This simple editor definitely makes the show system easy to adjust to taste, and you can save your favourite settings, name them and categorise them. This allows you to build up a library of tones and potentially share them with other users. Which makes this system perfect for recording as well.
Recording
Logic Pro on my Mac saw the Amped 2 as an audio input straight way and I could record my amp tones straight into a session with no noticeable latency or annoying buzzing.
I really enjoyed this aspect of the unit and I could happily use one of these in my own studio, as it just works. Such a simple, solution and it doesn't require any extra hardware. This could be a real benefit for a lot of musicians, as a guitar can be awkward to get into a DAW or PA system sometimes. 
CabRig
The CabRig cabinet simulations work well, sure they are basic, but they do what they need to do and sounded how I would expect them to. No complaints from me there. Overall, the recording experience for me was really good and I liked the simplicity, with the ability to tweak if I needed or wanted to.
CabRig sends out four outputs to your DAW; Left and Right, these are both fully processed channels, Preamp only and Dry unprocessed. 
It will also receive two channels from your DAW both with Line input for audio monitoring or backing track playback via the Balanced XLR and Line Out CabRig outputs. 
Channel 2: Line input, right channel – Used for audio monitoring or backing track playback via the Balanced XLR and Line Out CabRig outputs. 
Essential Extras
To finish off, there is a built-in chromatic tuner, power for your external effects pedals via two 9V 500 mA outs and a balanced XLR out with CabRig out. This XLR complements the line out/headphone out and USB out for recording. It's nice having all three available, as it covers DAWs, mixing desks and beyond.
Plus, there is that effects loop I mentioned earlier, so combing this unit with other effects is simple.
Those outputs have a dedicated Level knob on the rear panel. At maximum setting, this control has no effect on the signal level. At the minimum level, this control attenuates the signal at these outputs by 20 dB. It is a universal voltage unit and so all you require is the included power cable, no annoying wall wart external power supplies.
Users can also choose between post-preamp/effects and pre-power amp line level output, which is a nice touch. Finally, you have MIDI control over the amplifier and effects parameters. 
Closing Thoughts
There is a lot going on with the Amped 2 and I think it would take me a good few months to explore and utilise every single aspect of this pedal. In the week I have had it, my main takeaway is how easy it is to use. Yes, there are extra hidden depths you can delve into, but it all works well and is nicely implemented.
Overall, as an all-around guitar product, I rate it highly and it delivers on both tone and flexibility. Which makes it potentially a great solution for a lot of guitarists. I also really did enjoy the ease of use, as it is easy to get great tones out of this amp.
MSRP – EUR 649/GBP 577 *
More Information
Videos
* This post contains affiliate links and/or widgets. When you buy a product via our affiliate partner, we receive a small commission that helps support what we do. Don't worry, you pay the same price. Thanks for your support!
Image Sources:
Compact all-in-one amp solution: Blackstar
Blackstar Amped 2: Blackstar
Blackstar Amped 2 great for studio: Blackstar
Rear Panel: Blackstar
Architect: Jef Stone
Cab Sim Controls: Jef Stone