The Best Product Videos of the Year: Clips to Make You Smile
Amidst all the festivities and best-of-2022 lists, we take a moment to look back at some of the most creative, funniest, or all-around best product videos of the year! Some manufacturers went out of their way to catch your attention with some seriously unique, hilarious, mysterious, or simply impressive clips. Here are our favorite product videos of 2022!
Cre8audio East Beast / West Pest
In the spring of 2022, Cre8audio and Pittsburgh Modular unleashed a pair of mysterious creatures onto the world: East Beast and West Pest. But what exactly are they? Hardly anyone had ever spotted an East Beast in the wild, let alone the West Pest. Join Dr. Richard Nichol and his team of forensic biologists as they try to uncover the secret of these shy critters in a pair of captivating (and funny) documentaries.
Luckily, research has now been brought to a close and the scientists were finally able to tame the beasts and make them available to synthesists the world over. Get the Cre8audio East Beast and West Pest at ThomannThomann*.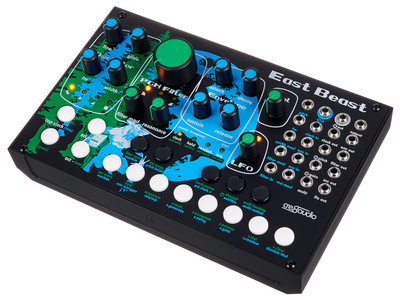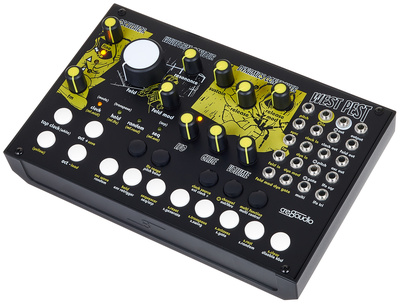 Critter & Guitari Microphone
Critter & Guitari, makers of the Organelle and other fine music devices, released a microphone this year. That's why they made an informative video to showcase the mic and tell you everything you need to know about it. Find out about all the fun things you can do with microphone in this in-depth infomercial:
With so many compelling arguments, it's no surprise that the Critter & Guitari microphone sold out in no time. If you've missed your chance, be sure to let them know so they can make more of this useful device.
Vongon Polyphrase
Watch Fireghosting's "Exploration of the Vongon Polyphrase", and chances are you're going to feel like you just devoured some of the tasty shrooms in the video. The whole clip is a trippy and mesmerizingly beautiful journey into the wondrous world of endless, modulated stereo delays. I mean, feedback-rich delay has always been a weapon of choice for psychedelic, hallucinating effects, but this is just out of this world. For an instant high, watch the whole seven minutes of it. Or better yet, pre-order the Polyphrase to indulge in its breathtaking sounds and loops when it comes out in January.
Neural DSP Archetype: Rabea
In terms of production values, Neural DSP killed it this year with the video for Archetype: Rabea. Everything is simply top-notch here: the sounds, the setting, the lighting, the cinematography, and, above all, the playing. What better way to showcase a software suite that contains everything from amp and speaker simulations to effects to a full-blown dual-oscillator monosynth.
Ernie Ball Music Man Joe Dart II
Vulfpeck bassist Joe Dart got his second signature bass from Ernie Ball Music Man this year. When they designed it, they allegedly took the Joe Dart I and cut the pickup in half. Too bad the prototype shown in the video is apparently made of plastic, but I think they got it sorted out in the end and the production model is "cut from a tree". It's the lack of anything "extra" that makes it a Joe Dart bass – but hold your breath: this one's got two tone knobs! It's a lifestyle!
Have we missed any of the best product videos of the year? Have you seen other clips that were funny, unusual, creative, or simply mind-blowing? Let us know in the comments! In the meantime, enjoy your holidays with everyone's favorite product demo of all times: