Best FRFR Guitar Cabinets: Top 6 full-range cabs for your digital rig
Guitar technology is evolving at a breakneck pace. Not so long ago, digital modelling was considered by many as second choice behind the real deal: hot tubes doing their magic, or great-sounding solid state amps. But over the last could of years, digital rigs have become much more convincing and affordable, with modern digital processors now capable of extremely realistic versions of analogue gear. 
Some players run their modellers directly into the house sound or recording system, but what if you want to use a real cabinet to push some air? Sure, you can use them with "regular" guitar cabinets, but it will add its own sonic signature to the equation, falsifying the result of your painstakingly tweaked sounds.
This is where FRFR cabinets come into play. They provide a flat, neutral response as a platform for sculpting your sound. The following cabs are all built to look at home on stage as part of a traditional guitar backline, and each brings a mix of abilities to the table across different price points.
What is a FRFR cabinet?
Much the same as a PA speaker, full frequency, flat response (FRFR) cabinets provide just that. They are meant to give an uncolored, clean sound. Just as guitar amps each provide a unique tone, FRFR cabinets are the opposite. They give you a blank slate so you can unlock the full possibilities in your digital modeler. Many of them also come with speaker modeling and can be loaded with third party impulse responses. Just like modelers, FRFR cabinets are meant to be as versatile as possible.
Powered vs. Non-Powered Cabinets
FRFR cabinets come in active and passive (powered vs. non-powered) variations and you might need one or the other depending upon which modeler you use. For example, the Kemper profiling amp is of the non-powered variety, so it requires an active speaker to produce any sound. Without further ado, here are seven of the best FRFR cabs around.
Friedman ASC-10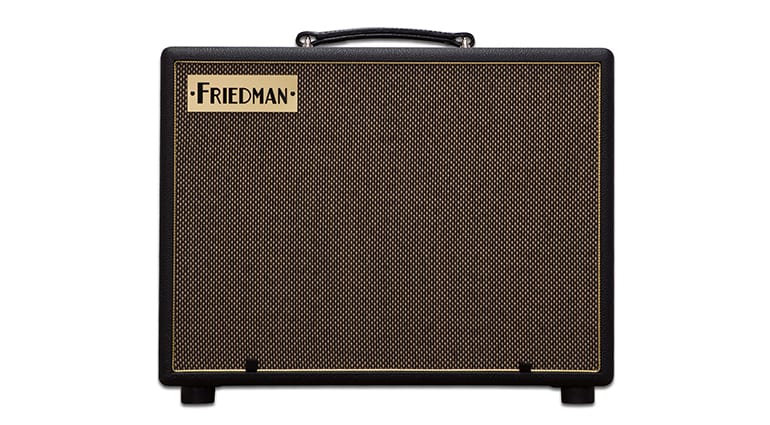 This versatile mono speaker cabinet comes with all of the qualities that Friedman is known for. It packs 500W of power through a 10" Celestion speaker and 1″ compression driver, bi-amped via Friedman's proprietary Class G amplifier. It is tuned for use as a guitar cabinet, P.A. speaker, or backline – and can even be pole-mounted. Some FRFR cabinets offer unique dimensions, but the ASC-10 is shaped like a classic guitar speaker cabinet with a sleek, sexy vintage aesthetic. There is a Line level output for adding additional cabinets, and a 100Hz low cut will tiday up the bottom end if required. The priciest cab of the ones we've selected, it looks great and, well, it's a Friedman so you know it will sound excellent.
Headrush FRFR-112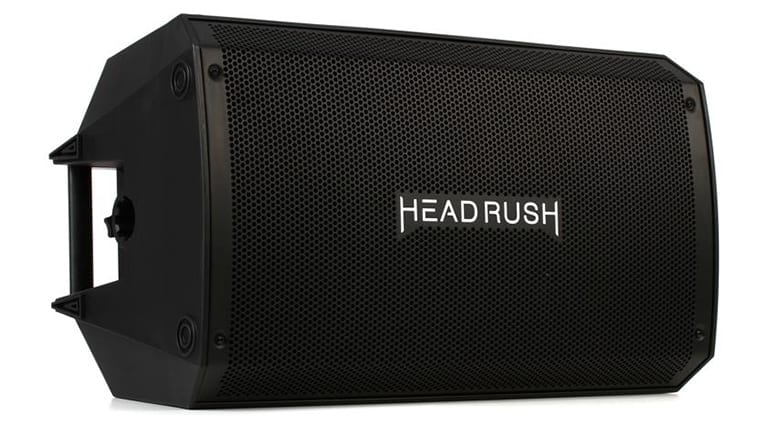 Headrush is another company that is doing some very cool things with modeling. Their FRFR cabinet comes with a blazing 2000W of power so it can handle everything from the dive bars to the arenas. And if for some reason you need more power, other cabinets can be daisy-chained! Combination inputs are compatible with XLR and ¼" TRS. Each channel has its own volume control and clipping monitor. A contour EQ switch adds some additional midrange to help cut through. It's lightweight and can be pole-mounted or tilted back for increased projection.
Kemper Kabinet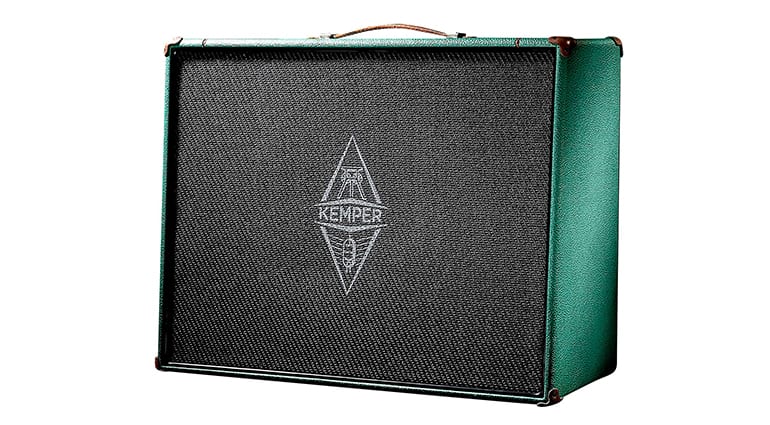 Kemper is on the blazing edge of guitar modeling technology, as their Profiler profiling amp is one of the best and most functionally complete tools around. The Kabinet has a 12" full range Celestion speaker with 19 different "imprints" that provide distinctly different tonal flavors. The Kemper Kone speaker can also be retrofitted into more traditional cabinets. If you're already on the Kemper train, this affordable and tech-filled cab will probably be your go-to solution.
Line 6 Powercab 112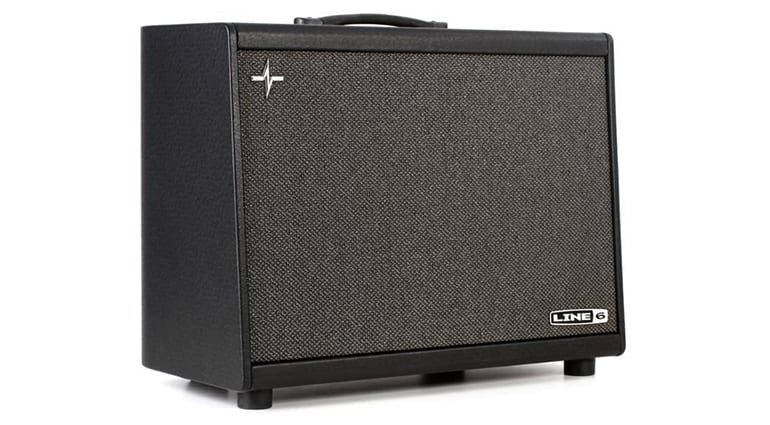 Line 6's entry-level FRFR cabinet, the Powercab 112, uses a single 12" custom hybrid coaxial speaker housed in an enclosure with a sleek, vintage aesthetic that can pump out 250W of power and 128 db SPL. Two versions are offered, the 112 and 112Plus. The latter adds functions like 128 presets, IR loading, MIDI In/Out, AES/EBU I/O, L6 LINK, and a USB audio interface. Line 6 also sells a double-speaker version, the 212. Obviously, Line 6 has a lot of experience with this kind of technology, having been one of the pioneers of digital modelling for guitar tones.
Harley Benton G212A-FR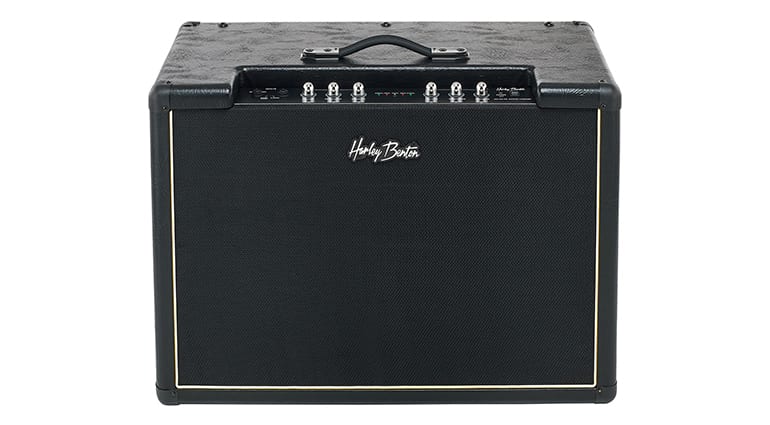 An eminently affordable alternative, the G212A-FR active stereo cab sports two custom-voiced 12" speakers and a 1″ HF speaker that blast out 200W RMS of digital tone. Output the signal via XLR to connect to venue sound or a recording system. It might be inexpensive, but it is by no means cheap. The angled housing lets you tilt it for use as a rehearsal or stage monitor.
Laney LFR-112 FRFR Active Cab
Another affordable active cab, the Laney LFR-112 has a couple of little details that might draw some, like a little kickstand to angle the cab and grille LED lighting. One 12″ and one 1″ HF speaker move air to the tune of 200 Watts. The DI out has an optional speaker sim, too.
One more…
If none of the above have tickled your fancy, or you need an FRFR cab that's also suited to bass, Tech21's Power Engine Deuce Deluxe needs your perusal. Tech 21 kind of kicked off this whole modelling circus with its trailblazing Sans Amp product, along with the Power Engine 60 FR cab launched all the way back in 2001! So Tech 21 is obviously bringing a lot of experience to the table. This no-nonsense cab might not have the bells and whistles of the Line 6 Powercab, but it can pump out 200 Watts on its single 12″ speaker. But it is more versatile in another way. Its rear-firing ports make this a good choice if you're also using it with basses. High- and low-cut filters are available to clean things up if needed.
This post contains affiliate links and/or widgets. When you buy a product via our affiliate partner, we receive a small commission that helps support what we do. Don't worry, you pay the same price. Thanks for your support!
Image Sources:
friedman asc-10 frfr cabinet: friedman amplification
headrush frfr-112 cabinet: headrush
kember kabinet: kemper amplification
line 6 powercab 112 frfr cabinet: line 6
harley benton g212a-fr cabinet: harley benton
Laney LFR-112 FRFR Cab: Laney
Tech 21 Power Engine Deuce Deluxe active FR cab: Tech 21