Best free plug-ins this week: Denoiser, Stringya 2 and LoudMax
This week's collection of free plug-ins brings us an automatable noise reduction tool, a transparent brickwall limiter and a weird virtual string ensemble. Introducing Denoiser, LoudMax and Stringya 2.
Looking for more free plug-ins? Head over to our huge archives!
Bertom Denoiser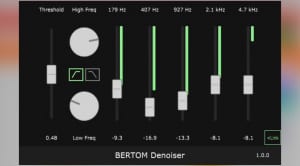 Bertom Denoiser is a noise reduction plug-in designed for music, post production and dialogue. The developer says that it doesn't rely on "learning" a noise profile. Instead, it tracks how the noise evolves in each band. According to Bertom, the plug-in has low CPU usage and zero latency. Denoiser has five frequency bands, which you can adjust individually. It's available as a free download, but the developer will certainly appreciate a donation if you like it and use it in your productions.
Denoiser is available for Windows 10 or higher (32/64 bit) and macOS 10.9 or higher (64 bit) in VST3 and AU formats.
Fanan Team Stringya 2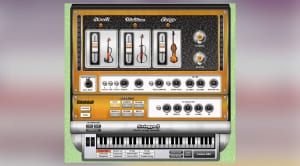 Stringya 2 is a virtual string machine with three parts, which can be mixed together to form an ensemble. The developer says that it features a "32-bit top quality waveform engine". It's probably not what most people have in mind when it comes to strings, but you can run your ensemble through a saturator and even a trance gate. To make it even weirder, they've thrown in an organ-like drawbar set. I'm not quite sure what to make of this strange string/organ/synth thing, but it might just be worth checking out.
Stringya 2 is available for Windows 7 or higher (64 bit) in VST and VST3 formats.
LoudMax by Thomas Mundt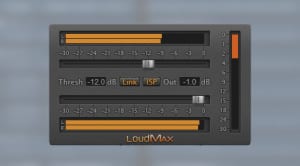 This plug-in has been out for a while, but for some reason we've never featured it in our weekly freeware section. Plain and simple, LoudMax is a brickwall limiter designed to increase the perceived loudness of your tracks. The developer says that it offers a clean and transparent sound and retains the character of the mix even at high compression levels. It has threshold and output level sliders, and a link button to link them together. There's also inter-sample peak detection for true peak limiting.
LoudMax is available for Windows (VST), macOS (VST, AU), Linux x86 (LADSPA) and even as a Winamp plug-in.
Video
Image Sources:
bertom-denoiser: Bertom
fanan-team-stringya-2: Fanan Team / Gearnews
thomas-mundt-loudmax: Thomas Mundt / Gearnews