Best free plug-ins this week: Blocks, SL473 and OS-251
This week's collection of the best free plug-ins features Blocks and OS-251, two unique software synthesizers. We've also got an emulation of a vintage vinyl cutting compressor.
You'll find many more free plug-ins in our archives.
Soonth Blocks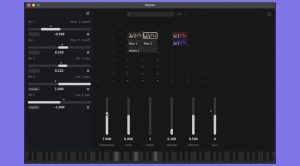 Blocks by Soonth is a modular software synthesizer with a simple, but very effective working principle. It lets you arrange oscillators, filters, LFOs, envelopes and effects in a grid where audio flows vertically from top to bottom. Assign modulations by dragging and dropping and stretch out filters and effects across several columns to assign them to more than one oscillator. The properties of each module can be edited using a simple set of sliders. Very easy, very good.
Blocks is available for Windows and macOS in VST and AU formats and as a stand-alone application.
SmackLabs SL473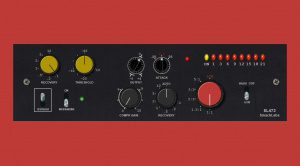 The SmackLabs SL473 compressor plug-in is modeled after a VCA compressor designed for vinyl disc cutting. According to the developer, it offers transparent and clean compression and limiting for the mix bus, drum groups and vocals. In addition to the compressor/limiter section, which has a fixed threshold, the plug-in offers an expander with adjustable threshold and recovery parameters. There's also a bass cut, which is a vital feature for vinyl mastering.
SL473 is a VST plug-in for Windows (64 bit).
Onsen Audio OS-251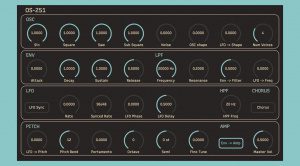 OS-251 by Onsen Audio, the second synth in this week's collection, is a digital subtractive synth whose architecture is borrowed from the analog Roland Juno series. The developer says that the digital artifacts of the oscillator give the synth a lo-fi sound similar to classic samplers like the E-mu SP-12. In true Juno fashion, the GUI is simple and straightforward and shows you all parameters at once, so it's easy to design your own sounds.
OS-251 is available for macOS, Windows and Linux in AU and VST3 formats (64 bit).
Videos
Image Sources:
soonth-blocks-01-1024x565: Soonth
smacklabs-sl473: SmackLabs
onsen-audio-os-251: Onsen Audio